Jump to recipe
How do you start a blog? With a question, a quote, a declaration? With matter-of-fact practicality, high-minded opining, lyrical poetry?
I found myself dizzy with so many questions, my mind swimming with clever sayings and timelines and schedules and my own red marks of critique. In agony I turned to the advice of my beloved food writer, M. F. K. Fisher. A woman known for her voracious appetite for food, language, and love.
"First we eat, then we do everything else."
With such bracingly simple words in mind, I give you Zesty Lemon Cakes – cupcake-size pound cakes made with olive oil and buttermilk.
Is there anything better than pound cake? Firm, but soft. Dense, but tender.  It really goes with everything – lemon curd, berries, whipped cream, frosting, glaze, or just as they are – fragrant and utterly lovely.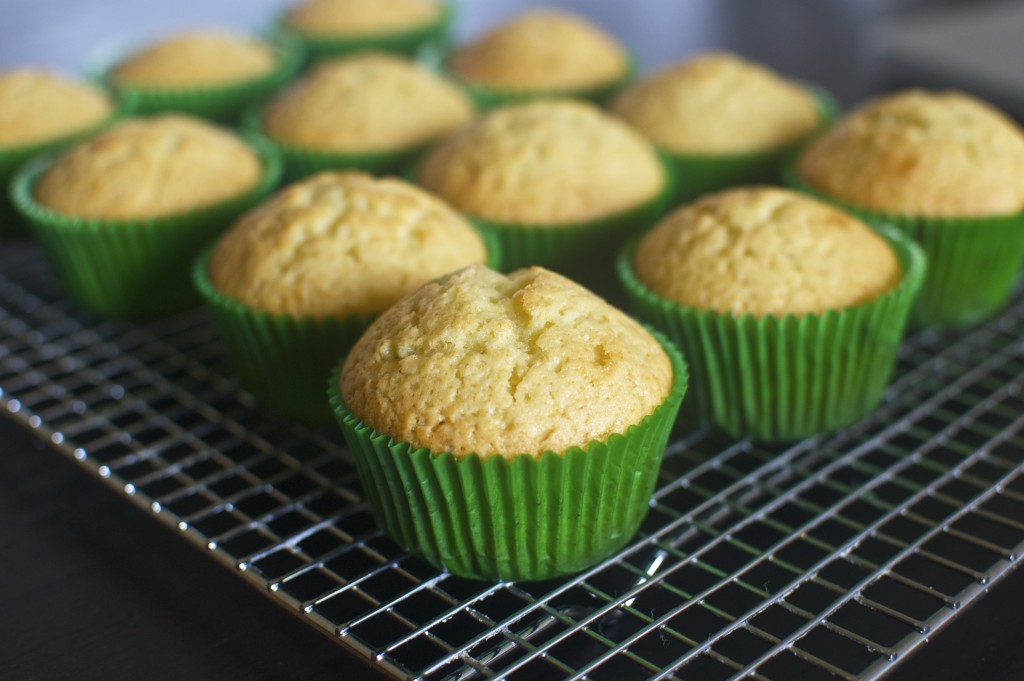 The tops of the cakes are golden, crisp, and craggy. The insides are pillowy, yet robust. I sliced several of the cakes in half and filled them with homemade lemon curd, making them tremendously messy (and decadent) to eat.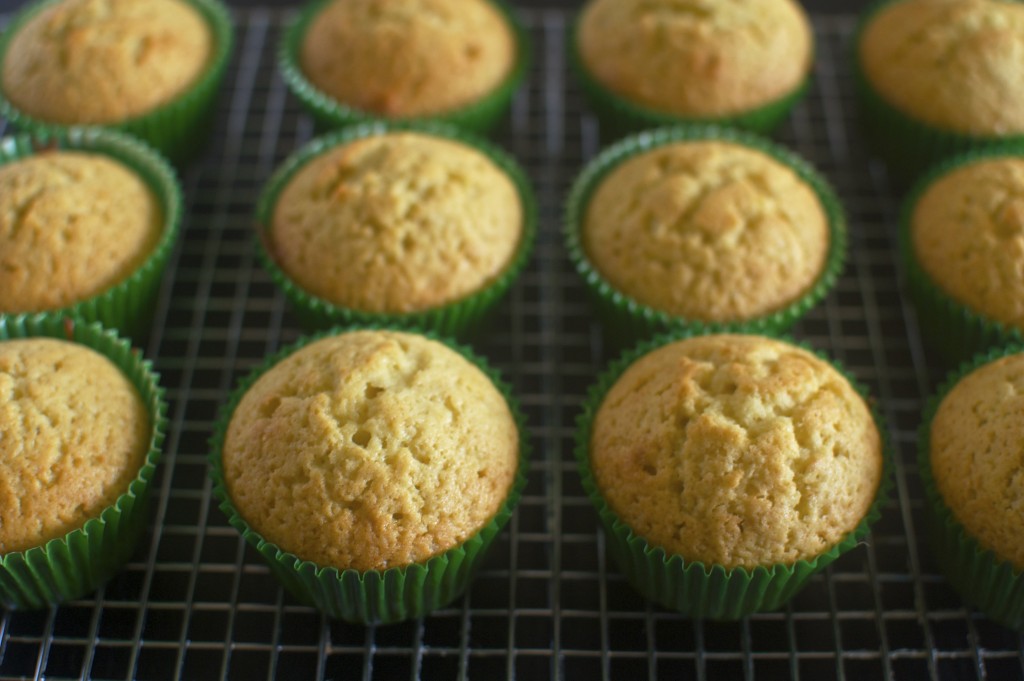 This is the cake to make you feel that spring is coming. The lemony brightness is like sunshine and the olive oil grounds the cake with a discrete, complex earthiness. I could wax lyrical all day.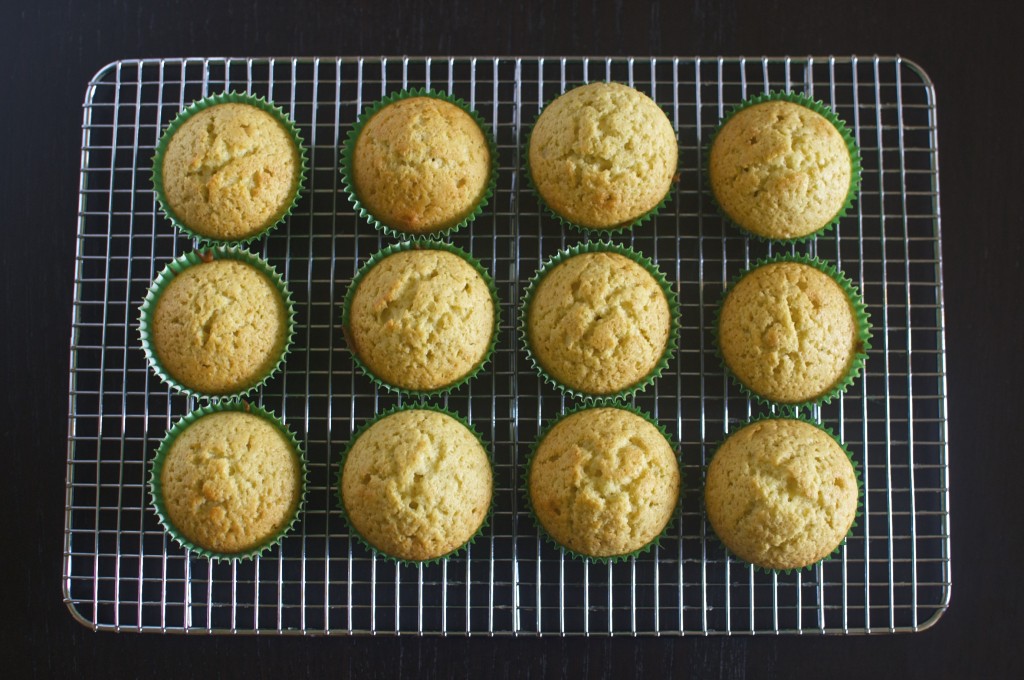 This recipe is based on Alice Medrich's delicious Sherry and Olive Oil Cake (please see the link below). I made some rather major changes – replacing the sherry with buttermilk, adding ground ginger, upping the egg content and baking it in cupcake/muffin pans. The little cakes freeze well, so you don't have to eat the whole batch at once, though I was sorely tempted to do just that! I shared them with neighbors, friends, and an office of tech workers. Ringing endorsements all around!
Coming soon: Barley Wine Braised Chicken. Then we look to Passover and grain-free recipes!
Zesty Lemon Cake
Ingredients
1 1/2 cups all-purpose unbleached flour
1 teaspoon baking powder
1/8 teaspoon salt
1/4 teaspoon ground ginger
1 cup sugar
1/2 cup extra-virgin olive oil
3 cold large eggs
1 teaspoon grated lemon zest (from 1 lemon)
1/2 cup buttermilk
Instructions
For loaf pan - Line the loaf pans with parchment.
For cupcakes - Line cupcake pan with cupcake liners
Position a rack in the lower third of the oven and preheat the oven to 350° F.
Mix the flour, baking powder, salt and ginger thoroughly and sift together onto a piece of wax paper. Set aside.
Beat sugar, oil and lemon zest in a large bowl (I use a KitchenAid stand mixer with the scraper-beater attachment until well blended.)
Add eggs one at a time, beating well after each addition. Continue to beat until the mixture is thick and pale, 3 to 5 minutes.
Stop the mixer and add one-third of the flour mixture. Beat on low speed just until blended.
Stop the mixer and add one half of the buttermilk. Beat just until it is blended.
Repeat with another third of the flour, followed by the remaining buttermilk, and then the remaining flour. Scrape the batter into the pan(s), filling the cupcake liners about 1/2 to 3/4 full.
Bake until a cake tester comes out clean (50 to 60 mins loaf, 15 to 20 mins cupcakes)
Cool the cake in the pan(s) on a rack for about 15 minutes.
For loaf pan - Slide a thin knife around the sides of the pan to release the cake. Invert the pan and invert again, setting the cake right side up on a rack to cool completely.
For cupcakes - Gently lift the cakes out of the pan (I use a skewer to do this) and place on a rack to cool completely.
© 2023 © 2020 Nosherium