Jump to recipe
2018 update: If you want to read about the development of this recipe, check out the original guest post on This American Bite. I have added the recipe at the bottom of this page for your convenience! Happy Passover!
Go to my guest post on This American Bite to discover how I finally found a gefilte fish recipe that I love!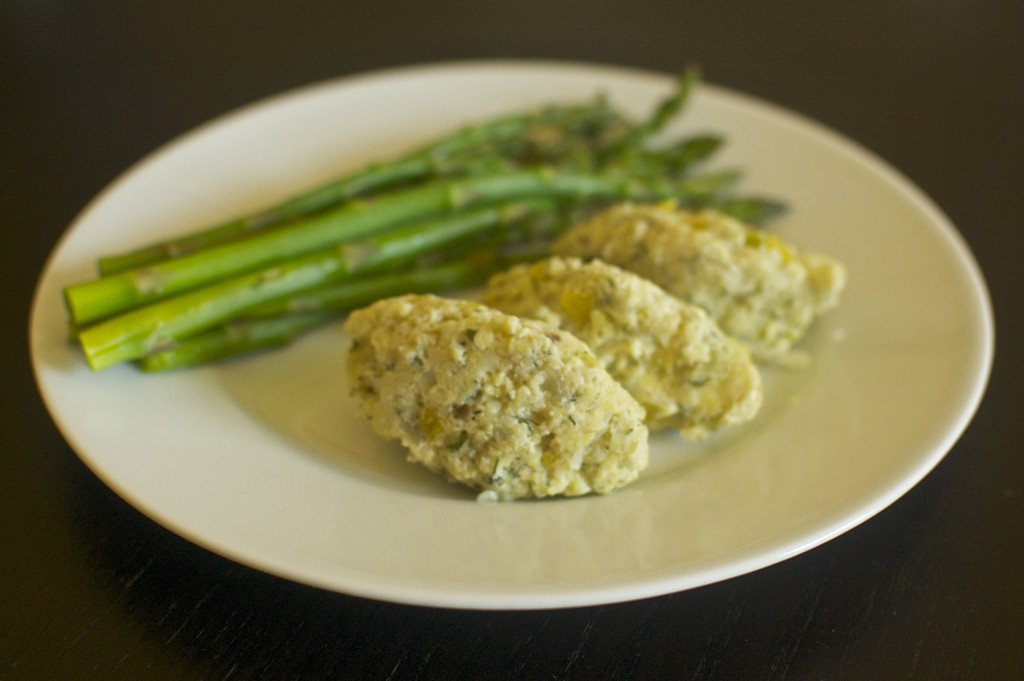 Lemon zest, herbs, and veggies keep the dumplings light, and the quenelle shape and gentle poaching make the dish refined.
Elegant Springtime Gefilte Fish
The best way to celebrate Passover and the arrival of spring is with these tender, herb-ladened beautiful, updated gefilte fish dumplings! Filled with tender vegetables and aromatic herbs, this is an elegant, new kind of gefilte fish! Originally posted on
This American Bite
with full background story. Modified from
Bon Appetit
Notes
1. If you need this to be gluten-free, use gluten-free matzo meal, but use a tablespoon more than the recipe calls for.
2. Part of the appeal of these dumplings is that they are very very delicate. Treat them with care. Some of them may fall apart while they are cooking. Eat them up with a spoon or mash them and spread them on matzo for a delicious snack.
3. You can make this in loaf form. If you want to take that culinary adventure, I recommend pressing the mixture into a pretty dish to avoid having to unmold it. You can follow the bain marie (water bath) baking instructions here.
4. The original recipe claims to feed 8. I ended up with twenty decently sized dumplings. I would serve one as a very light appetizer, two if people are getting hangry, and three as a main course with two or three side dishes.
5. I used my own very fresh horseradish in this, so I used less than a teaspoon. I would serve it with asparagus (as shown), or with sautéed cabbage as in the original recipe.

Ingredients
12 ounces skinless cod fillets, ideally ground.

If you don't have a grinder and your fishmonger doesn't offer that service

- cut into 1/2-inch cubes
2 1/2 tablespoons olive oil, divided
1 small onion, finely chopped
1 white, yellow, or orange carrot, finely diced
2 ribs of celery, finely diced
1 tablespoon finely chopped fresh Italian parsley
2 tablespoons finely chopped fresh dill
1 1/2 teaspoons finely grated lemon peel
1/2 - 1 1/2 teaspoons prepared white horseradish plus additional for serving, (See Note 5)
5 1/2 teaspoons coarse kosher salt, divided
1/2 teaspoon freshly ground black pepper
2 large eggs, beaten to blend
4 1/2 tablespoons unsalted matzo meal (see Note 1 for gluten-free)
Instructions
If your fish isn't ground yet

, coarsely chop in food processor/chopper using on/off bursts (I only have a tiny one, so I did this in three batches).
Transfer fish to the bowl of a stand mixer and, using a paddle attachment with, mix with 1 ½ tablespoons oil until smooth; cover and chill while preparing vegetables.
Heat remaining 1 tablespoon oil in heavy medium skillet over medium heat. Add onion, carrot, and celery; sauté until tender, about 8 minutes. Remove from heat.
Gently mix vegetables, parsley, dill, lemon peel, 1 1/2 teaspoons horseradish, 1 teaspoon coarse kosher salt, and ½ teaspoon pepper and let it cool completely.
Mix vegetable mixture into fish (I did this in the stand mixer, but you can do it by hand). Add and mix in eggs, then matzo meal; freeze 15 minutes to firm mixture quickly.
Pour water into wide deep skillet to depth of 1 1/2 inches; add remaining 4 1/2 teaspoons coarse salt and bring to simmer. Dip tablespoon into simmering water; scoop up rounded spoonful of fish mixture. Dip another tablespoon into water. Gently transfer fish mixture back and forth between spoons, forming football-shaped dumpling; drop into simmering water. See this tutorial. Repeat with remaining fish mixture, forming additional dumplings. Adjust heat so water is barely simmering. Cook uncovered until dumplings are just firm to touch and cooked through, turning after 10 minutes, about 20 minutes total.
Using slotted spoon, transfer dumplings to 13x9x2-inch glass dish. DO AHEAD Can be made 1 day ahead. Cool slightly. Cover and chill. Rewarm in barely simmering salted water 5 to 6 minutes before serving.
© 2023 © 2020 Nosherium