Twas the day before Thanksgiving, in a far away land, and a blogger was posting her delicious and simple green bean recipe! Simple, stove-less, fresh, crisp, and bright with pomegranate!
I went a little off the rails at the end there, but happy Thanksgiving, friends! I'm posting this latest recipe from Paris, where my husband and I are enjoying our long-awaited honeymoon.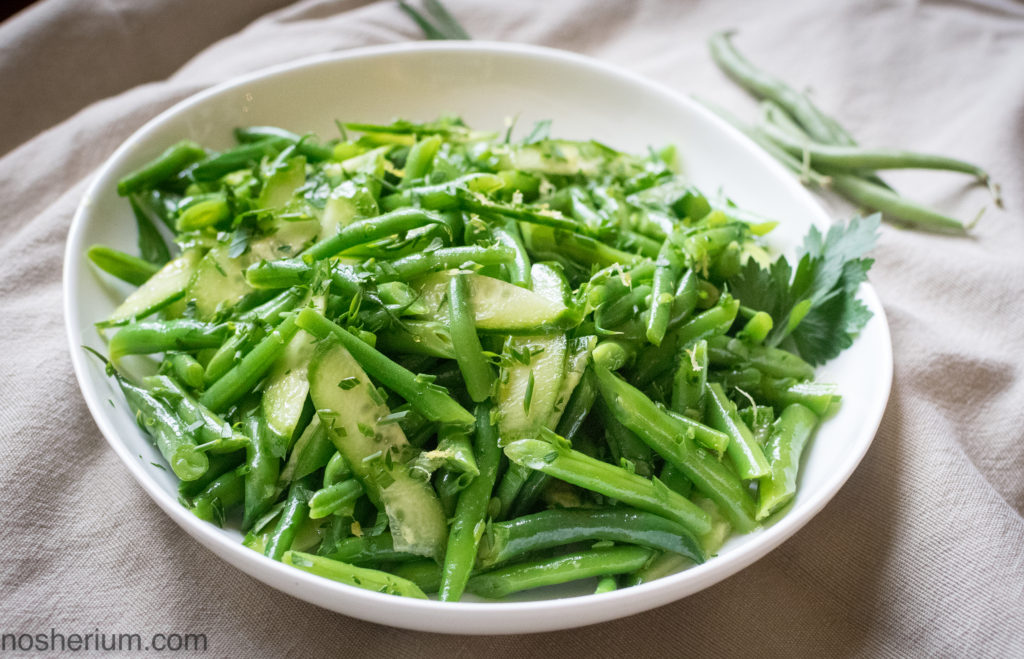 As I have mentioned before, I didn't grow up celebrating Thanksgiving, and have little attachment to its strictly traditional foods. Also, as a lover of crispy vegetables, green bean casserole distresses me. I know lots of people love it, but the mushiness is a stumbling block for this texture-fussy foodie.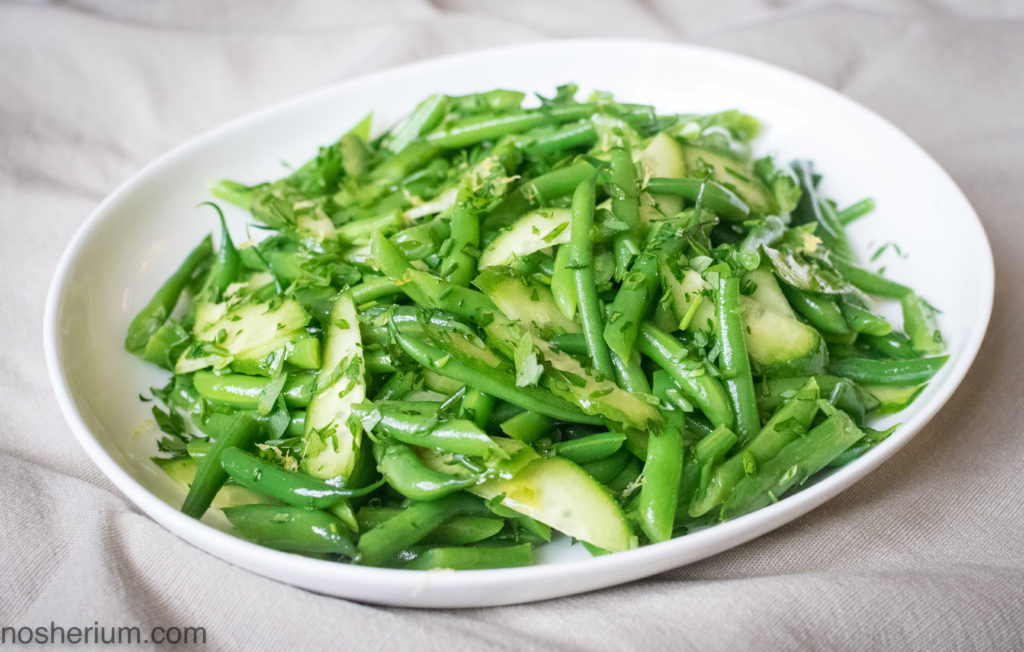 Last year, when my husband and I hosted Thanksgiving for the first time, I made green bean salad similar to this recipe and it was very well received by our guests, both omnivorous and vegan. So here it is, polished up and glammed up for the camera. Vegan. Fresh. Fairly seasonal. And damn pretty!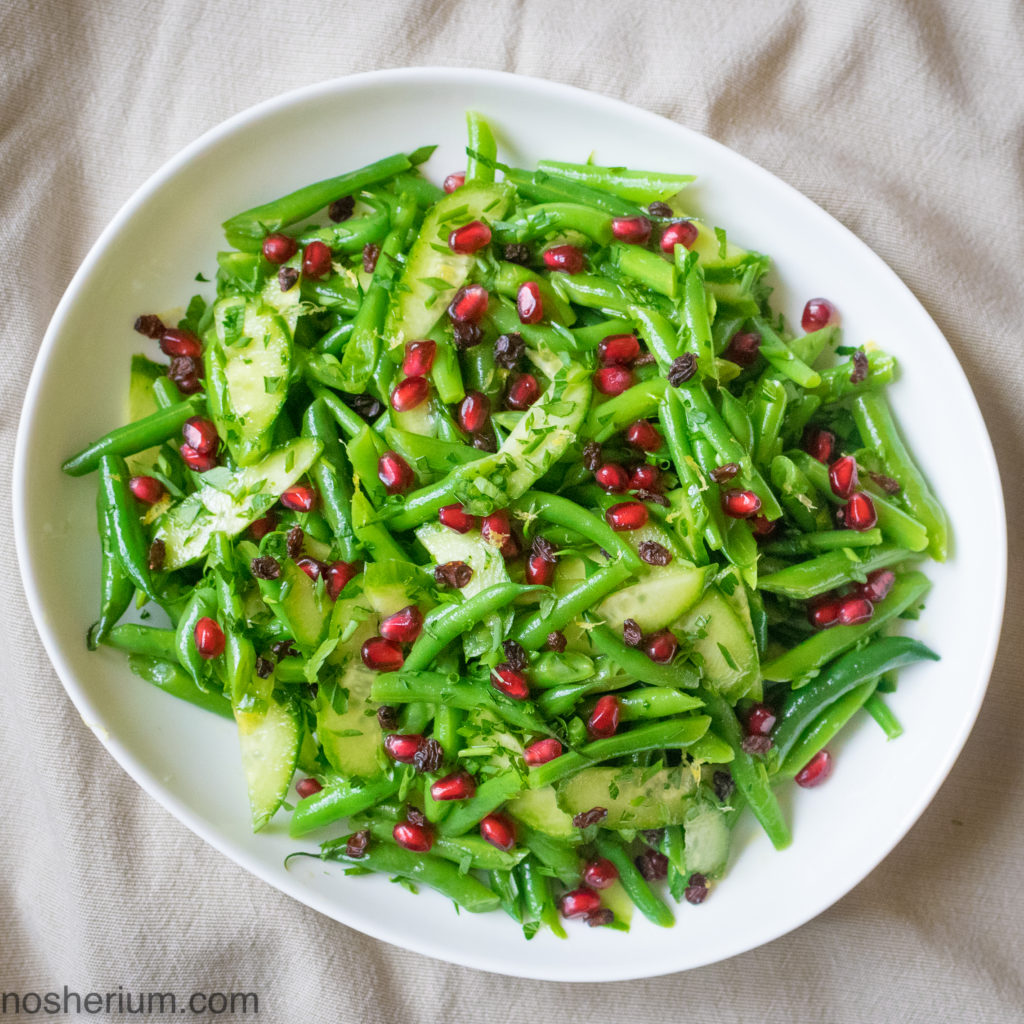 The technique is simple – blanche sliced green beans in boiling water, shock them in an ice bath, then toss with the other ingredients and dressing. A drizzle of creamy (but dairy-free!) tahini for a pretty finish. The ingredients are flexible too – don't want to search for the adorable little sour barberries? Pop some dried cranberries in! Currants or raisins would also work. And quite a few stores offer ready to use pomegranate arils, so you don't need to do it yourself.
I used this dish as an opportunity to use top-quality new harvest olive oil from Seka Hills. I visited their beautiful mill and will have two posts coming up soon with a tour and Hanukkah suggestions. The oil was so fresh and green – perfect for this fresh, green side dish.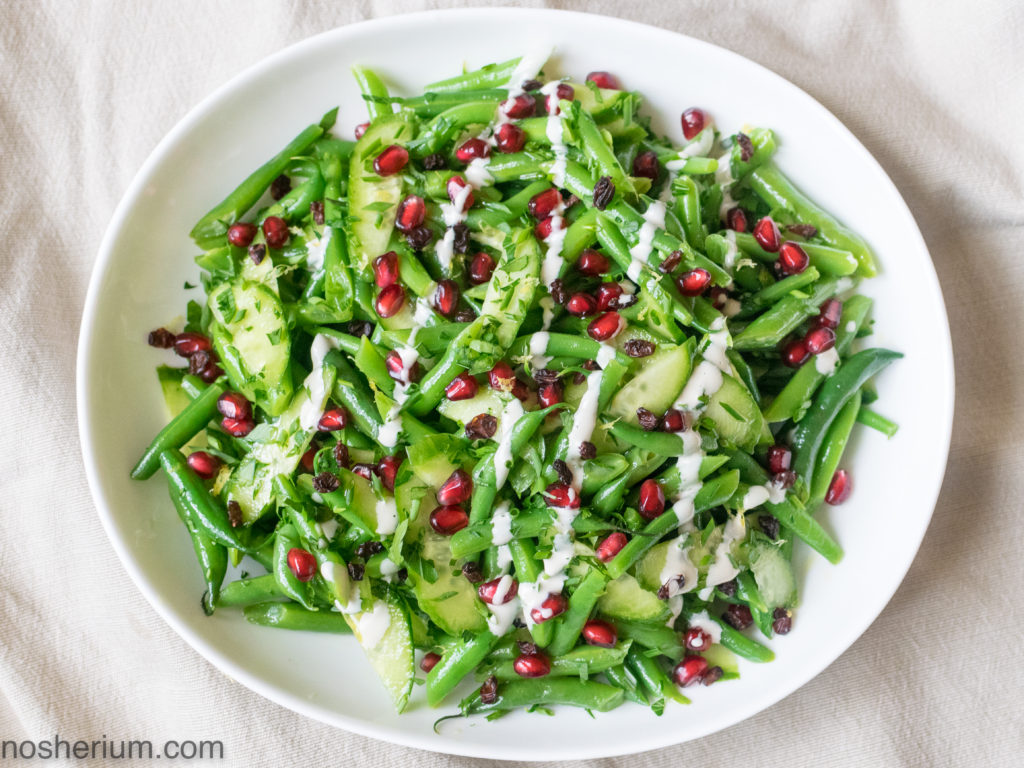 A note about one of my all-time favorite ingredients – tahini. I've found that the quantities of water and lemon juice needed to make a creamy sauce vary wildly from jar to jar and brand to brand. In the recipe below, I give directions on how to gauge whether yours needs more liquid as you mix it. It comes out utterly delicious – a lovely tribute to the creaminess of the traditional casserole, but dairy-free!
I would serve this salad with Three Sisters Stuffed Squash and grape and onion Cheater's Braise Chicken. Finish with Chai-Spiced Honey Cake for a luscious, beautiful, and very thankful meal!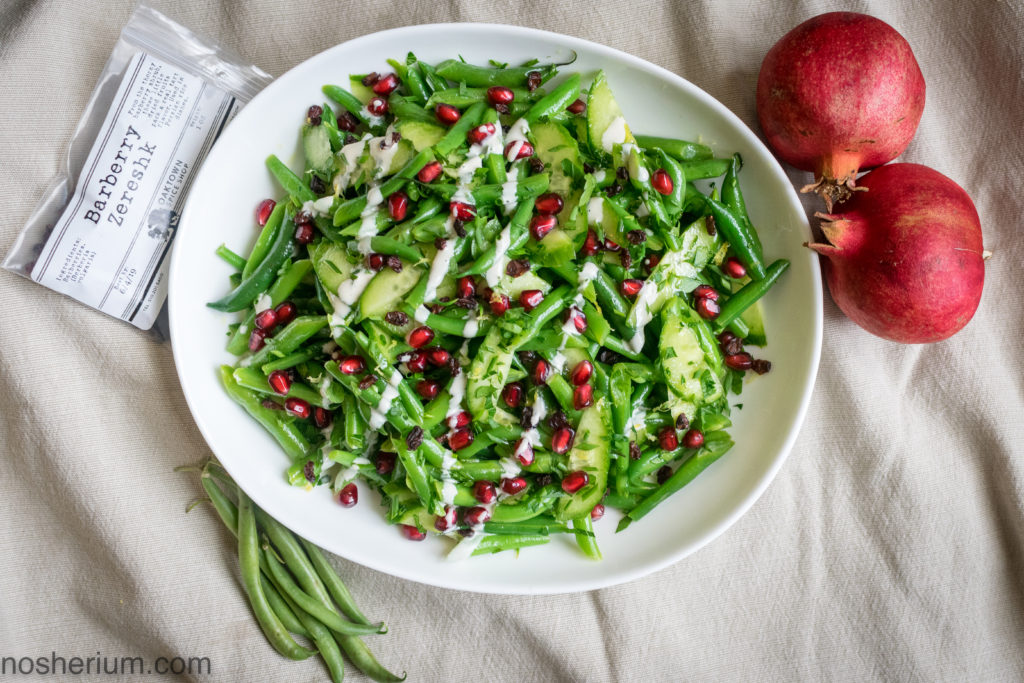 Here's the recipe! I hope you enjoy it and your Thanksgiving. If you're interested in my foodie travels, follow me on Instagram for updates. Today alone I've had gluten-free buckwheat crêpes, café crème, and Jacques Genin chocolates!
Quick Thanksgiving Green Beans with Barberry and Pomegranate – Vegan
Stove-free. Vegan. Fresh. Seasonal. And damn pretty! This quick and easy green bean salad is studded with ruby pomegranate arils and zippy little barberries. A perfect side dish for your Thanksgiving table!
Ingredients
1 pound/450g green beans, trimmed and sliced on the diagonal into 1-2"/2.5-5cm pieces (if your beans are narrow, slice them longer - if they are thicker, slice them shorter)
juice and zest of half a small lemon
2 tablespoons/30ml well-stirred tahini paste
approximately 2 tablespoons/30ml high-quality olive oil (I used Séka Hills 2017 Olio Nuovo that was gifted to me)
1 small persian cucumber, halved lengthwise, and sliced thinly (I used the slicing side of my grater)
1/2-1 cup pomegranate arils
2 tablespoons dried barberries
small handful of chopped chives
small handful of chopped curly or flat-leaf parsley

optional

small handful of chopped mint or tarragon
salt and pepper to taste
Instructions
Boil at least 1 1/2 quart/1 1/2 liters of water in a kettle or pot.
Fill a large boil with lots of ice and a bit of water.
Place sliced green beans in a medium-large heat-safe bowl (Pyrex at room-temperature or a metal mixing bowl. Cover generously with boiled water and cover the bowl. Let sit for 5 minutes.
After the beans have been sitting in the boiled water for 5 minutes, drain them and plunge into the bowl of ice water. Wait until the beans are chilled, then drain.
Meanwhile, in a small bowl, mix a little squeeze of lemon juice into the tahini. It might well cause the tahini to curdle or clump up. Do not fear. Add warm water bit by bit until the tahini is thin enough to drizzle. Season with salt and pepper.
Toss green beans, sliced cucumber, all but a few pomegranate arils, barberries, herbs, and lemon zest with 1 tablespoon olive oil and the remaining lemon juice. Season with salt and pepper. Taste and add seasoning or olive oil as needed.
If desired, transfer salad to pretty bowl, then drizzle with tahini as desired.

if the tahini has thickened up, add and mix in water very gradually

Garnish with reserved pomegranate arils and extra olive oil.
© 2020 Copyright Nosherium