Happy holidays! Hanukkah is just around the corner (starting sundown on the 12th of December), and I'm so excited to share this very different Hanukkah celebration with you. The holiday celebrates the miracle of one day's worth of oil burning for eight days. It feels like a fitting feat to recognize these days as we burn the candle at both ends socially, politically, and ideologically. So instead of a(n admittedly crave-worthy) fried recipe, let's indulge in olive oil's raw beauty, nuance, and freshness!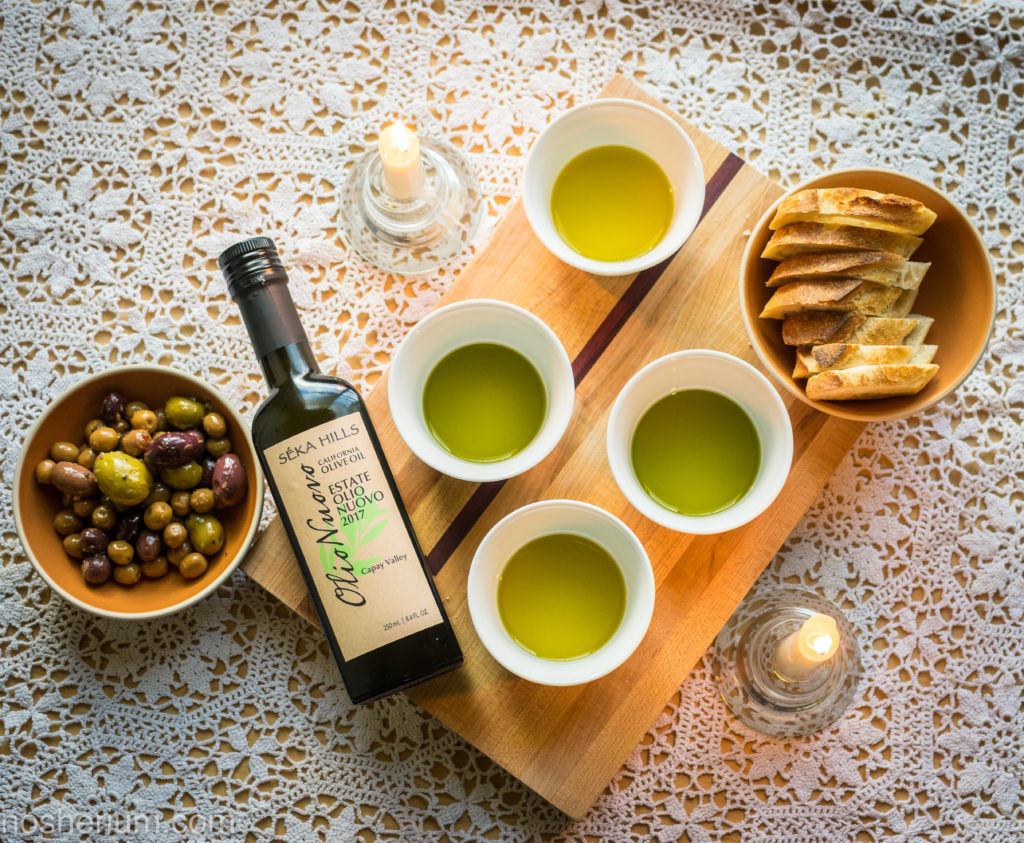 The first pressing of olive oil happens in the autumn and in the Italian tradition, the very first batches are consumed quickly, as olio nuovo. After trying some of the Séka Hills olio nuovo at an event, I knew I had to savor it as it was – highlighting its viscosity, texture, and lovely fresh flavor. I had it on my Thanksgiving green bean salad with pomegranate and barberries, I drizzled it on vanilla gelato, and I couldn't get enough of it! My friend at Séka Hills offered to show us around their farm and mill, and give us a deep dive into the charms of this new-harvest oil. During the tasting, we were gifted several bottles of this liquid green gold, and I used them in this shoot. Soon I'll have a post detailing our tour of their beautiful farm, it was the dreamiest day!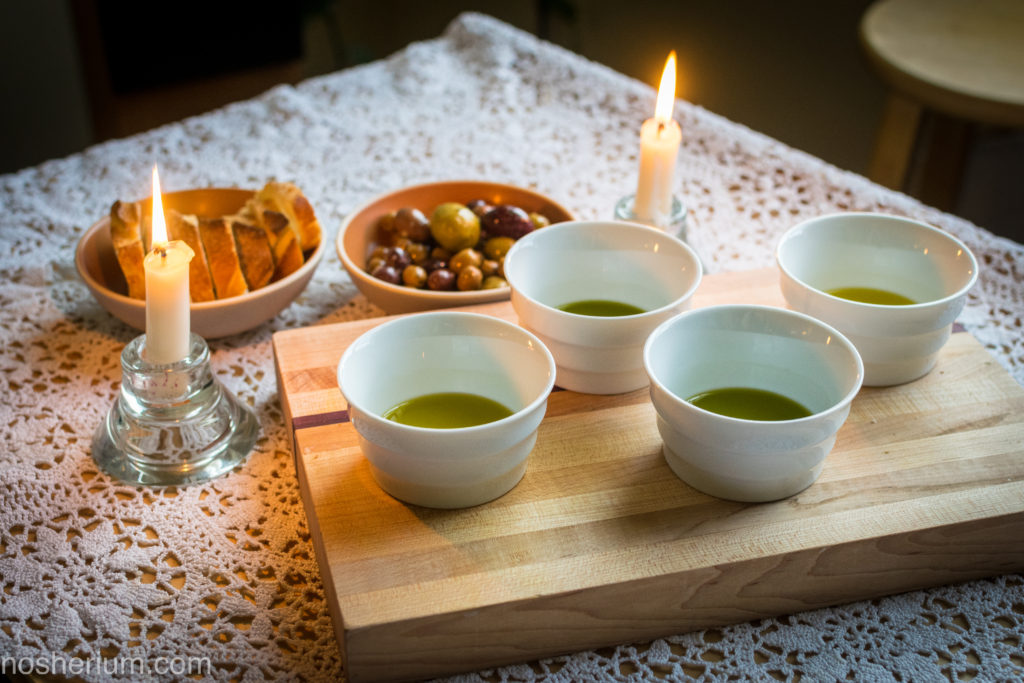 Olio nuovo is a seasonal item so if you come across it, check the harvest date! In fact, I'm starting to do so for all olive oil because it is only really good for a year or so. For my tasting at home I had a regular olive oil from last harvest that had been filtered and had the sediment removed. I use that oil regularly in salad dressings, cooking, and baking and it's pretty tasty. However, it pales in comparison to the truly fresh stuff.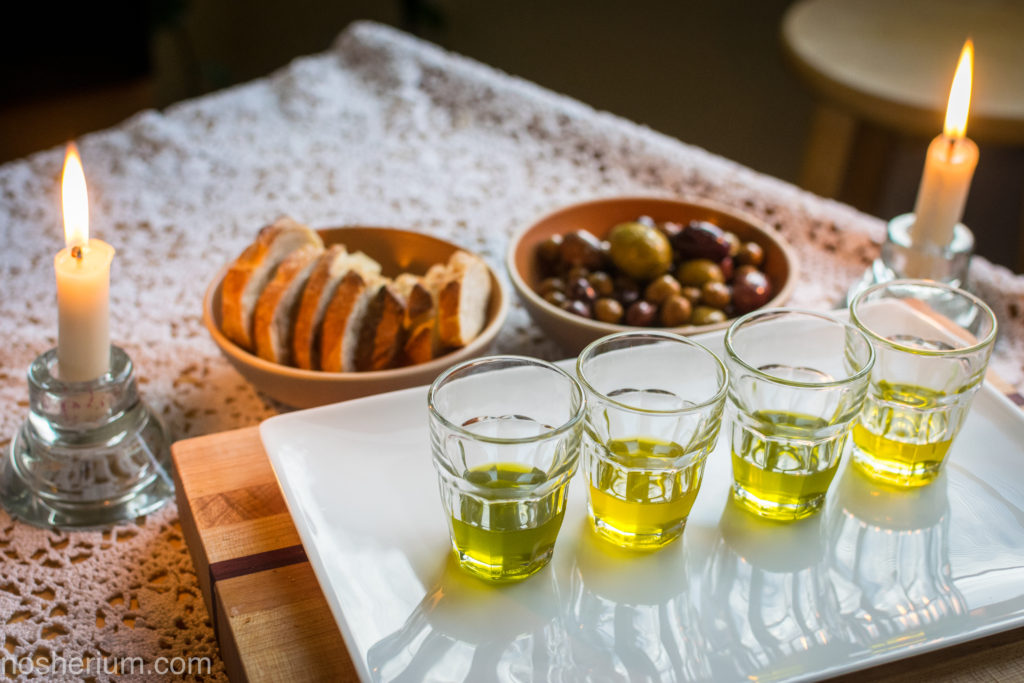 I had three new harvest oils in the tasting – one was two weeks old, another about a week old, and the last was pressed only a few days earlier! They were all from Arbequina olives from Séka Hills groves in the Capay Valley. All three were more viscous and cloudier than the old harvest oil.  The age really changes these delicate oils! The newest oil is the brightest green one and it tasted green like artichokes with a peppery bite at the end. The week old and two week old oils were also green in flavor, but with other notes like wood, herbs, and even floral nuances.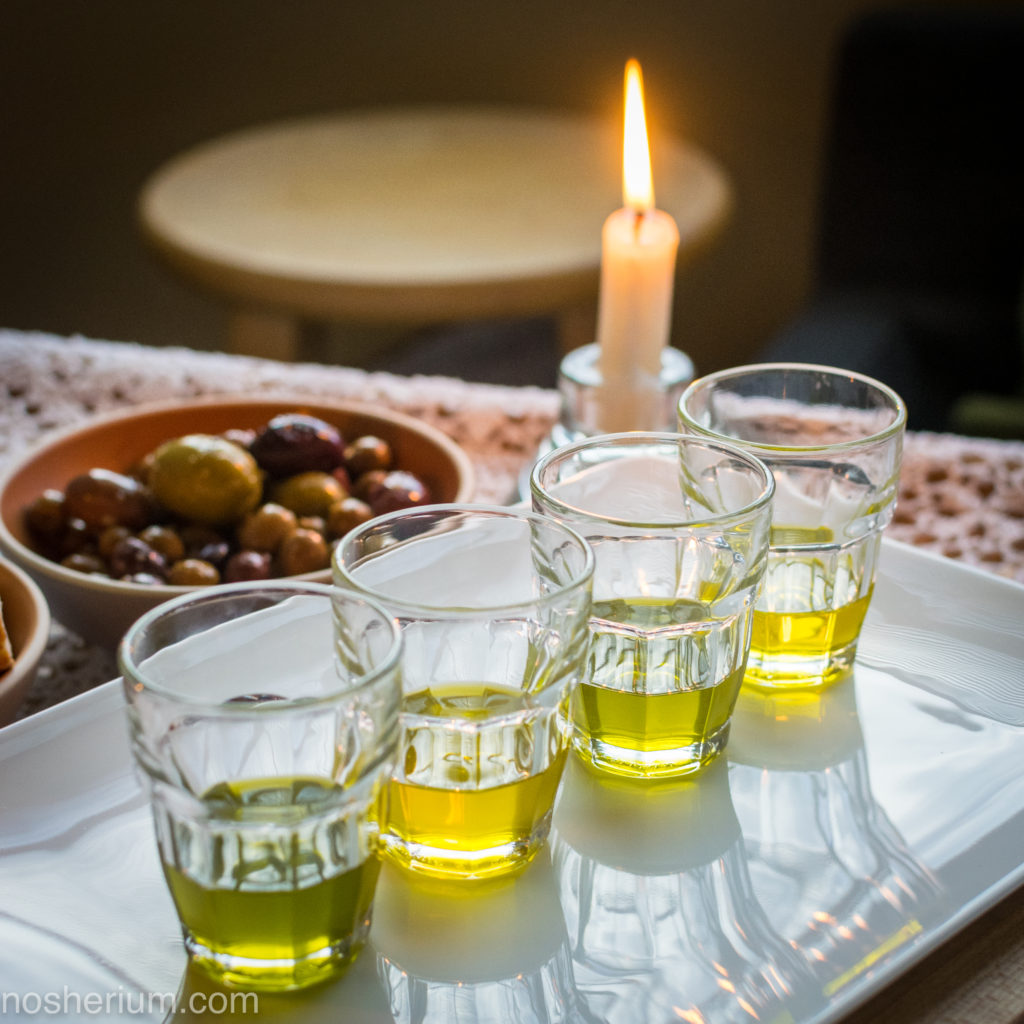 The process of properly tasting the oils is fascinating, and not unlike tasting wine. Traditionally, blue glasses are used to disguise the color of the oil so the whole focus is on the flavor. The oil is swirled in the glass to warm and aerate it, and you inhale the aromas and slurp the oil. For our tasting at home, I had little shot glasses available, but also little dipping bowls for the more accessible approach of tasting the olive oil on bread. The glasses were a lovely way to appreciate the difference in color and clarity of the oil (remember that fresher oil will be foggier, not clearer!).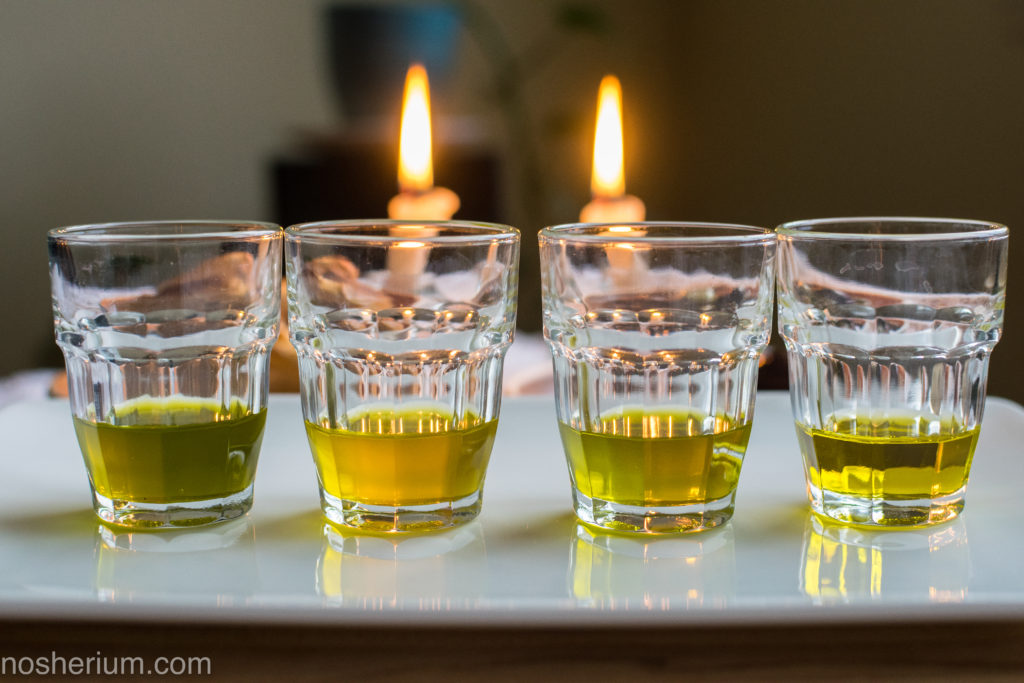 If you'd like to host a similar event, I recommend looking for authentic olive oils from Italy, Spain, and California. The California Olive Oil Council certifies many delicious oils, and they have fantastic articles about buying and tasting olive oil. There's still time to order the very same olio nuovo that we tasted from Séka Hills, and they also have a beautiful gift set of olive oils and vinegars that would be a perfect Hanukkah present.
Looking for other Hanukkah posts?
Fried Matzo Meal Soleà la Meunière
Round-Up: Frying-Free Hanukkah
Green Bean Salad with Olio Nuovo, Pomegranate, and Barberries
Round-Up: December 6th – all sorts of awesome Hanukkah pieces!