Jump to recipe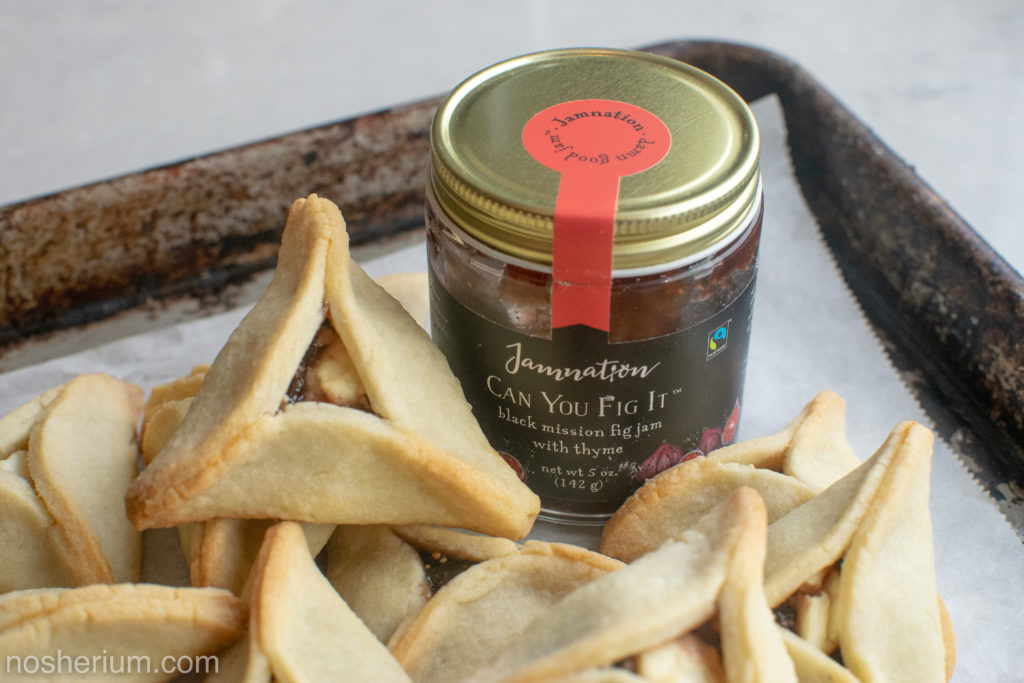 Tender almond shortbread filled with beautiful, juicy jam – Hamantaschen time is here again! Choose your adventure – sweet raspberry with a hint of herbaceous basil? Creamy goat cheese with thyme-infused fig? Or do like I did and make both! #TeamBoth
My previous recipes have used everything from traditional poppy seed fillings, to vegan approaches to making these classic cookies, to all-natural supernatural colors! And this year is all about jam!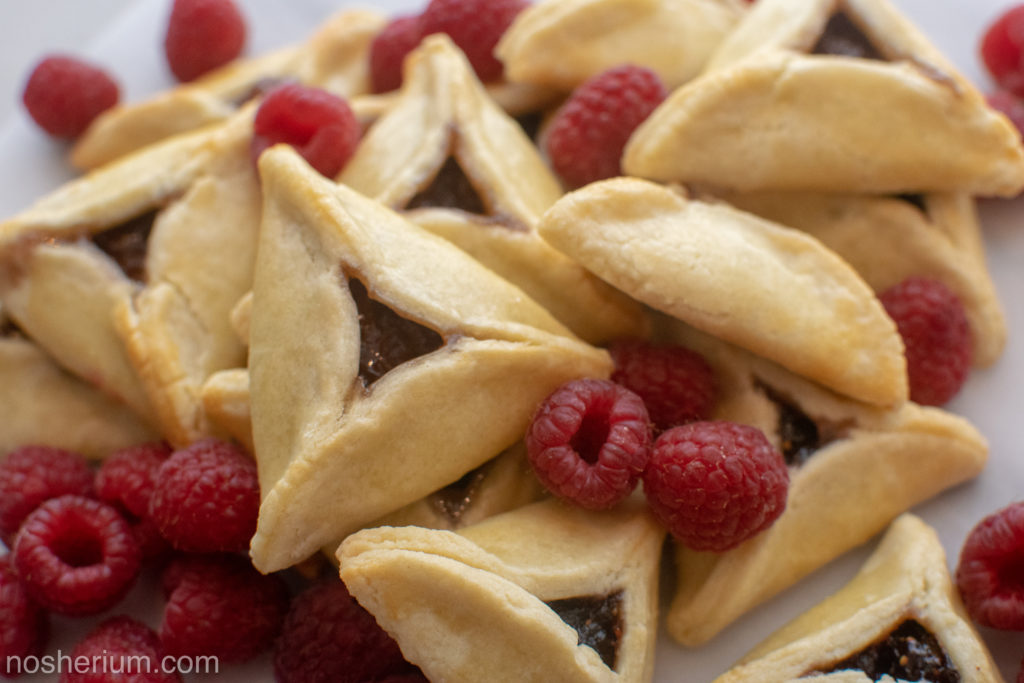 I'm working with beautiful jams gifted by Jamnation – a company dedicated to using local fruit and sustainable, Fair Trade certified ingredients to make unique jams. They use less sugar and more fruit, so their jams pack a serious punch of fruity goodness! I was lucky enough to meet their founder, Gillian, a few years ago at a tasting of the Jamnation jams at my favorite local market. The fruit flavors were clear and vibrant, and we had a nice chat. Last year Jamnation's Razzle Bazzle won a Good Food award and I got in touch to congratulate them. One thing led to another, and Gillian very kindly sent a box of jams for me to experiment with.
All this is to say that this post has been a long time coming! Thank you to Gillian and Jamnation for their generosity and patience! You can order their jams online, and shipping is a flat rate of $7. I highly recommend stocking up on their special jams – since receiving the gifted package I have bought several jars for myself.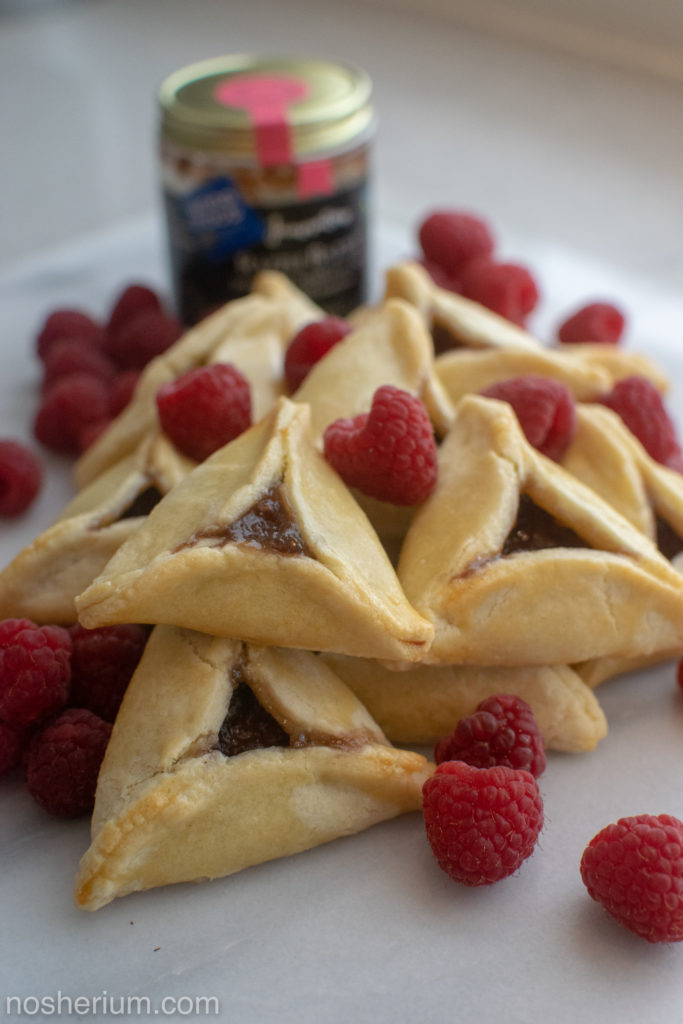 My mission was to do right by these beautiful preserves, and I brainstormed a few options – chocolate dough, layering, dipping, garnishing! And I landed on Uri Scheft's gorgeous rich almond shortbread dough. Uri is a renowned and award-winning baker, and owner of Lehamin Bakery in Israel. I'll tell my Uri Scheft stories another time, but suffice to say, he is kind and his creations are an inspiration! If you've had the famous babka from Breads Bakery in New York, you have enjoyed Uri's expertise.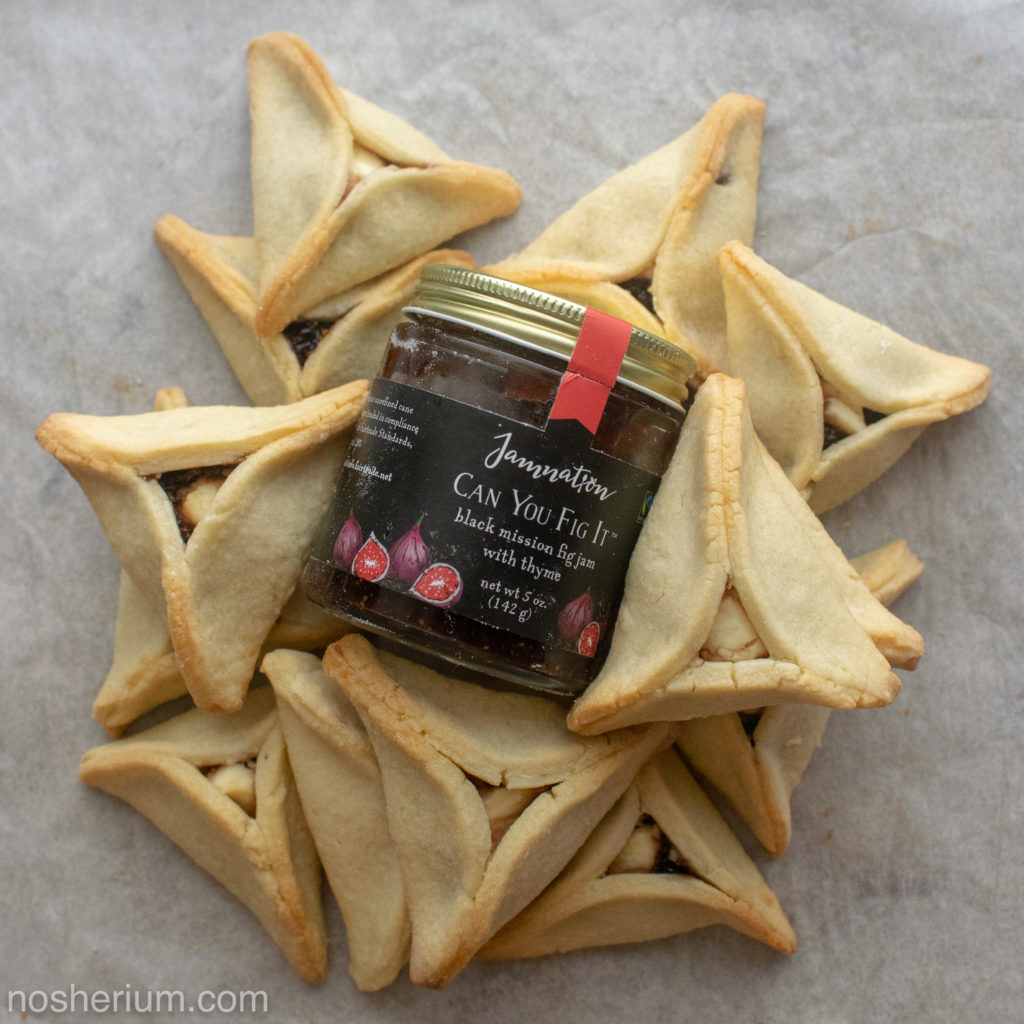 The shortbread crust is different from my usual Hamantaschen pastry – still flexible and bakes up beautifully. With the Jamnation jams tucked inside, these Hamantaschen baked up like jam hand pies – sturdy but tender, rich pastry with a soft fruity filling. For Good Food award-winning Razzle Bazzle, I let the raspberry and basil jam sing solo inside the crust. The other jam I used was Can You Fig It – fig with thyme, and I paired it with a creamy goat cheese. The cheese makes it more an appetizer, one I would be delighted to serve at a Purim cocktail party. Either way, you can't go wrong!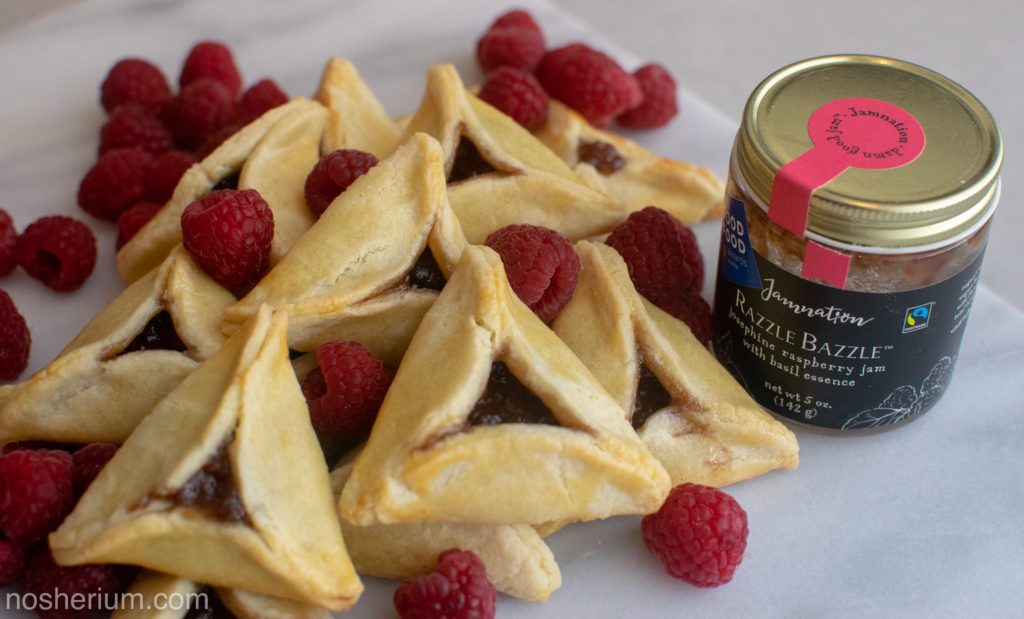 This recipe is easy, especially because the tasks can be split up with the dough and cookies resting in the fridge. I hope you love them as much as I do!
Jam and Almond Hamantaschen Cookies
Almondy pastry encloses sweet, nuanced jam fillings – these Hamantaschen cookies are perfect for Purim, or any occasion that calls for delicious pastries!
Many thanks to
Jamnation
for the beautiful jams. Jamnation's motto is
more fruit. less sugar. damn good jam.
And they live up to it! They use 50% more fruit that standard for rich, vibrant flavors, and add herbs and spices for a unique twist.
Notes
Almond shortbread recipe and instructions from from Breaking Breads by Uri Scheft (Artisan Books). Copyright © 2016.
Jams were kindly gifted by Jamnation recipe development and Nosherium enjoyment. I have since bought more of their beautiful jams for myself and heartily recommend them!

Ingredients
Almond Shortbread Dough
230 grams (2 sticks) unsalted butter (cold)
100 grams (scant 1 cup) confectioner's sugar
50 grams (¼ cup) granulated sugar
1½ large eggs, beaten

I used two very small medium sized eggs

400 grams (3 cups plus 2 tablespoons) All-purpose flour (sifted, 11.7%) or cake flour, plus extra for dusting and rolling
50 grams (½ cup) almond flour
5 grams (1 teaspoon) fine salt
Fillings
optional

soft, room-temperature goat cheese
Egg Wash
1 large egg beaten
1 tablespoon of water
pinch of salt
Instructions
Almond Shortbread Dough
Set the butter on a piece of parchment paper and use a rolling pin to whack it—you want to soften the butter but keep it cold. Place the smashed butter, confectioners' sugar, and granulated sugar in the bowl of a stand mixer fitted with the paddle attachment, and mix on low speed until combined, about 30 seconds. Increase the speed to medium-low and beat for 30 seconds (you want the mixture to be well mixed but not airy—you don't want volume).
Add the beaten eggs and mix on low speed until just combined, stopping the mixer to scrape down the sides and bottom of the bowl as needed. Add the all-purpose flour, almond flour, and salt and mix just until almost combined. Turn off the mixer, remove the bowl from the mixer base, and use a plastic dough scraper to continue to fold and work the dough until it is of one consistency (finishing the dough by hand prevents over-mixing and ensures that the shortbread will be very tender).
Transfer the dough to a large sheet of parchment paper and use plastic wrap or another sheet of parchment to press it into a 5-by-10-inch, ½-inch-thick rectangle. Leaving the plastic wrap (or parchment) on top, refrigerate the dough for 1 hour (the dough can be refrigerated for up to 5 days before using or frozen for up to 1 month).
Shaping the Hamantaschen cookies
Set the shortbread dough on a lightly floured work surface. Lightly flour the top and roll the dough into an 18-inch square that is 1/8 inch thick. As you roll it, move the dough often, flouring the top and underside lightly so it doesn't stick to the work surface or rolling pin. If the dough becomes warm and starts to stick or become difficult to work with, slide it onto a sheet pan and refrigerate it until it becomes firm again—about 20 minutes should do it.
Make the egg wash: In a small bowl, whisk the egg, water, and salt together. Use a 3-inch round cookie cutter (or an upside-down glass) to stamp out as many rounds as possible, leaving as little space between the circles as possible so you don't end up with lots of scraps. Place the rounds on a parchment paper–lined sheet pan about 1½ inches apart and refrigerate for 10 minutes to chill them. Gather the scraps and lightly press them together into a ball (don't knead the dough—just firmly press it), flatten the ball, wrap in plastic wrap, and set it aside in the refrigerator for 10 minutes. Brush the surface of each chilled pastry round with egg wash. Spoon about a teaspoon of jam (don't overfill the pastry or you won't be able to shape the hamantaschen) (*optional* adding a dab of goat cheese) onto the center of each round. Pinch the dough into the classic triangular hamantaschen shape around the filling.
Flour the work surface and roll out the ball of scraps. Repeat the stamping, filling, and shaping process, refrigerating the dough for 15 to 20 minutes if it becomes too sticky to work with. Add the shaped cookies to the others on the sheet pan, and refrigerate the hamantaschen for at least 30 minutes or overnight.
Adjust the oven racks to the upper-middle and lower-middle positions. Preheat the oven to 350°F.
Use a pastry brush to lightly brush the sides of each hamantaschen with egg wash (*I did this for the raspberry cookies, but didn't for the fig and goat cheese ones*). Bake a sheet of hamantaschen on each oven rack for 8 minutes; then rotate the top sheet to the bottom rack and the bottom to the top rack and continue to bake until the pastry is evenly browned, 8-10 minutes. Remove the sheet pans from the oven and set the cookies aside to cool. Store the hamantaschen in an airtight container for up to 3 days.
© 2023 © 2020 Nosherium