Desserts are the stars of the High Holy Day Table. No really! Veggies are great, and fish is delicate and delicious, and meat is festive and decadent, but we wish each other "a sweet new year" for a reason! It's sweet! And festive! And everyone has their favorite, nostalgic, formative memory-making dessert.
Mine is honey cake, and one day, when I am feeling well-organized and generous, I will post my favorite, spicy, tender, delectable recipe along with the deepest, most emotional commentary imaginable on the subject. I will ramble and make declarations, I will reminisce and bring tears to my own eyes. But in the meantime, I thought you all might enjoy a more practical and less misty-eyed round up of High Holy Day cakes, sweets, and challahs. 
As always, I enjoy including our favorite symbolic foods – apples, honey, pomegranates, dates, figs, pumpkin, etc. I also have done my utmost to include recipes that might be a little out of the ordinary, after all, the New Year is a time for celebration and new things!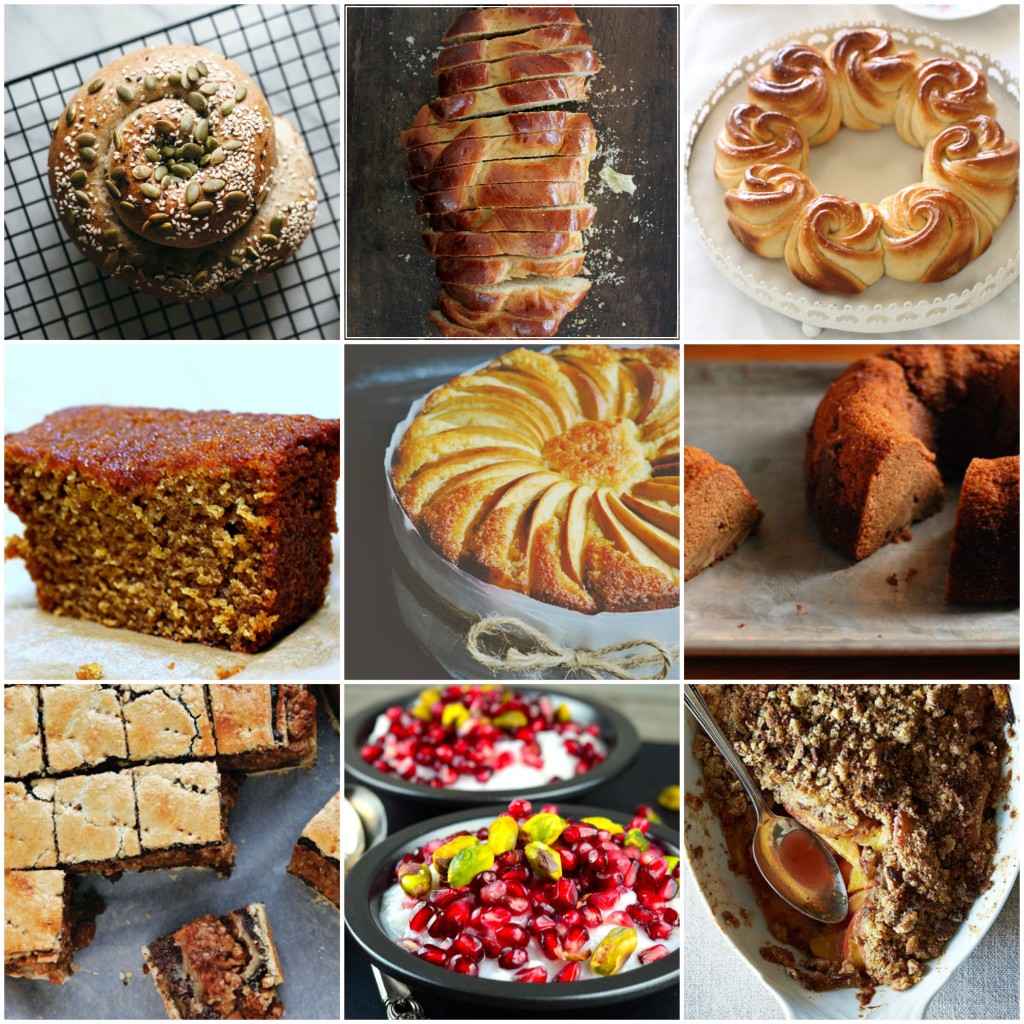 Top Row (left to right): The Challahs
Ricotta-Stuffed Whole Wheat Challah – Molly Yeh is a culinary genius and blogging inspiration. This challah is definitely for a dairy meal, so check out her Scallion Pancake Challah for something parve and savory or her mouth-wateringly decadent Marzipan Challah for something unique and sweet.
Ben's Challah – This is a classic and easy recipe that would be welcome at any table. I might make this with some golden raisins (sultanas) mixed in! If you need a gluten-free recipe, check out this dairy-free recipe and if you need a vegan one this might be the answer to your prayers!
Honey Rose Sweet Challah – Gorgeous. Just gorgeous. This round wreath of challah rosettes would be the perfect centerpiece for a holiday table. It is fairly easy to make too!
Middle Row (left to right): The Honeys
Deb's Majestic Honey Cake – I love this recipe (though make sure to use the corrected amount of baking powder – 1 teaspoon). It is fairly close to my mother's recipe, but with a few tweaks. I tweak it further with different spices and flavoring agents. For all the vegans in the house, check out Mayim Bialik's recipe but for the love of all that is holy, please use silan (date syrup) instead of agave, it will be so much better! Gluten-free friends? We've got you sorted with this beauty and this Paleo/Gluten-Free stunner. Feeling daring? Check out Nik's Chia Honey Lemon Pound Cake with Chinese five-spice mix!
Lemon Yogurt Apple Cake with Lemongrass Ginger Syrup – Fresh and sassy, with a great combination of flavors, I am tempted to make this for our dessert. It would go especially well after a meal of interestingly spiced vegetable dishes! I love the look of a fruit-topped cake and might make my favorite cake with slices of apple and extra cinnamon on top!
Apples and Honey Cake – I've talked about Not Derby Pie before. Rivka always has great ideas for the holidays and this is no exception. She adds slices of apple to a honey cake for a great topical holiday reference! Want a less spicy apple cake? Check out this recipe from legendary Italian chef Lidia Bastianich for her grandmother's rustic apple cake.
Bottom Row (left to right): A Nice Change of Pace
Hungarian Flodni (Apple, Walnut, and Poppy Seed Pastry) – This recipe definitely takes some work, but its marriage of nutty and fruity is worth it! I love poppy seed desserts for their dramatic dark color and sexy earthiness. This French loaf cake is one of my absolute favorites (use Google translate if you need to), I have even made a low-carb version with Swerve artificial sweetener.
Vegan Coconut Rice Pudding – Oh man. Rice pudding is the best. I love it both warm and cold. Scandinavian, Indian, or Italian style. With fruit, or jam, or just some cinnamon. This version would be refreshing served cold with those beautiful pomegranate arils and gorgeous green pistachios on top.
How To Make Any Fruit Crisp or Crumble – This is an infinitely versatile tutorial and recipe ratio rather than a proper, formal recipe. You can substitute different types of flour, sweetener, or flavorings and use any type of fruit! I would love to make individual-sized crumbles with apple and fig and a coconut oil-honey topping in these adorable apple-shaped ramekins.
I hope these posts helped you plan your holiday menus. I hope to have another recipe up, but it might not happen before the holiday on Sunday night. Tag me on Instagram when you post your beautiful dishes and follow me there for more updates!
L'shanah tovah u'metukah! Here's to a good and sweet new year!