Jump to recipe
Years ago, before I started this blog, started reading Hummingbird High. It's a baking blog with beautiful recipes, photography, and prose by Michelle Lopez. I found myself making her recipes, marveling at her cake decorating skills, and asking many questions of her. She was generous with her time and always inspired me – I absolutely relied on her excellent guides to Portland, OR when I visited several years ago.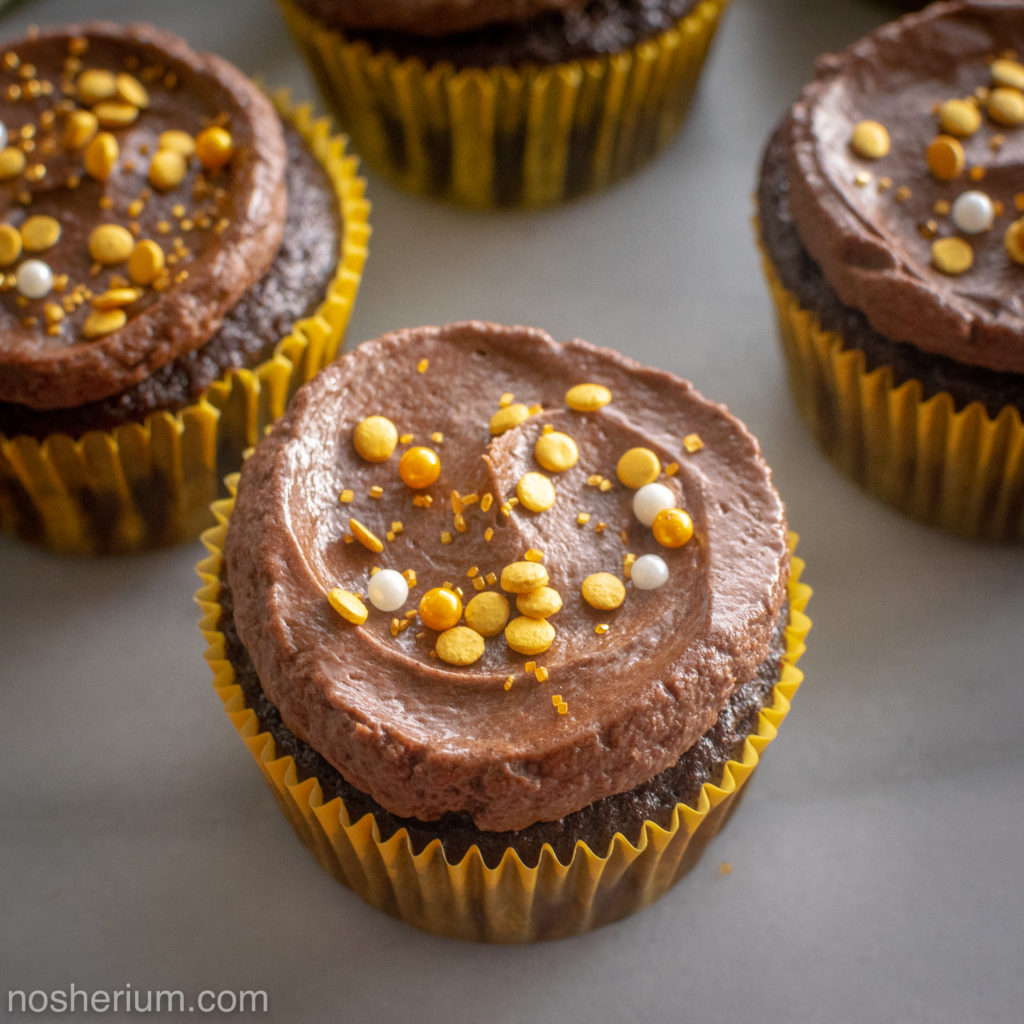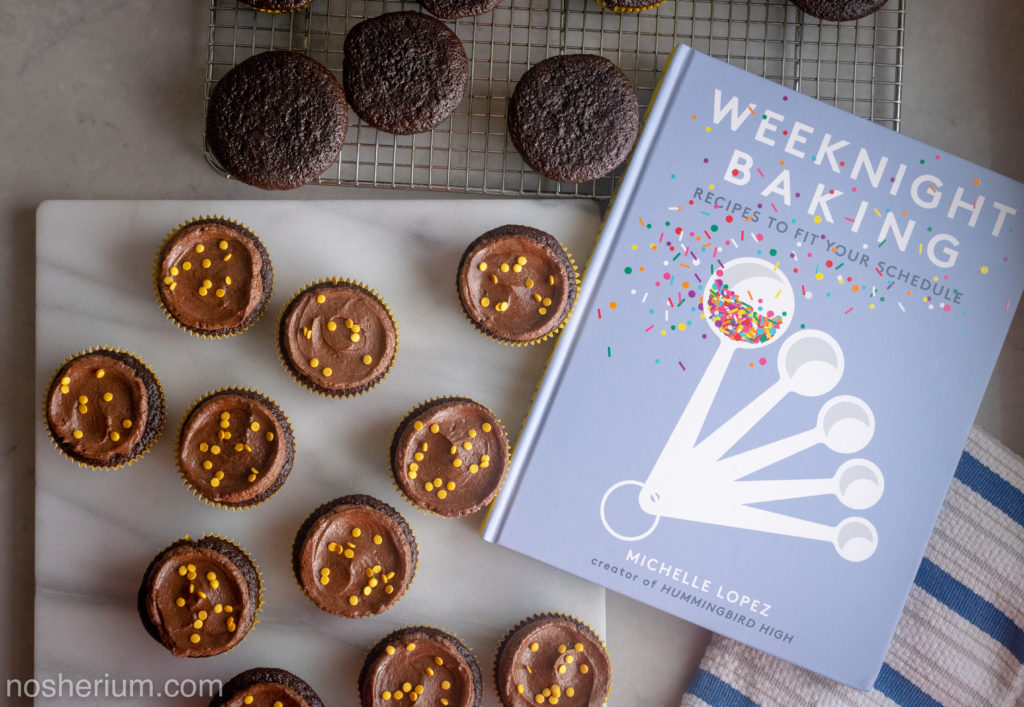 Michelle's new book, Weeknight Baking: Recipes to Fit Your Schedule shows how to fit baking into a busy, 21st century life – short and simple recipes as well as more involved recipes in manageable steps over the course of a few evenings. I am deeply touched and honored to have received an early copy of the book to share and explore. The condition of me receiving this book was simple – share the recipes and book!
I made several recipes and shared the epic Pumpkin Bread on my Instagram, and followed the #WeeknightBakingBook hashtag to see what other people were making from the book. It makes me hungry, and so heartened to see people coming together to promote this beautiful work.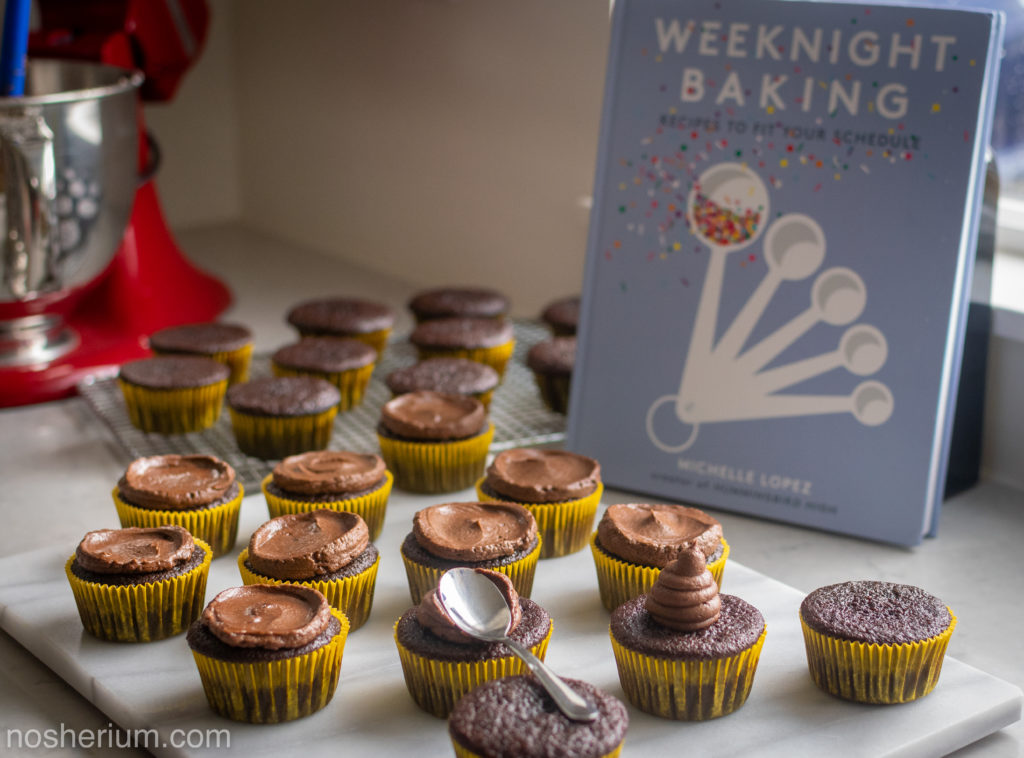 Today I'm sharing my version of the chocolate cake recipe with a #Hanukkah twist! This year Hanukkah starts on December 22nd and continues until December 30 – overlapping nicely with Christmas, and letting up in time for New Years. In past years, I've shared some less common recipes and approaches to celebrating Hanukkah – no latke recipes, no doughnut recipes… yet. We did Olio Nuovo Olive Oil Tasting, Frying-Free Hanukkah, shopping guides, latke round-up, as well as olive oil-centric recipes like a fresh Green Bean and Pomegranate Salad and Zesty Lemon Olive Oil Cake.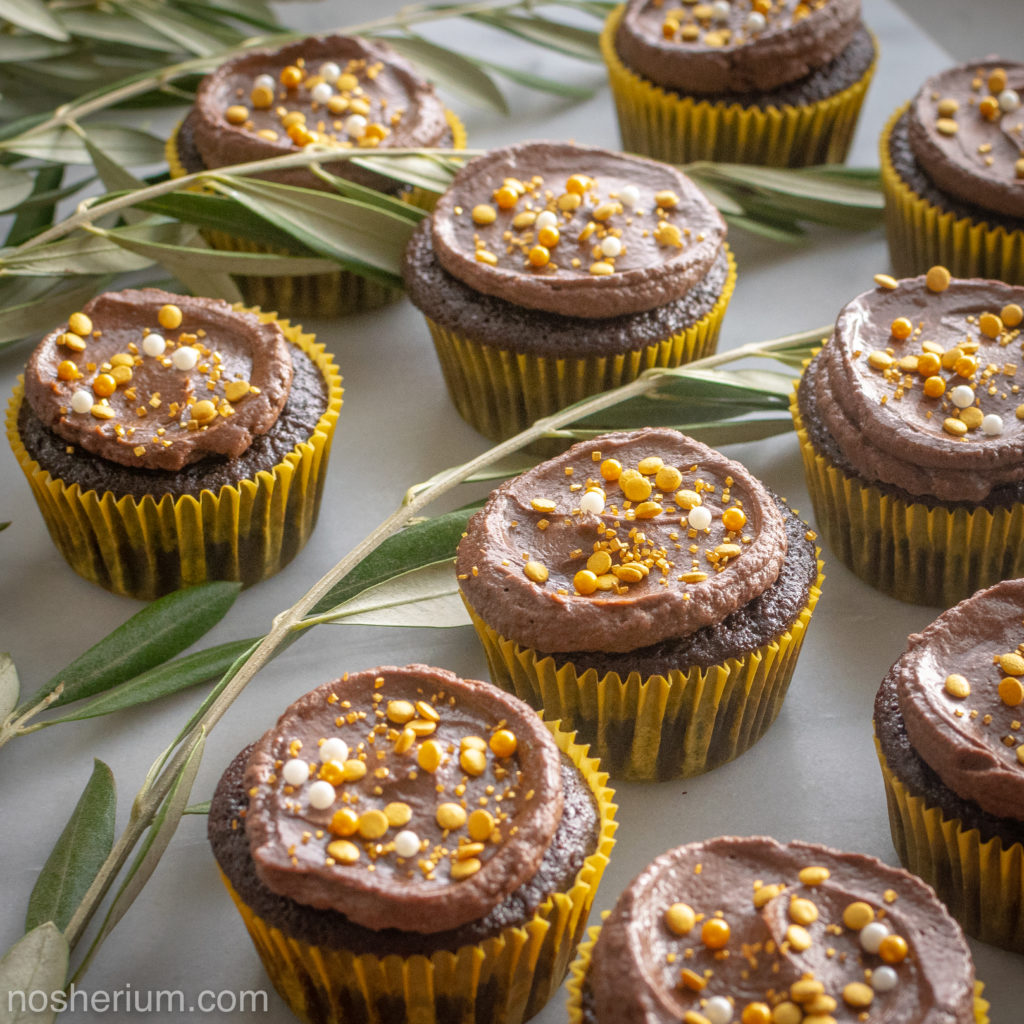 The Weeknight Baking book is divided into categories – cookies, loaf cakes, bars, cakes, frostings, etc. Each of the categories has suggestions and instructions to help the busy baker, and there are reference chapters about ingredients, shortcuts, equipment, and substitutions. The substitutions came in handy when I realized I didn't have (or really want to have) cake flour in the house. Michelle's *mathmagical* formula let me use all-purpose flour instead.
The #vegan recipes are especially exciting because of how Michelle approached their development with her admirable curiosity. Additionally, each recipe includes suggestions for ingredient and flavoring tweaks – everything from different spices to how to get tahini in to more things (my life's goal!).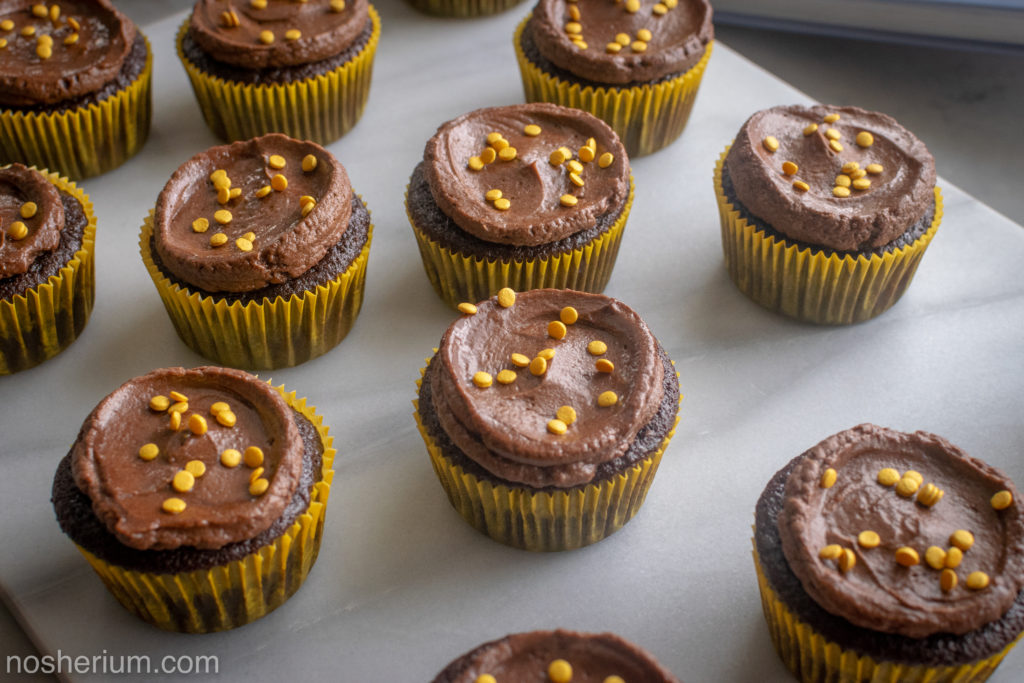 Every year, I look for a new way to celebrate #Hanukkah's miracle ingredient – olive oil. This year we have tender chocolate cupcakes featuring my beloved California olive oil with an easy chocolate buttercream. I decorated them with gold sprinkles, disks, and sugar to reference the rededicated temple of the Hanukkah story and the traditional, extremely noshable gelt coins. The mix of sprinkles I bought was pretty, but included tooth-challenging sugar balls, so I linked to another option above and in the recipe. A glitzier option would be using gold cupcake liners instead of the yellow ones I used.
In the spirit of Hanukkah's story of liberation and self-determination, the cocoa products used in this recipe are fair trade or similarly certified. It's getting easier to find ethically certified products, and I love featuring them here. If you're looking for fair trade chocolate coins for the holiday and competitive dreidel, here here here here! They are all delicious!
A little confession: this is the first time I have made impressive-looking frosting. The chocolate buttercream frosting in Weeknight Baking is so straightforward, so easy, and so delicious! I piped blobs onto the fully-cooled cupcakes then used a tiny spoon dipped in hot water to spread it out from the center. It took as few tries, but I got pretty good at it!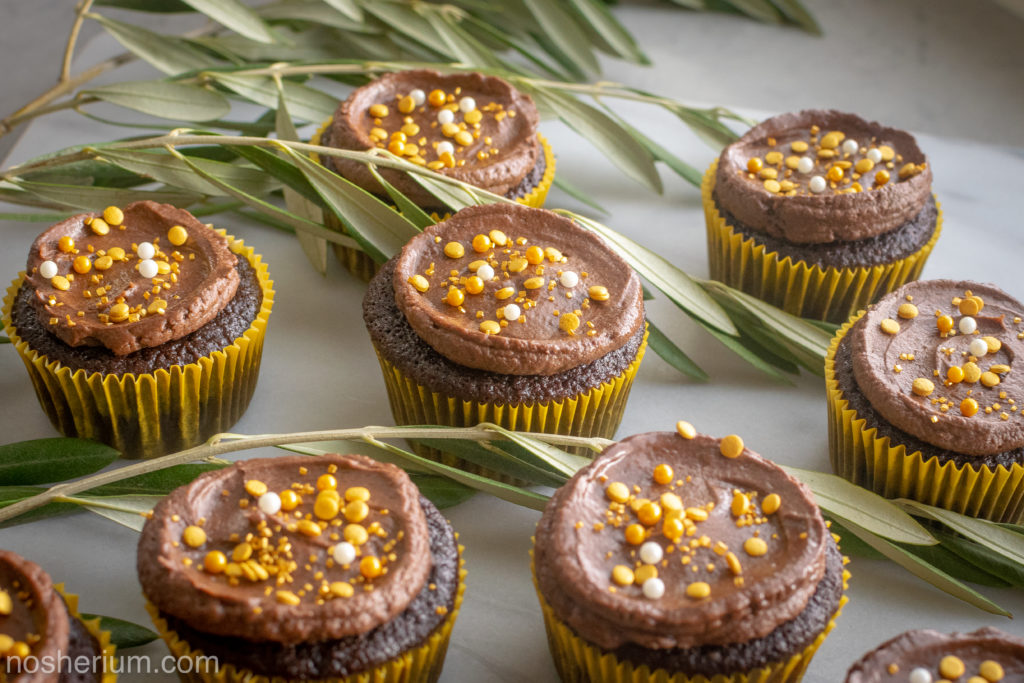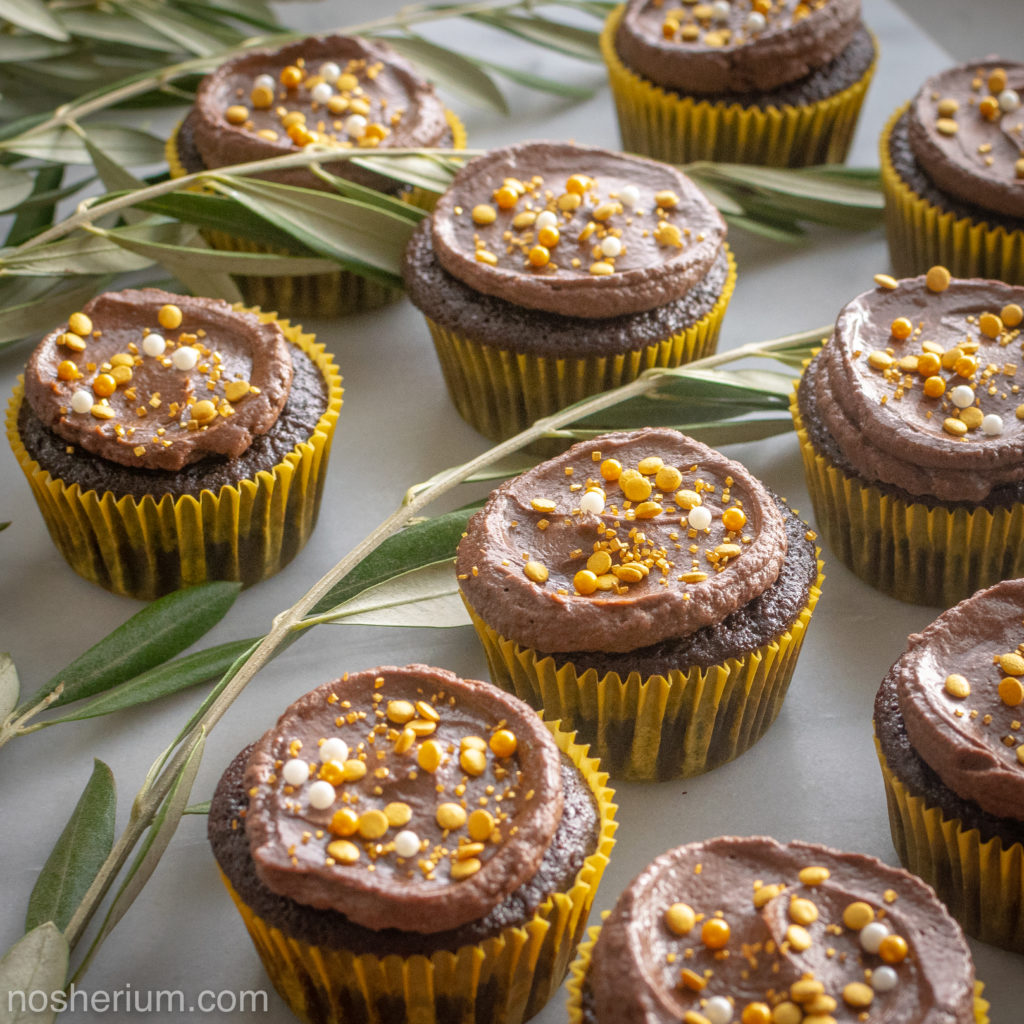 These cupcake are perfect whether you are celebrating Hanukkah, Christmas, Kwanzaa, Solstice, Festivus, or just feeling like enjoying some tender, beautiful cake! Happy holidays, and happy cake days to you!
Olive Oil Chocolate Cupcakes – #WeeknightBakingBook

Notes
My modifications have been noted in bold whether applicable. If you love this recipe, please consider buying Michelle Lopez's Weeknight Baking: Recipes to Fit Your Schedule.
This recipe calls for a hot cup of coffee, I recommend making it ahead of time and keeping it in an insulated container until needed.

Ingredients
For the cake:
2 cups (8 ounces) cake flour OR

(1 3/4 cups (7.85 ounces) all-purpose flour)

2 cups (14 ounces) granulated sugar
3/4 cup (2.25 ounces) natural unsweetened cocoa powder, sifted if lumpy
2 teaspoons baking soda
1 teaspoon baking powder
1 teaspoon kosher salt
1 cup (8 fluid ounces) buttermilk
1/2 cup (4 fluid ounces)

olive oil

2 large eggs
2 teaspoons pure vanilla extract
1 cup (8 fluid ounces)

boiling hot

coffee
For the frosting:
1 cup (8 ounces) unsalted butter,

at room temperature

3 1/2 cups (14 ounces) confectioners' sugar, sifted
1/2 cup (1.5 ounces) natural unsweetened or Dutch processed cocoa, sifted
1/4 cup (2 fluid ounces) whole milk
1 teaspoon pure vanilla extract
1/4 teaspoon kosher salt
Instructions
For the cake:
Position a rack in the center of the oven and preheat the oven to 350°F. Prepare your cake pan of choice: If making a sheet cake or layer cake, generously spray the sheet pan or cake pans with cooking spray and line the bottom with parchment paper (cut to fit, if using round pans). Spray the parchment, too. If making cupcakes, line two muffin tins with paper liners
In a medium bowl, whisk together the flour, sugar, cocoa powder, baking soda, baking powder, and salt.
In a large bowl, whisk together the buttermilk, oil, eggs, and vanilla. Gradually whisk in the dry ingredients until just combined. Slowly pour in the hot coffee. The batter will be fairly runny; use a rubber spatula to scrape down the bottom and side of the bowl. Use the rubber spatula to finish mixing until smooth and well combined, 2 to 3 minutes more.
Pour the batter into the prepared pan(s). If making a sheet cake, bake for 35 to 40 minutes. If making a layer cake, note that this recipe makes around 44 ounces of batter; pour 22 ounces into each cake pan and bake for 35 to 40 minutes. If making cupcakes, pour the batter into a large liquid measuring cup and use it to fill each paper liner two-thirds of the way; bake for 20 to 25 minutes. When done, the top of the cake should bounce back when gently pressed and a skewer inserted into the center of the cake should come out with a few crumbs attached. Cool completely in the pans on a wire rack before frosting.
For the frosting:
In the bowl of a stand mixer fitted with the paddle attachment, beat the butter on medium-low until soft and creamy, 2 to 3 minutes. Scrape down the bottom and side of the bowl with a rubber spatula. With the mixer on low, gradually add the confectioners' sugar, cocoa powder, milk, vanilla, and salt and beat until combined. Scrape down the bottom and sides of the bowl once more, then beat on medium-high until the frosting is creamy and smooth, 2 to 3 minutes. Use immediately or follow the storage instruction on page 97. The frosting will keep in the refrigerator for up to 1 week or in the freezer for up to 1 year.
Assembly:
Pipe or spoon a mound of frosting onto each cupcake, then using a small spoon (I used a demitasse spoon, which is smaller than a teaspoon, but any will do) that has been dipped in hot water to swirl and spread the frosting out from the center. Practice on a plate if you want to, you can scoop the practice frosting back into your piping bag or storage container.
Sprinkle gold decorations onto the frosting, tapping pieces down if needed.
© 2023 © 2020 Nosherium