Jump to recipe
Stuffing. Dressing. Bread-y side dishy thing. It's a thing. I still don't really get it.
When I was planning Fakesgiving, I knew I had to take a stab at stuffing. It's a ubiquitous part of Thanksgiving dinner, and is well-loved, so I dove in. I researched. I planned. I realized that it wasn't going to be filling a turkey because turkey legs (even gorgeous tea-brined aromatically-spiced ones) aren't built for stuffing. And by golly, if it is called stuffing it had better stuff something! Food blogger pride and classic Yael stubbornness took hold as I weighed my options.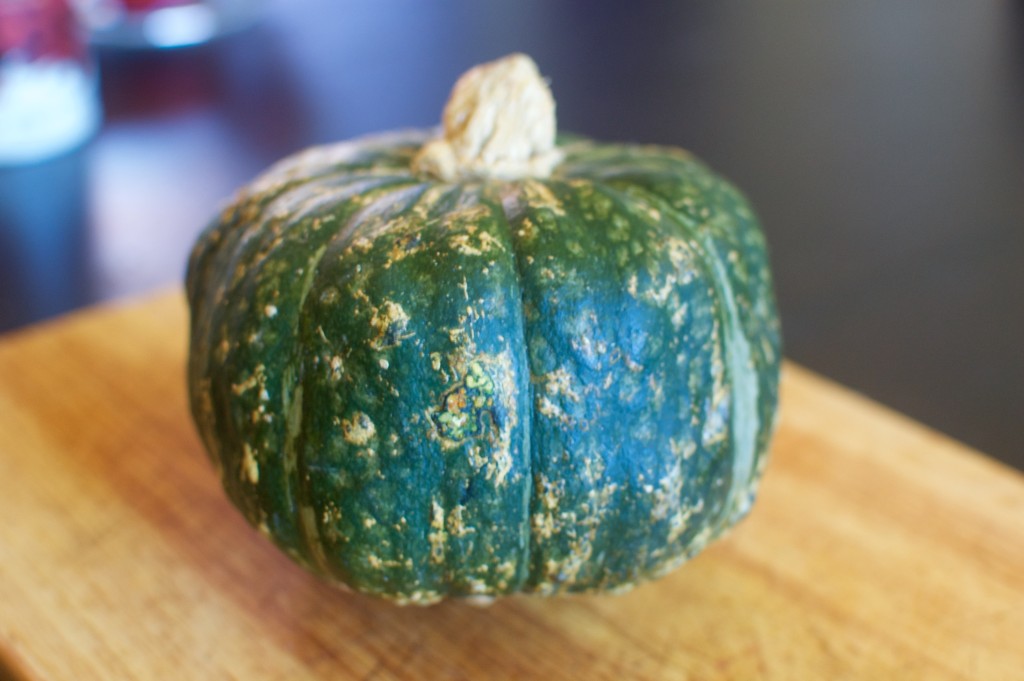 The Tuesday before my Fakesgiving dinner, I opened my CSA box to find an adorable, squat Kabocha squash with nubbly dark green skin and smooth, dense flesh. My stuffing prayers had been answered.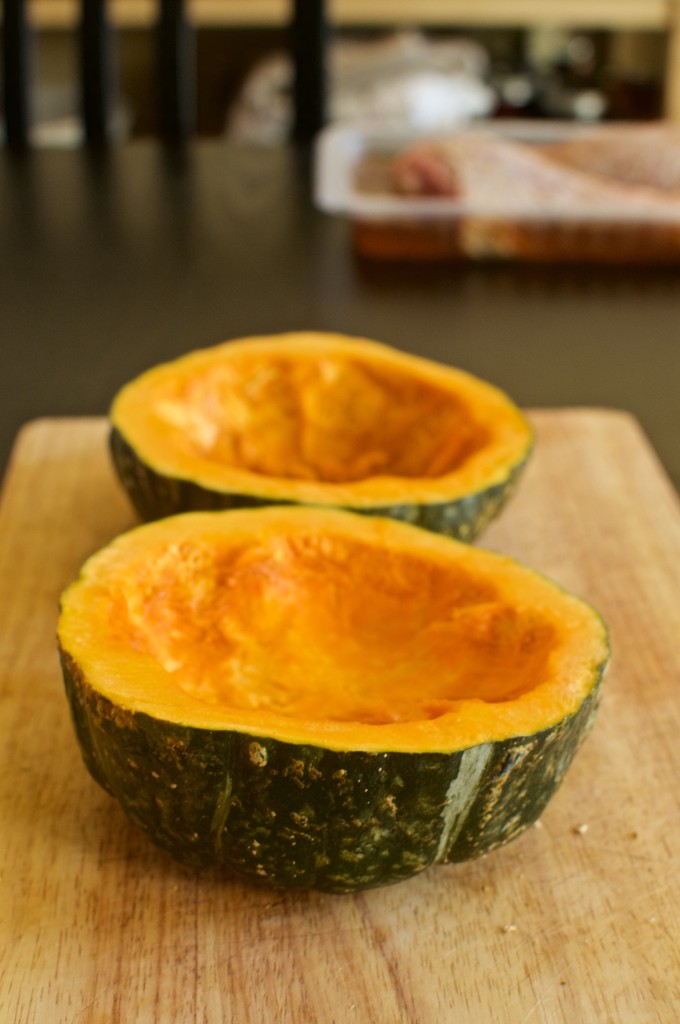 I gathered ingredients for the stuffing with an eye toward traditional, seasonal flavors. I selected two types of mushrooms – criminis for their firmness and butter-yellow chanterelles for their elegant wrinkles. A handful of tiny sage leaves were picked from my balcony herb garden. My marvelous gourmande of a neighbor donated locally baked bread. We were ready.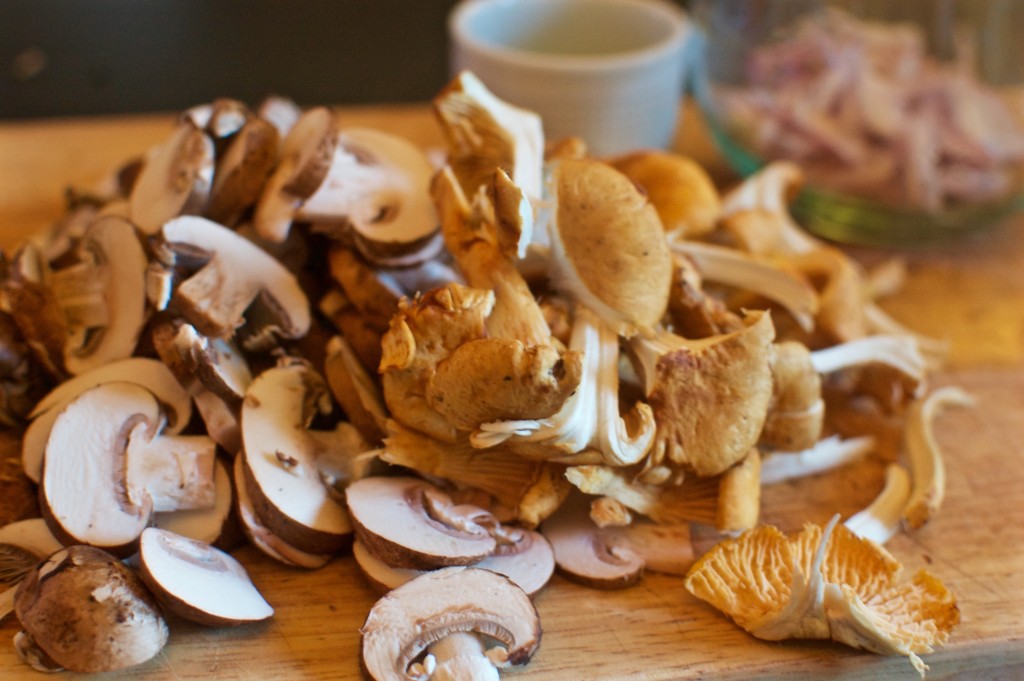 I halved the squash, leveled their undersides, and scooped out the seeds. The squash roasted and the bread toasted along side the turkey legs, while I sautéed onions, mushrooms, and sage. I simmered the vegetables and bread with white wine and duck stock until our little apartment was filled with savory, rich, autumnal scents. The squash stuffed beautifully and the remaining filling went into a charming double-handed bowl. Corralled in a festive red casserole dish, the stuffing-stuffed squash browned up pleasingly and went straight to the table.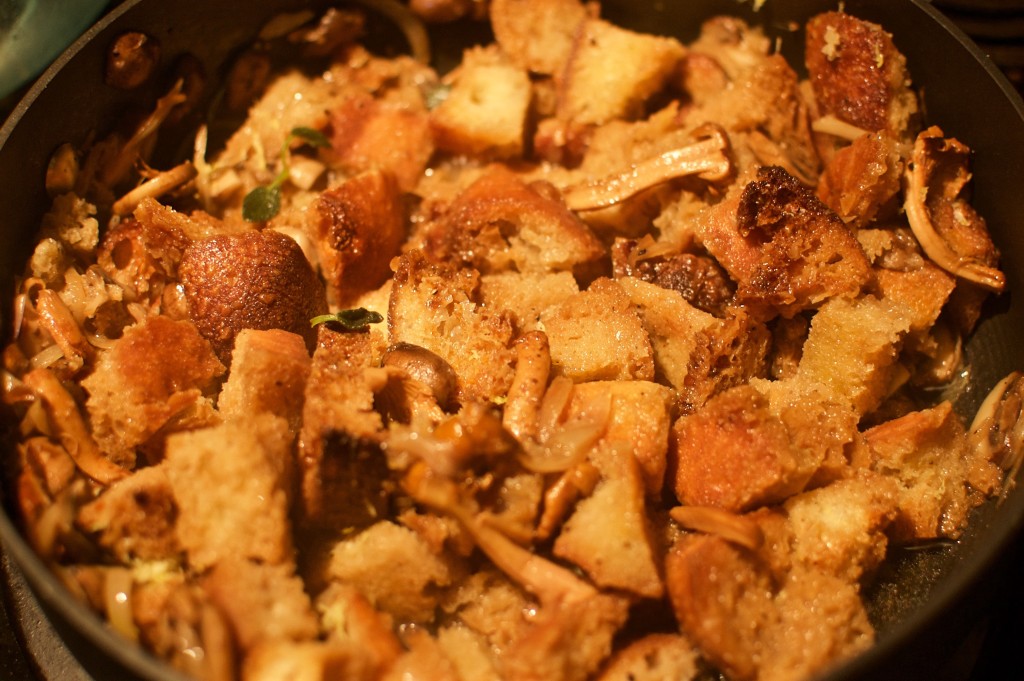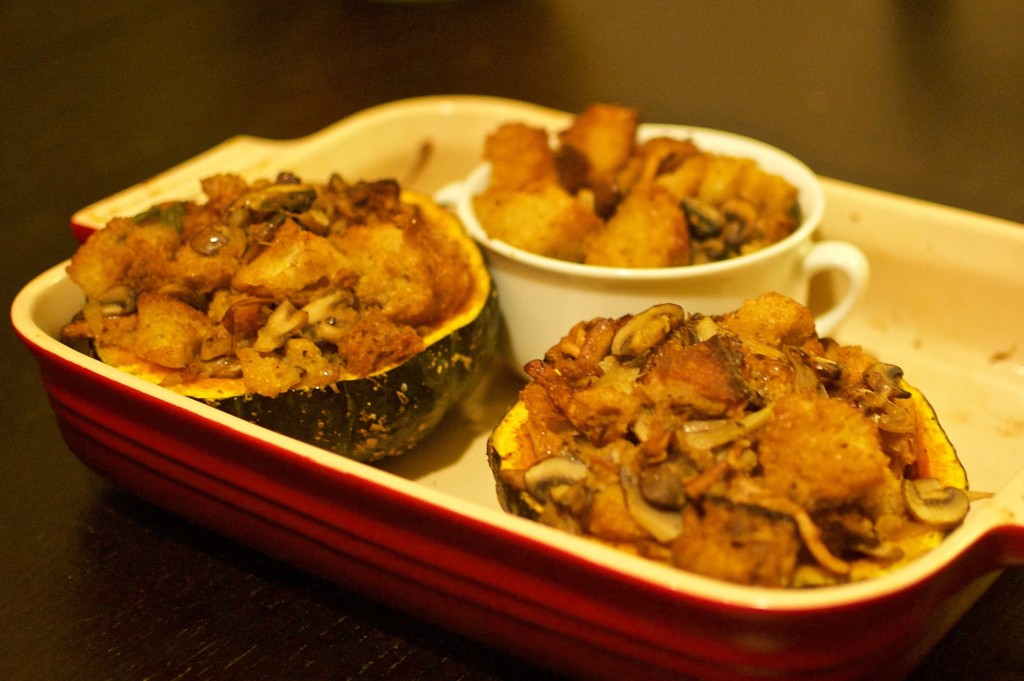 This is a rich stuffing, but it is easily and quickly made and serves up dramatically inside the squash. Our squash wasn't gigantic so we cut each half in half. Little did we know how gloriously filling the stuffing would be!
The recipe is infinitely versatile; if you make this with a vegetable stock, it is vegan and would make an excellent main course. You could top it with some cheese for the last 15 minutes of cooking for a bubbled, browned, cheesy crust, or add meat or beans if you wanted it to be even more filling. Add vegetables such as kale, asparagus, or cooked squash for extra flavor and wholesomeness. Make it yours!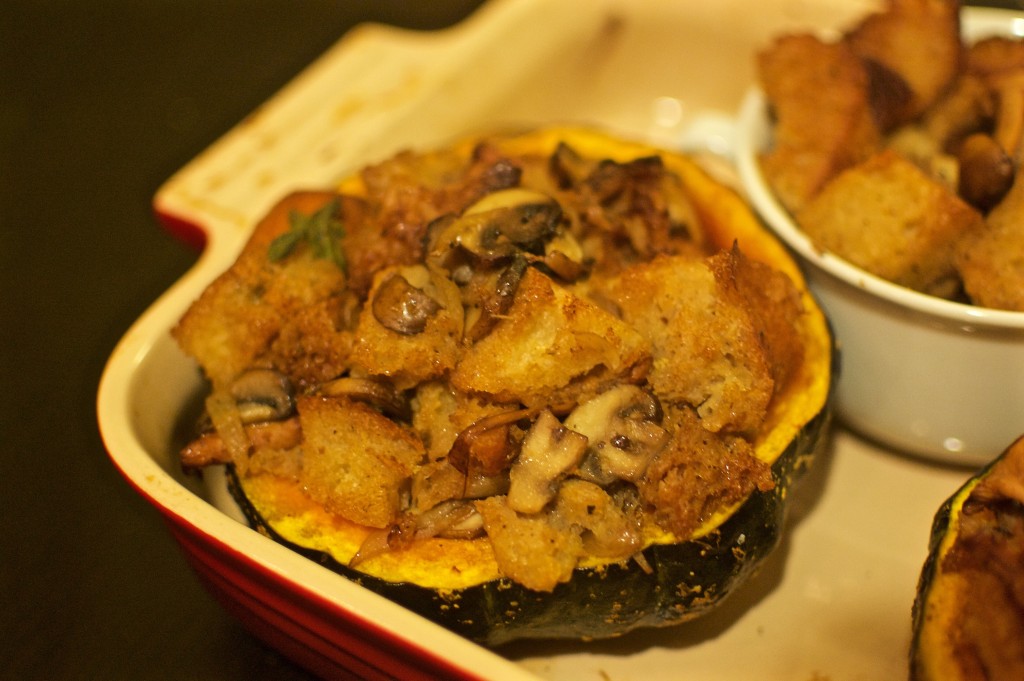 Happy and very filling Thanksgiving to you all!
Thanksgiving Mushroom Stuffing-Stuffed Squash

A gloriously savory, luxuriously mushroomy stuffing baked in squash for a side dish (or vegetarian main) that is sure to please!

Notes
This whole recipe can be made in the time it takes to roast my tea-brined turkey legs. I roasted the turkey in the lower third of the oven so I could easily add and remove the components of this recipe. The squash halves can be roasted and even stuffed a day in advance, but must be carefully handled once cooked as they are delicate.

Ingredients
1-2 whole kabocha or acorn squashes
Olive oil
Salt
Approximately 1 pound/453 g slightly stale bread, cubed or torn
1 small onion
1 1/2 lb/680g mixed mushrooms (crimini and chanterelles)
A handful of sage leaves
1/4 cup/60 ml white wine
2 cups/473 ml duck, chicken, or vegetable stock
Instructions
Preheat oven to 425°F/218°C and line a baking sheet with parchment paper.
Cut off the stem of the squash and halve it along its equator. Scoop out the seeds and loose, stringy flesh. Rub with olive oil and salt. Roast, cut side up, in a casserole dish for 30-40 minutes, until fairly tender but not mushy.
Toss the cubed or torn bread with plenty of olive oil, salt and pepper. Spread out on a parchment-lined baking sheet and toast in the oven for 10 minutes, tossing once after 5 minutes.
While the squash is roasting and bread is toasting, chop the onions and slice (or in the case of the chanterelles, tear) the mushrooms.
Heat olive oil in a skillet over medium-high heat, then sauté the onions with the sage and a pinch of salt until golden and fragrant. Add the mushrooms and cook, mixing frequently until the mushrooms soften and start to brown.
When the mushrooms release their moisture, add the toasted bread to soak up some of the cooking juices. Add white wine and cook down. Add stock in two additions, allowing it to soak into the bread. Remove from heat and season with salt and pepper, to taste. All the steps up to this point can be done a day or two early.
At this point you will have a skillet full of gloriously mushroomy mushy bread. Stuff the mixture into the squash halves firmly, put any excess stuffing in a small baking dish. Place stuffed squash halves and extra baking dish in a casserole dish and cover with foil.
Reduce oven temperature to 400°F/205°C. Cook the covered casserole dish for 15 minutes, then uncover and cook for another 15 minutes, until toasted and golden on top.
Remove from oven, let cool slightly, then serve the squash cut into halves or wedges.
© 2023 © 2020 Nosherium