Jump to recipe
This is the first year that my fiancé isn't going to be with his family for Thanksgiving. As happy as we will be, returning from a relaxing vacation, we will miss being with them, deeply. More than any other, this is the holiday that marks my membership in a new family.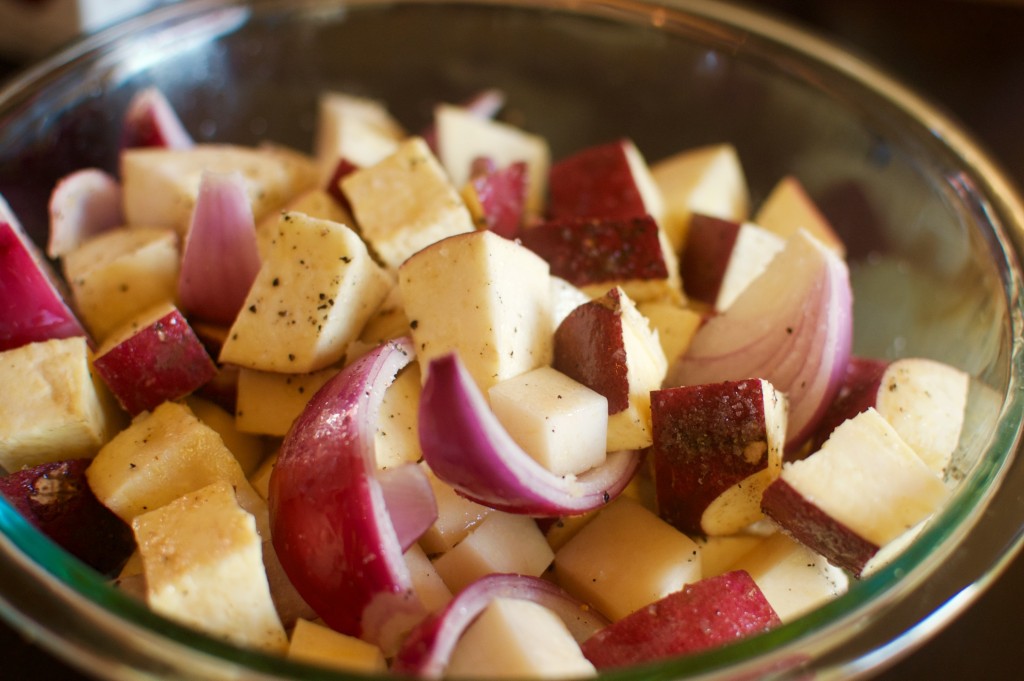 I didn't grow up celebrating Thanksgiving, neither of my parents did, and when we settled in the U.S. it seemed foreign to us. Its timing was frustrating. Autumn would come in a flurry of back-to-school preparations. Rosh HaShanah's honey cake lead into Yom Yippur's solemnity. As Sukkot's harvest-themed dinners and paper chain-making ended, Halloween leapt up from nowhere. And then, just as we began preparing for the onslaught of Christmas carols and Hanukkah's soufganiyot, there was this mysterious "Turkey Day". In first grade, my mother and I learned to shake whipping cream into butter and bake cornbread along with classmates from a dozen different countries. That was the extent of my ownership of this holiday.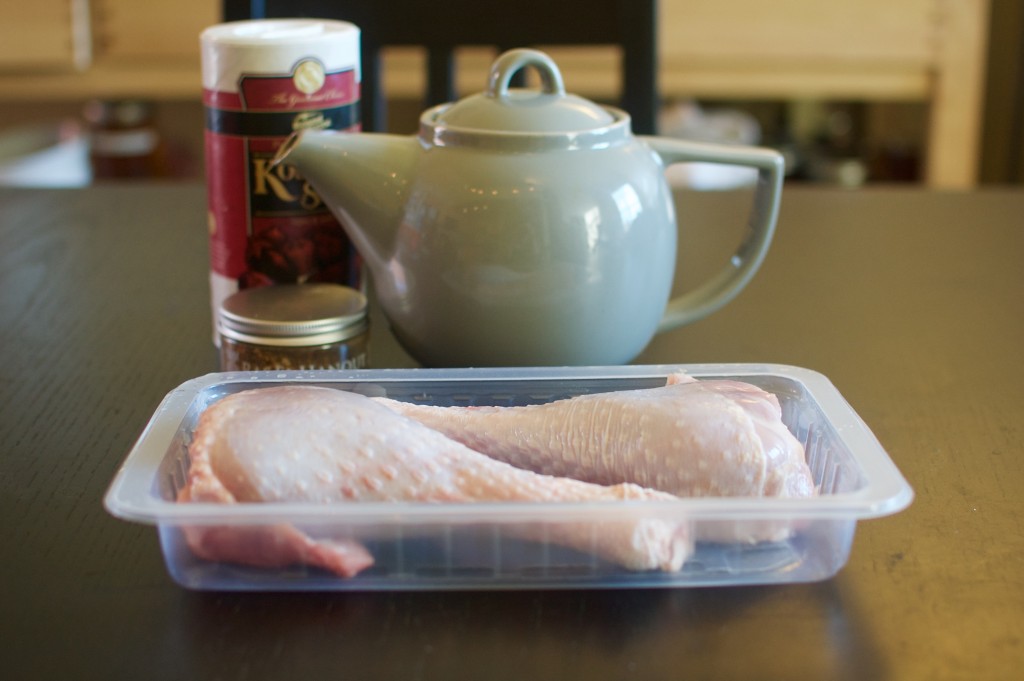 My first Thanksgiving dinner was at my future in-laws' table, more than a decade ago. All the trappings were there; the beautiful bronze bird, the stuffing, the cranberry sauce. Years later, I hosted a Thanksgiving dinner, while in graduate school in Israel. I roasted two chickens (a whole turkey was rare and expensive), baked cornbread that almost drove a homesick Texan to tears, and served green beans in creamy Israeli tahina sauce (much like this). During my absence, dear friends took to hosting my family for Thanksgiving, folding the Shuvals into their growing family with a multitude of delectable courses of Pacific Northwest autumnal cuisine. The Thanksgiving after I returned from Israel, I joined them. And still, this holiday is not my own.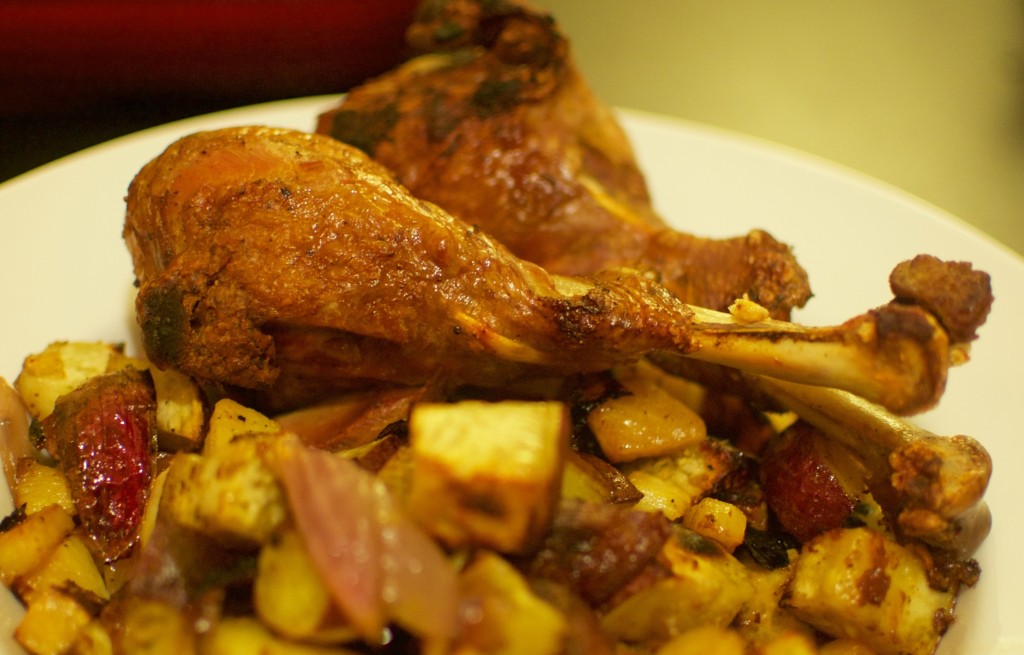 In preparing Nosherium's Thanksgiving coverage, I have learned much, tried my hand at new techniques, sampled both traditional and new-fangled flavor combinations, and started to discover my own Thanksgiving. In this post and its Stuffing-Stuffed Kabocha Squash Companion, I will detail my first approach – a distillation of the familiar flavors of the holiday into a meal for two to four people. You could easily double the turkey portion for a table of six or more loved ones. And so, I present you with turkey that is quickly prepared, and roasted with an updated mix of vegetables. The turkey is rubbed with salt, pepper, and an exotic Moroccan spice blend, and marinated in black tea for a rich, nuanced flavor and beguiling aroma. The roasted rutabaga, onion, and Japanese sweet potato are a unique combination of creamy white and surprising purples. Together, the turkey and vegetables set the table for an easier, modern Thanksgiving.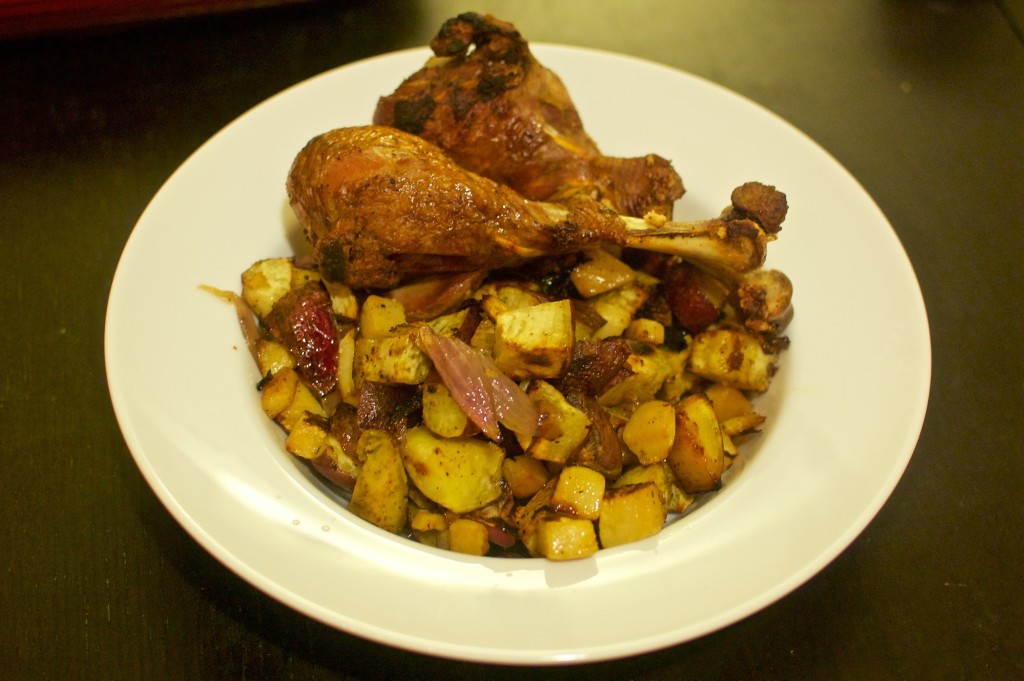 Exotic Spiced Thanksgiving Turkey Legs and Roasted Vegetables

An easy and quick way to get flavorful and incidentally Paleo-friendly turkey and roasted vegetables using one pan!

Cook Time
1 hour, 30 minutes
Total Time
1 hour, 30 minutes
Notes
I made this with only two turkey legs and marinated them in the tea for an hour. I turned the legs several times to ensure full submersion in the tea.
Ras el Hanout is a beautiful blend of spices, but the blend varies wildly between brands. If possible, find one you can sample before buying and look for blends that include rose as this is a central part of its aroma and flavor.

Instructions
Rub the turkey legs with salt, pepper, and Ras el Hanout, then place in tall-sided dish or tray and cover with room temperature tea. Let it sit for one hour on the counter or up to 24 hours, covered, in the fridge.
Preheat the oven to 425°F/218°C and line a half-sheet baking pan (13"x18"/approx. 33cmx46cm) with parchment paper.
Pat the turkey legs dry and a place on one end of the parchment-lined tray. Place in preheated oven.
Prepare the vegetables and place them in a large mixing bowl. Toss with olive or melted coconut oil, salt and pepper.
After the turkey legs have been in the oven for 30 minutes, add the seasoned vegetables to the other side of the tray. Spread them out in a single layer, and mix occasionally to ensure even roasting.
Roast for one hour, until the turkey is golden brown, and the vegetables are easily pierced with a skewer or paring knife.
If desired, remove the turkey legs and place the tray under the broiler to brown the vegetables, but make sure your parchment paper can handle such a high temperature.
Serve forth, and eat with thankful gusto.
© 2023 © 2020 Nosherium