There's nothing more festive than a collection of beautiful cheeses, fruit, and honey. I love cheese. Seriously. The way I screened caterers for our wedding was by asking them what they could do for a couple that really loves cheese. We ended up going with the chef who said "Oh, we can make a cheese extravaganza!" I also love how easy it is to prepare a beautiful centerpiece cheese board without fussing around with cooking, baking, or excessive chopping.  No fuss, no muss!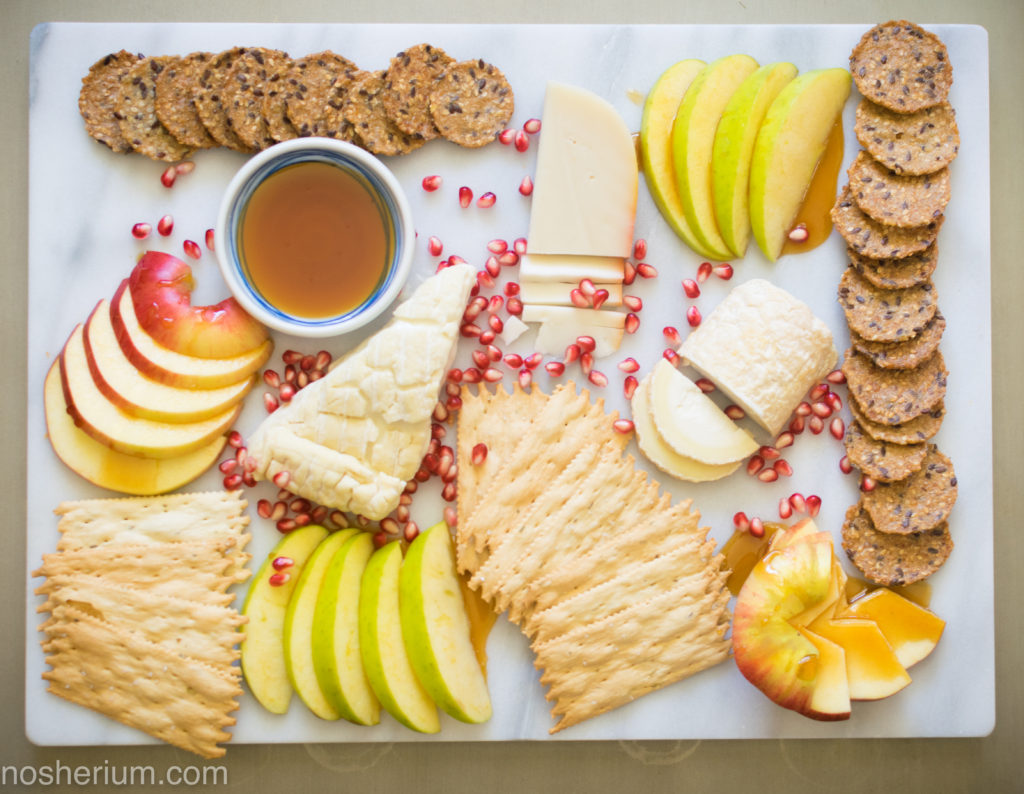 There are many, many, too many articles about building a cheese plate. It starts getting overwhelming and a little too esoteric – get a mix of textures! one of each type of milk! have special pairings for each cheese! Good grief. If you need a primer from an absolute cheese expert, check out Madame Fromage's post.
One of my favorite techniques is so simple – decide on a type of milk and explore the breadth of those cheeses. In this case, I chose goat cheeses because I love how they pair with crisp apples and unique, dark honey like Nude Bee's buckwheat honey. When Nude Bee reached out offering to send me some of their single-varietal honey for Rosh HaShanah, I checked out their website and the first thing I fixated on was the buckwheat honey. I was delighted when it was included in my gift box!
I chose these three goat cheeses at my local cheese shop:
Chabichou – a little wrinkle-rinded cylinder with a creamy but not spreadable interior
Chèvre D'Argental – a supremely creamy, runny brie-style cheese with a soft rind
Benning Goat Gouda – a young, mild, firm but not hard wedge of dutch goodness.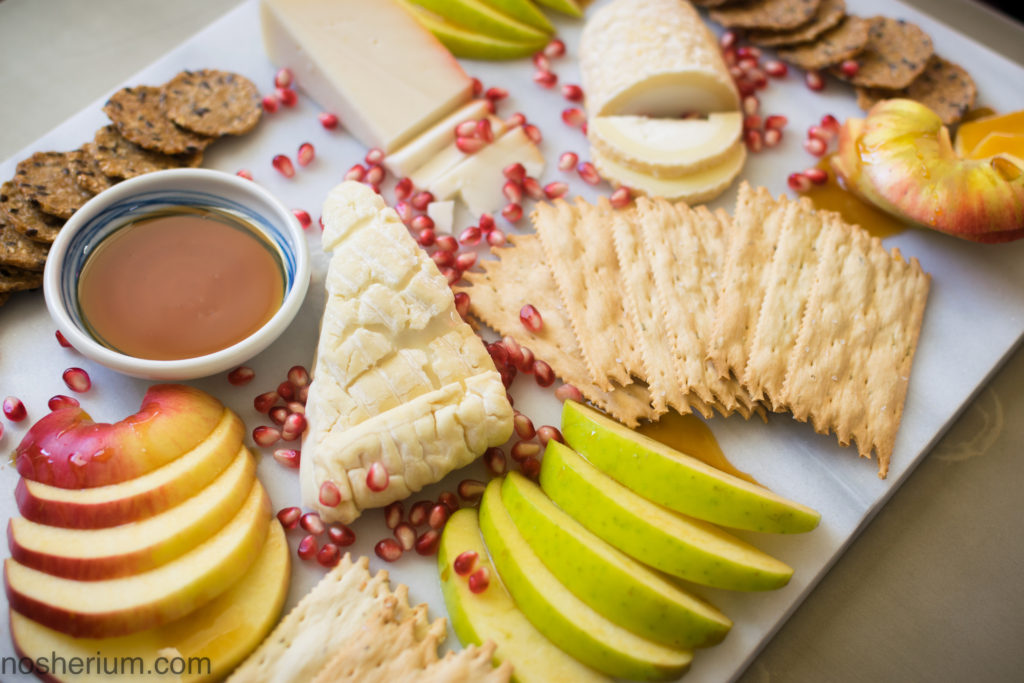 The venue for this party is your choice of board. I used a gorgeous marble board because it gives me lots of space to spread out, but I have successfully served cheeses on wood cutting boards, slate tiles, stoneware and porcelain plates and platters, etc. A warning – pre-slice hard cheeses to avoid having too sharp a knife in the middle of the action. Any cheese that can't be cut with a normal dinner knife is, in my opinion, a little too hard for the center of a board.
You'll need some interesting apples to go with your tasty cheese and beautiful honey! I like Mutsu (also called Crispin) for their lovely freckled pale green skin and perfectly crisp texture. They sometimes have a bit of russet on the stem end – a little bit of darker, rougher skin. I enjoy their textural contrast and balanced sweetness a lot. The other apple I used for this cheese plate was a lovely red and yellow-skinned Jonathan – tart and firm – just right for dipping in honey or topping with cheese.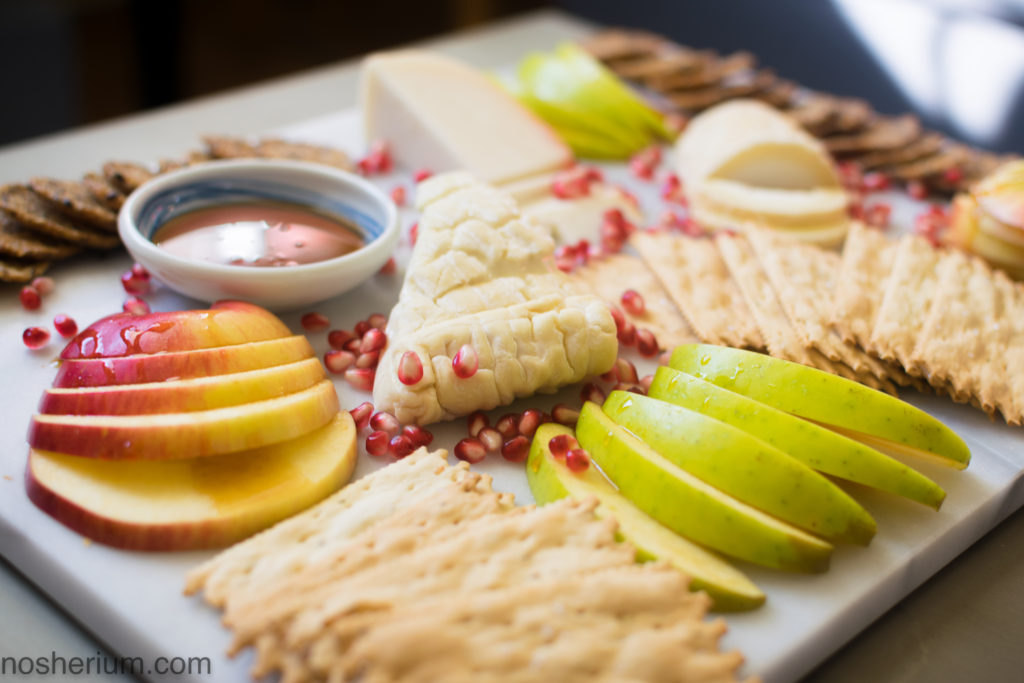 Cheeses, especially soft gloopy ones like the chèvre d'argental need a vehicle. You can definitely use apple slices, but some crackers are welcome too. I used Mary's Gone Crackers for a gluten-free, kosher, nut-free option as well as La Panzanella Rosemary Minis.
If you feel inclined, add some pomegranate seeds for a festive touch, but be prepared for people to get really keen about finding every single aril! Add some olives if you want, or some pickled green beans. Make sure you have little napkins/serviettes because people are going to get messy! There you have it, a delicious appetizer, dessert, or snack with maximum wow for your effort buck!
Have a very fruitful, sweet, creamy, and funky new year!