"Dining partners, regardless of gender, social standing, or the years they've lived, should be chosen for their ability to eat – and drink! – with the right mixture of abandon and restraint. They should enjoy food, and look upon its preparation and its degustation as one of the human arts."

-M.F.K. Fisher in Serve It Forth
The greatest joy is sharing food with excellent and likeminded friends. Recently, I had a marvelous dinner hosted by friends living nearby. We spent the weekend eating, drinking, tasting wine, lounging in the sun, and admiring the handsomest corgi on the planet.
The crowning glory of the weekend was cooked at their home – grilled lamb chops served with red pepper-studded couscous and fresh spring asparagus. We all chopped, cooked, mixed, grilled, tasted, and chatted as we went along. We exchanged ideas and opined on different techniques. The day was glorious and the food was splendid.
I love red wine, but suffer from migraines so instead we paired several interesting a refreshing white wines with our meal.
All of the preparation was simple – the lamb chops were rubbed all over with salt, pepper and Ras El Hanout spice blend. The asparagus was slender and tender, so it was blanched (with this genius technique) and served with a drizzle of California olive oil. The couscous was made according to the packet directions, with the addition of sautéed onions, turmeric, and chopped red pepper.
We ate with gusto and that perfect balance of abandon and restraint.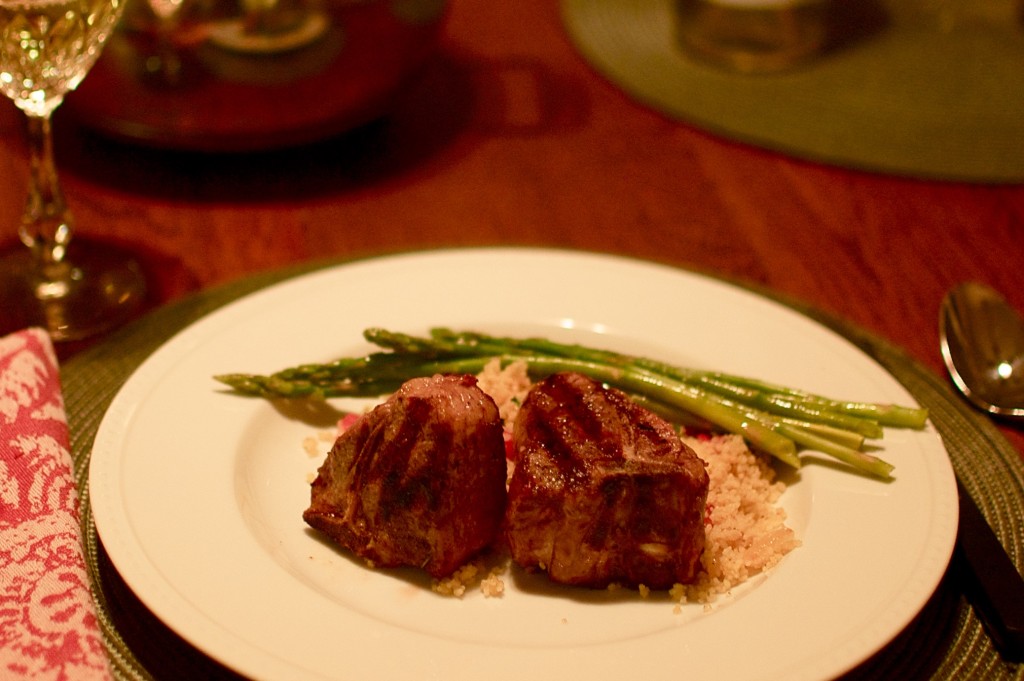 And there you are! Grilled Ras El Hanout lamb chops with warm red pepper couscous and delicate asparagus.
Stay tuned for the beautiful and luscious dessert recipe post!