It seems that Rosh HaShanah (the Jewish New Year) snuck up on me. It is less than a month away and here I am, not having posted any honey, apple, or pomegranate recipes! While I frantically work to remedy that, I present a new type of post to you – shopping and housewares!
Honey pots are generally a pleasant thing to have and at the HHD (as I like to call the High Holy Days) they are even lovelier. There's nothing quite as festive as a platter of apples and honey.
My requirements for a honey pot are:
Nice looking – utilitarian is fine, but these should never be unsightly.
Lid – Left uncovered, honey will attract the wrong kind of visitor.
Space for spoon or honey stick – to try to keep stickiness to a minimum.
This is my round up of honey pots (or things that could be used as a honey pot) from around the internet and my first foray into collage making. I'll improve, I promise!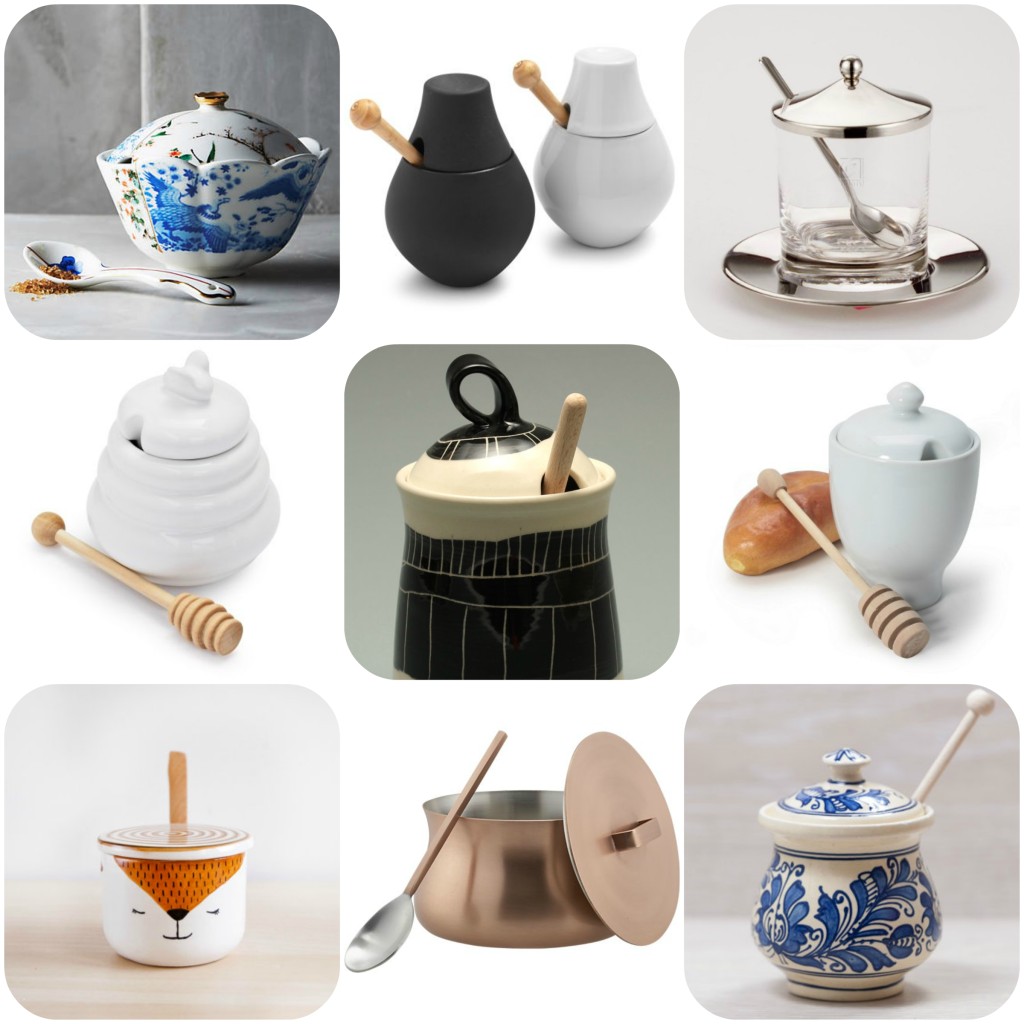 Top Row (left to right):
Unlikely Symmetry Sugar Bowl – $88 – At the absolute upper end of the price range, this stunning bowl is made from different porcelain pieces for an quirkily elegant showstopper.
Revol Sauce Pot – $19.99 – Lovely and minimalist, with clean lines and a choice between glossy white and slightly matte black.
Godinger Jam Jar with Spoon and Tray – $24.61 – A sleek metal and glass option for those with a pared down aesthetic. Bonus points for the included tray!
Middle Row (left to right):
Bee Honey Pot – $12.00 – Whimsical and sweet, rendered in unfussy white earthenware.
Handmade Black and White Porcelain Honey Pot – $30.00 – Modern and insanely cool, this pot is handmade in the USA. Check out the coordinating little bowl for slices of apple.
White Porcelain Honey Pot with Dipper – $9.16 – A tall, classic shape that will go with just about any table setting.
Bottom Row (left to right):
Cute Fox Sugar Bowl – $38.58 + $8.05 shipping- I just can't get over this adorable little fox bowl. It's a bit pricy, but think of all its uses! Sugar bowl at afternoon tea, supporting an independent artist, and literally sweetest jollifier to lift your spirits.
Copper Kinley Sugar Bowl – $24.95 – Copper is having a design moment and I like this bowl's gentle curves and squat shape.
Handpainted Romanian Honey Pot – $16.80 + $14.60 shipping – A traditional blue and white pattern that would be at home with modern or traditional dinnerware.
Stay tuned for recipes and another round up early next week of more budget honey pot options and other useful holiday serve ware!