Ah! The sweet, oniony smell of latkes is in the air and chocolate coins are popping up everywhere. Blogs are full of doughnuts and potato-grating tips. Blue and silver displays peek out from behind mountains of cinnamon-scented pinecones and strings of Christmas lights. Tis the season for Hanukkah!
This year, Hanukkah is early in December, preceding the mad rush of Christmas, but not really giving me time to fully recover from the pumpkin-y onslaught of Thanksgiving. I'm not in the mood for frying batch after batch of latke. I'm not in the mood to fuss over doughnut dough and ways of injecting jam into the finished, gloriously golden soufganiyot. And so, I present to you my festive, frying-free Hanukkah round-up!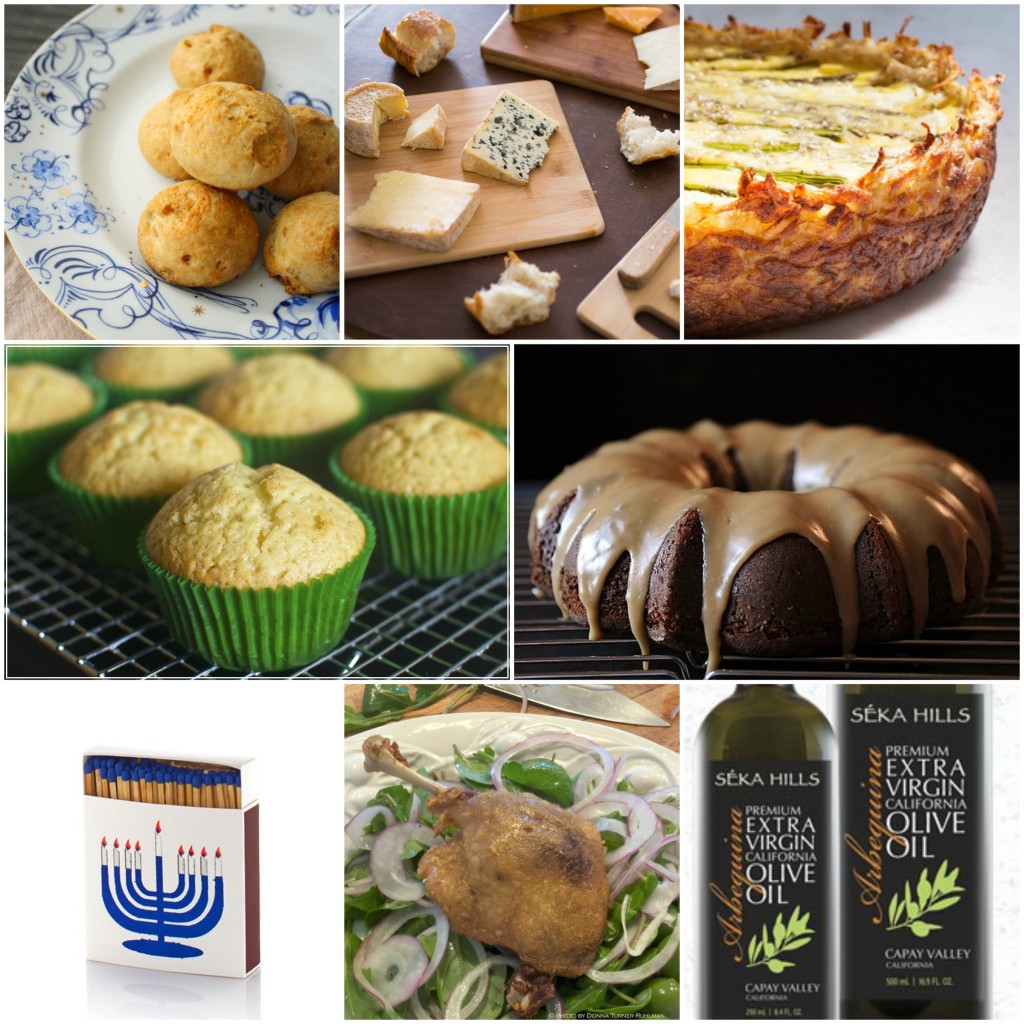 Top Row:
Cheese and olive oil are both symbolic foods for Hanukkah, combine the two in an elegant cocktail appetizer – Olive Oil and Cheese Gougères! The picture is from this recipe that uses butter but could be easily adapted, or try this recipe that included chopped olives!
Have a cheese plate for a party (or just for yourself!) and tell the very fierce story of Judith. Feeling ambitious? Try making soft cheeses at home!
Still missing the crispiness of potato latkes? Try a Hashbrown Crusted Quiche!
Middle:
Put olive oil (one of the main symbols of the holiday) in its rightful place – the spotlight! My bright Zesty Lemon Olive Oil Cake is a perfect way to celebrate the miracle of the oil.
It might seem strange, but my favorite part of latkes is the applesauce. After cooking up a gigantic batch of the 'sauce from a neighbor's fruits, I made this Applesauce Cake with Caramel Glaze. I came across the recipe here, and everything Molly writes is entirely true.
Bottom:
I'm eager to support local and small businesses that are producing Hanukkah products. These lovely matchboxes would pair nicely with any hanukiyah.
This olive oil is delicious and is produced by the Yocha Dehe Nation, a Native American tribe in Northern California (read more about it here). A friend gave me a bottle and I just can't get enough of it!
Looking for a make-ahead main course? Make duck (or even chicken!) confit with olive oil! Dry-brine the meat overnight, then cook it gently, covered in oil. Bam! French bistro-themed Hanukkah for you!
If you do love frying things, stay tuned! I'll have some international latke goodness for you!