Latkes. Crispy, fried, glorious fritters! There's something for everyone – the traditionalist, the lover of hors d'oeuvres, the gluten-free gourmand! These are my favorite fried fritters for Hanukkah and the rest of the year.
In my last Hanukkah round-up, I featured ingenious ways of celebrating the holiday without frying, and in this post I dive head-first into the world of latkes!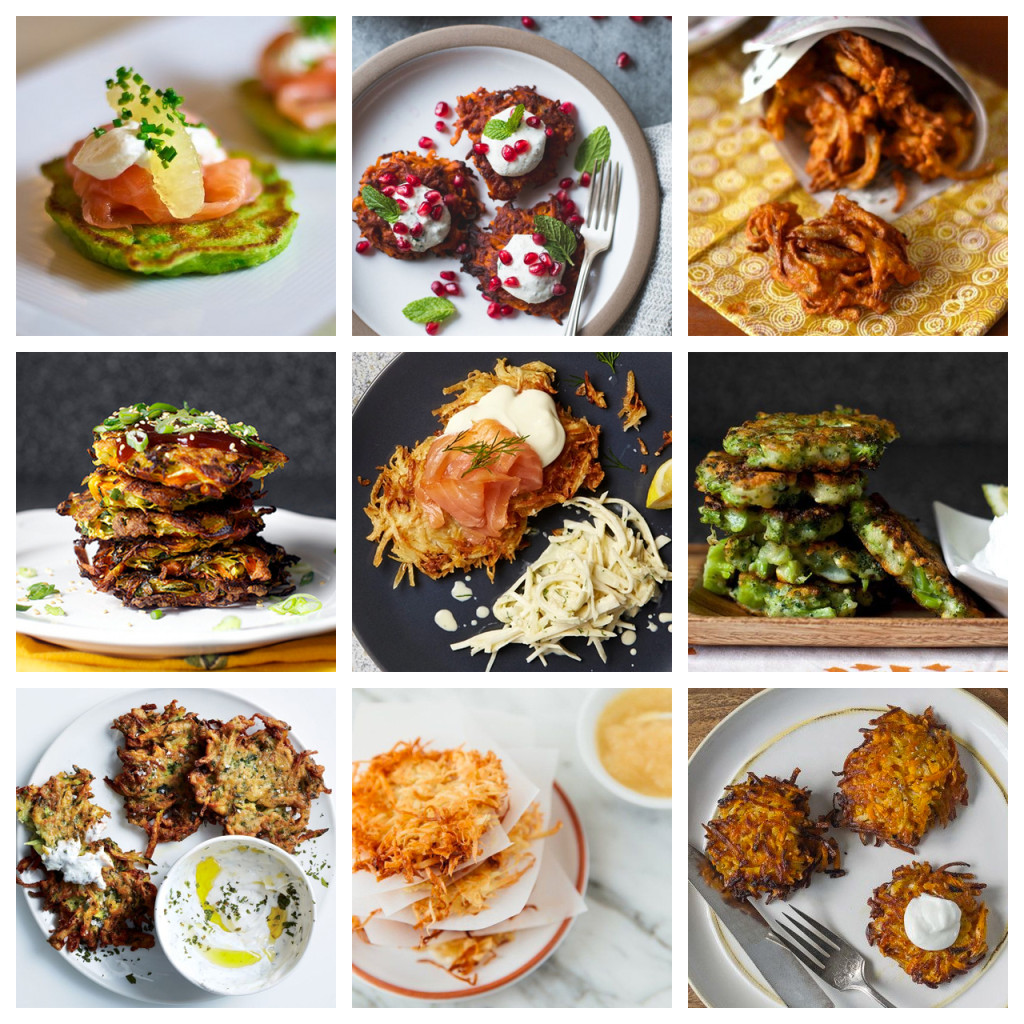 Top:
Dainty and fresh, these vividly green, savory pea pancakes are topped with meyer lemon, smoked salmon and crème fraîche. Perfect for brightening up the appetizer tray at a cocktail party!
Exotic, colorful, and spicy, these harissa sweet potato latkes are topped with an aromatic yogurt sauce, mint, and pomegranate. Major plus? They are also gluten-free.
Indian cuisine is a treasure trove of scrumptious fried things. These onion pakoras are gluten-free, only four ingredients, and I would serve them with a yogurt and cucumber raita/tzatziki and a spicy-sweet chutney. Want more Indian-inspired flavor in your fritters? Trying this more complex recipe.
Middle:
Bottom:
Zucchini teams up with potato and herbs in this recipe. You get the crispness of the potato, the tenderness of the zucchini, and plenty of zesty flavor!
My vote for least appreciated awesome vegetable goes to the parsnip. I love it in soup and roasted along with my chicken, so I'm pretty sure I would love these parsnip latkes. I imagine I would serve them with homemade yogurt and a dab of jam.
I can't wait to try this sweet potato, parsnip and turnip latke recipe. My fiancé and I both fell in love with roasted turnips when our CSA included them, so perhaps this is the year of the turnip. You heard it here first, ladies and gentlemen, turnips are the coolest vegetable!
The very happiest and brightest Hanukkah to you all!