Jump to recipe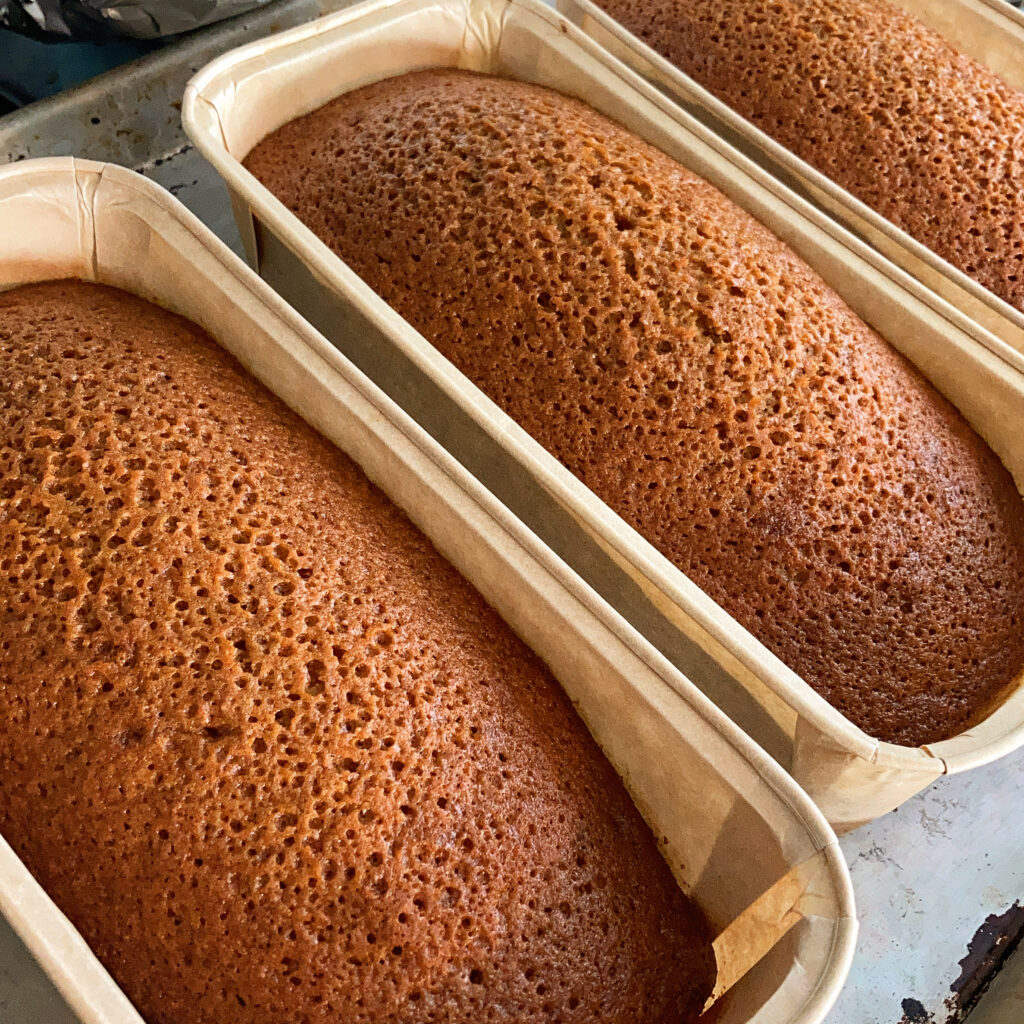 Update 2020: I tweaked the recipe to have less liquid – it used to be 1 cup of tea, 1/2 cup of orange juice, and 1/4 cup of bourbon/rye. I have eliminated the orange juice and kept the tea and the booze. If you don't want to use alcohol, feel free to use orange juice or more tea in its place
Rosh HaShanah is upon us once again! The Jewish New Year begins Sunday October 2nd at sundown, and I just can't wait to celebrate!
This is my first new year as a married lady, my second as a food blogger, my third living in the Bay Area, my fourth since moving back to the USA from Israel. My husband and I are hosting a dinner for the first night of the holiday, starting the new year with dear friends, good food, and a damn fine playlist.
Like a every Jewish holiday, there are traditional foods to be had – apples dipped in honey for a sweet and fruitful new year, long green beans and leeks, crown-like pumpkin or other golden squashes, new fruits, the list goes on. Check out my curated recipe roundup posts from last year for lots of inspiration – Meaty, Pescatarian (that's SF foodie for fish), Vegetarian, and Desserts.
My personal must-have dishes are as follows:
Cheeses – I love cheese, it is festive and requires no preparation. I might get a post up about planning and assembling a perfect Rosh HaShanah cheese board. There's nothing better than wishing my loved ones a rich, cheesy, and funky new year!
Fish – It's traditional to serve the head of a fish so that we may be the head rather than the tail. Also, the holiday is literally called the head of the year. Mostly though, if I'm serving cheese, I'll make a veggie or fish main course to keep with the kosher.
HONEY CAKE.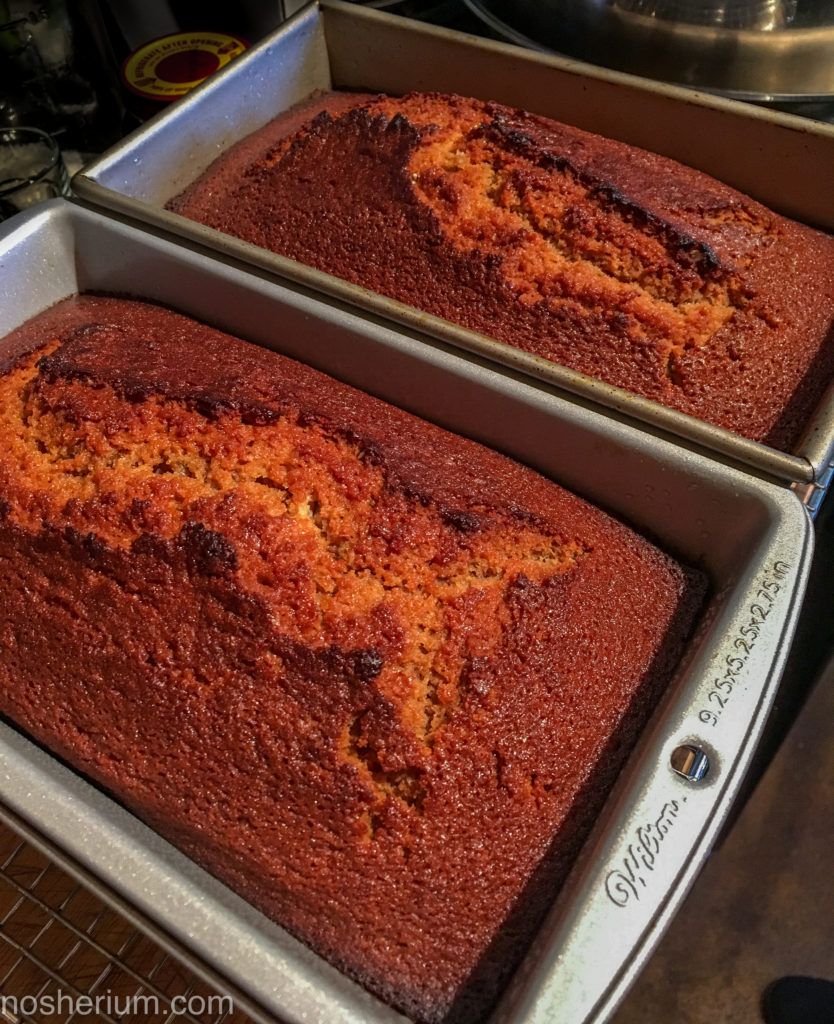 My mother's honey cake is rich, dense, and gloriously spiced. I love making it for the High Holy Days (HHD!), but I also play the field with other recipes. To be honest, most recipes just don't measure to my mama's – too bland, too dense, too dry, or just meh. For me, this is a spice cake – it shouldn't be subtle, the spices should take center stage.
Deb of Smitten Kitchen has a marvelous recipe for honey cake that I name-dropped last year that is just different enough from my family's classic. The texture is lighter, and the flavoring a little different. This time, I couldn't help but tinker with the spices and I love the outcome. Instead of limiting it to cinnamon, cloves, and allspice, I used the spices that feature in masala chai – that wonderful Indian spiced tea. I dialed back the cinnamon and allspice, kept the cloves right where they are, and added ginger and cardamom. Throw in a strong cup of masala chai, orange juice, wonderful vanilla, and some bourbon, and we've got ourselves a spicy ballgame!
I don't have any sexy gorgeous styled shots of it at the moment (spoiler – it's a high, beautiful loaf cake with a cognac-brown hue), I'll try to get some up soon and simultaneously show off some of our beautiful new platters and dishes! In the meantime, I have iPhone photos to give you the general idea. We have been enjoying the cake as it is and, as seen below, spread with a mix of honey and tahini seasoned with cardamom. (Shout out: my favorite tahini is made by Soom in Philadelphia. It is certified kosher and organic, and available on Amazon!)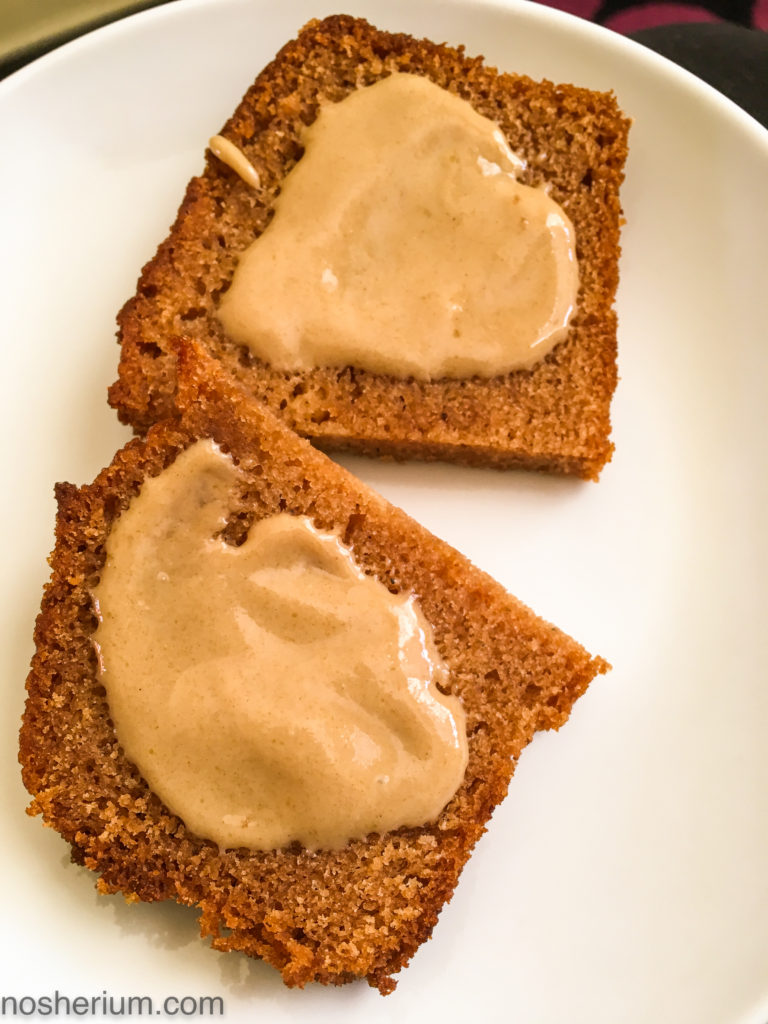 Anyhow, check out this recipe if you want a richly spiced, airily textured cake with a tender crumb. To be very correct, I would call this Chai Masala Honey Cake – chai means tea, the masala is the spice.
Chai-Spiced Honey Cake

Richly spiced, airily textured honey cake with a tender crumb for Rosh HaShanah, or everyday! Modified from Smitten Kitchen to include spices reminiscent of Masala Chai.
Notes
Deb at Smitten Kitchen says that she gets three loaves out of this recipe. I only get two.
Update 2020: I reduced the liquid by eliminating the  1/2 cup orange juice and keeping the tea and whiskey/bourbon/rye/rum. If you don't want to use alcohol, feel free to use orange juice or more tea instead.
I used these paper loaf pans and like them very much. I got four loaves from one recipe.
Ingredients
3 1/2 cups (440 grams) all-purpose flour
1 teaspoon (5 grams) baking powder
1 teaspoon (5 grams) baking soda
1/2 teaspoon kosher salt
1 tablespoon ground cinnamon
1/2 teaspoon ground cloves
1/2 teaspoon ground cardamom
1/2 teaspoon ground ginger
1/4 teaspoon ground allspice
1 cup (235 ml) neutral oil (I used 3/4 cup vegetable oil, 1/4 cup kosher grapeseed oil)
1 cup (340 grams) honey
1 1/2 cups (300 grams) granulated sugar
1/2 cup (95 grams) brown sugar
3 large eggs at room temperature
1 teaspoon (5 ml) vanilla extract
1 cup (235 ml) warm very strong chai tea
1̶/̶2̶ ̶c̶u̶p̶ ̶(̶1̶2̶0̶ ̶m̶l̶)̶ ̶f̶r̶e̶s̶h̶ ̶o̶r̶a̶n̶g̶e̶ ̶j̶u̶i̶c̶e̶ (Update 2020: eliminating the orange juice)
1/4 cup (60 ml) rye or whiskey (I used bourbon)
Instructions
Preheat oven to 350°F. Generously grease two loaf pans or one bundt/tube pan with neutral cooking oil. For all that is good and holy, line the bottom with lightly greased parchment paper, cut to fit (I usually do, but didn't this time and regretted it).
In a large bowl or in the bowl of a stand mixer, whisk together the flour, baking powder, baking soda, salt, and spices. Make a well in the center, and add oil, honey, white sugar, brown sugars, eggs, vanilla, tea, orange juice and rye/whiskey/bourbon. (Measure your oil before the honey, it will be easier to get all of the honey out of your measuring cup. If your honey is too thick, warm it up in a pan on the stove. Do not microwave honey.)
Using a strong whisk or a stand mixer on the very slowest setting, stir well until the batter is thick and well-blended, making sure that no ingredients are stuck to the bottom. I used a stand mixer and the liquid splashed around a lot. In the future I'll do this by hand.
Pour batter into prepared pan(s). Place pan(s) on a baking sheet in the middle of the oven. The baking sheet will help the cake to bake evenly.
Bake until cake tests springs back when you gently touch the cake center and a skewer comes out clean, but not entirely dry. Bundt and tube cake pans - 60 to 75 minutes. Loaf cake pans - about 45 to 55 minutes. If using loaf pans or some kind of adorable novelty pan, reverse or turn the pans about halfway through baking to ensure even baking. My cakes alway get a little dark on top, but I don't mind.
Let cake stand fifteen minutes before removing from pan, let the cake cool completely on a rack before serving or freezing.
© 2023 © 2020 Nosherium