Jump to recipe
My mother's hamantaschen are the stuff of legend, delicate and flavorful. They stand in stark contrast to the mass-manufactured, gritty, crumbly, rock-hard pucks that circulated at childhood Purim parties. I love a food challenge – tinkering with a beloved recipe to make it accessible to everyone! So, in an effort to create a recipe worthy of Queen Esther's Vegan Feast and my beloved vegan friends, I entered the world of mashed bananas, margarine, and egg replacements. I emerged victorious, and with a shockingly popular Instagram post as motivation, I find myself returning to this happy blog.
These triangular filled cookies are one of the traditional treats for the Jewish holiday Purim, a revelrous early spring festival often described as a Halloween-Mardi Gras hybrid. We celebrate Jewish survival and the defeat of an evil demagogue, the keen Queen Esther and wise Mordechai. However, at its core, this bacchanalian bash celebrates discretion, a mastery of political and interpersonal delicacy, and the painful sacrifice that is required of heroes.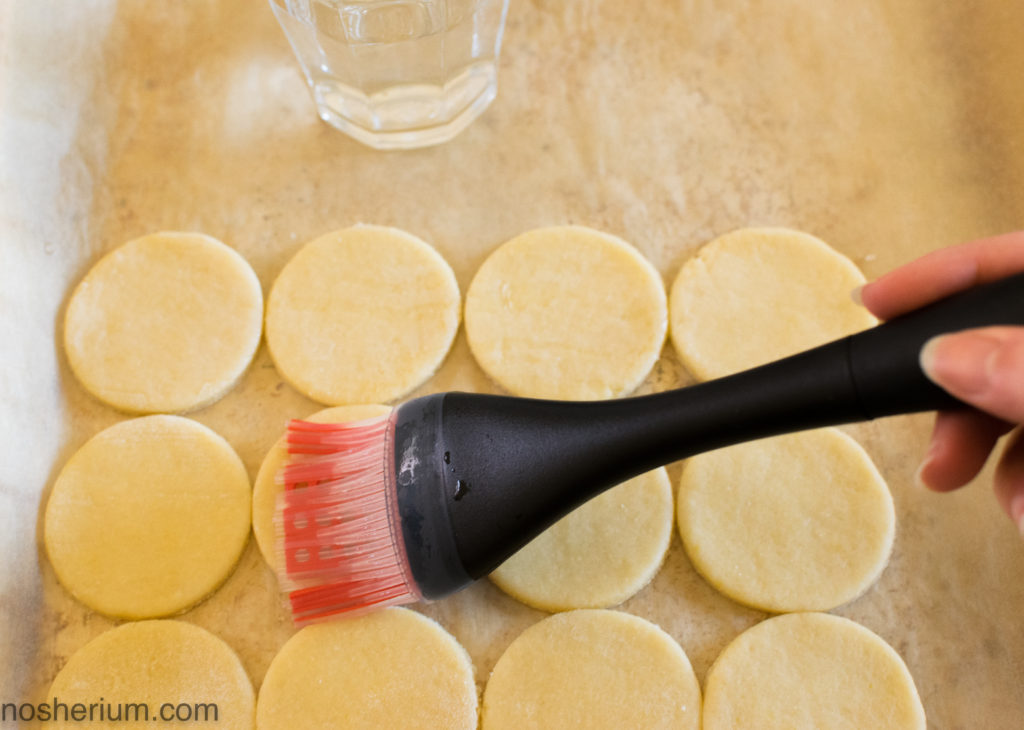 My mother's dough, unlike many (entirely delicious) American hamantaschen recipes, doesn't contain cream cheese. The dough isn't overly sweet, but is very flavorful as it contains brandy, vanilla, and citrus zest. It originally called for margarine, but I usually make it with butter. There's no chemical leavening – it relies on an egg.  So my mission was clear:
Find margarine that is good enough to bake with
Replace the egg with something
BLOW PEOPLE'S MINDS
Earth Balance made the first point easy. Beloved of kosher bakers and vegans alike, this is the Cadillac of butter replacements. Boom! DONE.
Egg replacements are a harder nut to crack. I dusted off my research skills, and dove head first into fascinating options like mashed banana (sadly, I'm allergic), almond milk (sadly, behind a paywall), flax seeds, these arrowroot starch and rice flour gluten-free options (I featured the rice flour recipe in last year's Queen Esther's Vegan Feast round up). Finally, I landed on this Food52 piece about vegan replacements and some very scrumptious sounding sugar cookies. The author details when to use a premade replacement, make your own, or retool a recipe entirely. She recommends Ener-G, a powdered egg replacement that includes a leavening agent (crucial for my recipe), and re-enforces my Earth Balance decision. At the grocery store, I ended up getting a similar egg replacement from Bob's Red Mill. Eggcellent!
And finally, I blow people's minds! I used my mother's poppyseed filling, which isn't all that different from Uri Scheft's in Breaking Breads, it calls for the poppy seeds to be ground, then cooked with sugar and honey (I used silan, date syrup, instead). This smoother, paste-like filling won over my grad school roommate who up until then had been an ardent opponent of poppy seed filling! I made another batch with a different, chocolate-ier filling, I'll post an update early next week about that one!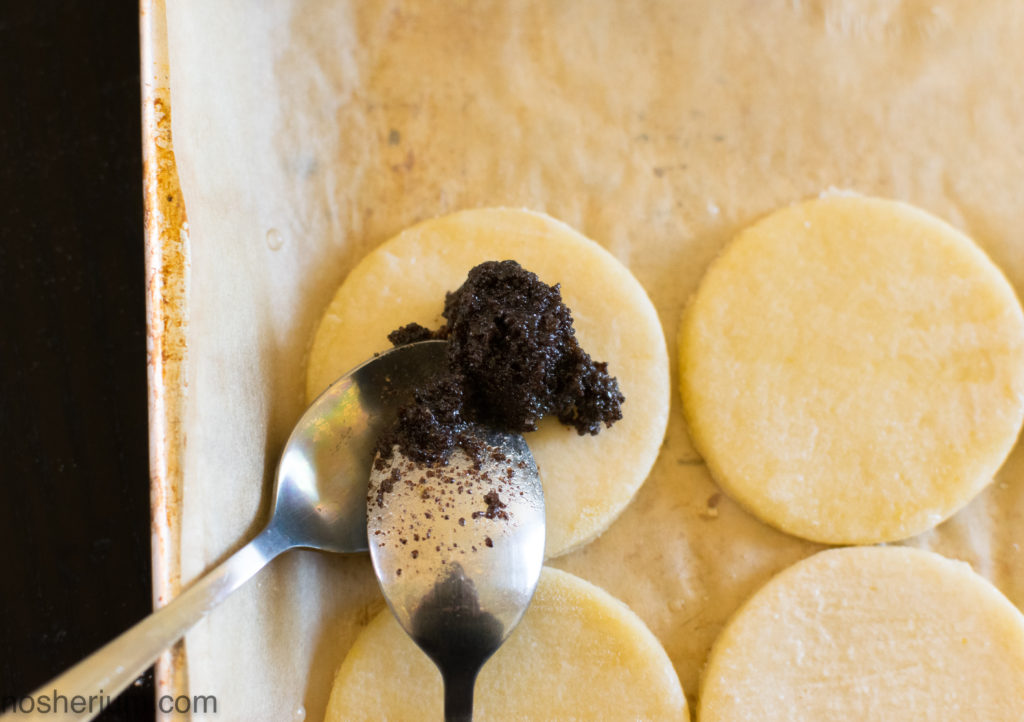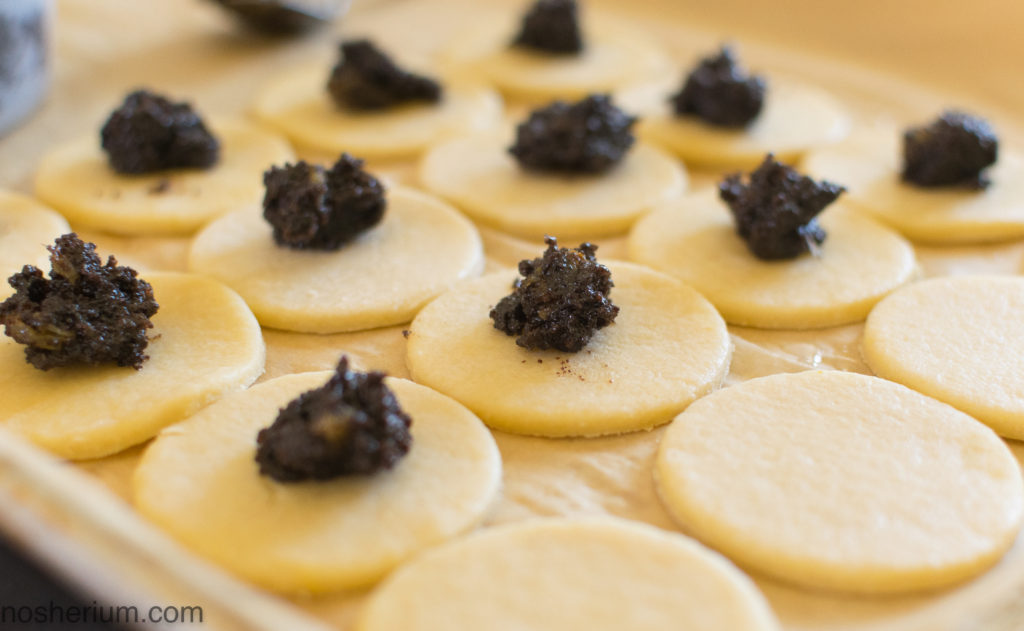 I've encountered a bit of hand-wringing about how to shape these cookies. It really isn't hard! I made this handy layout to show you how I do it, and I'll be posting a gif on Instagram too!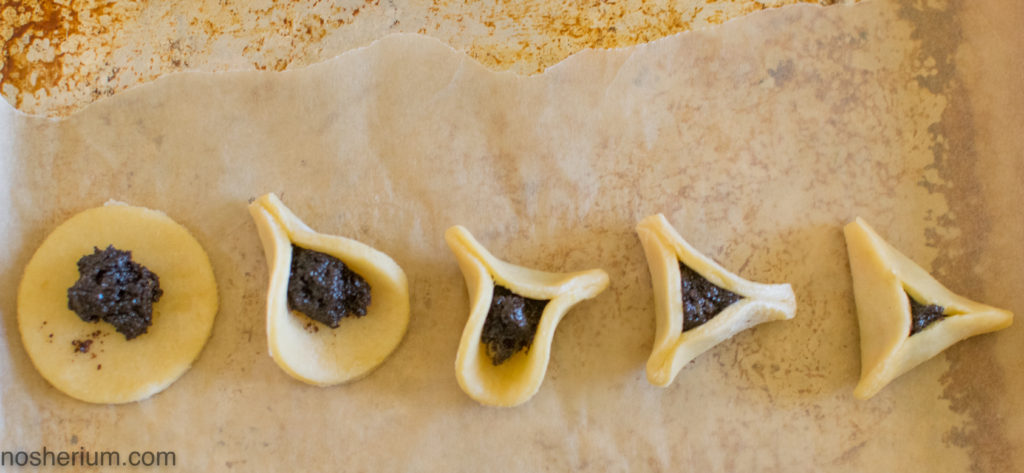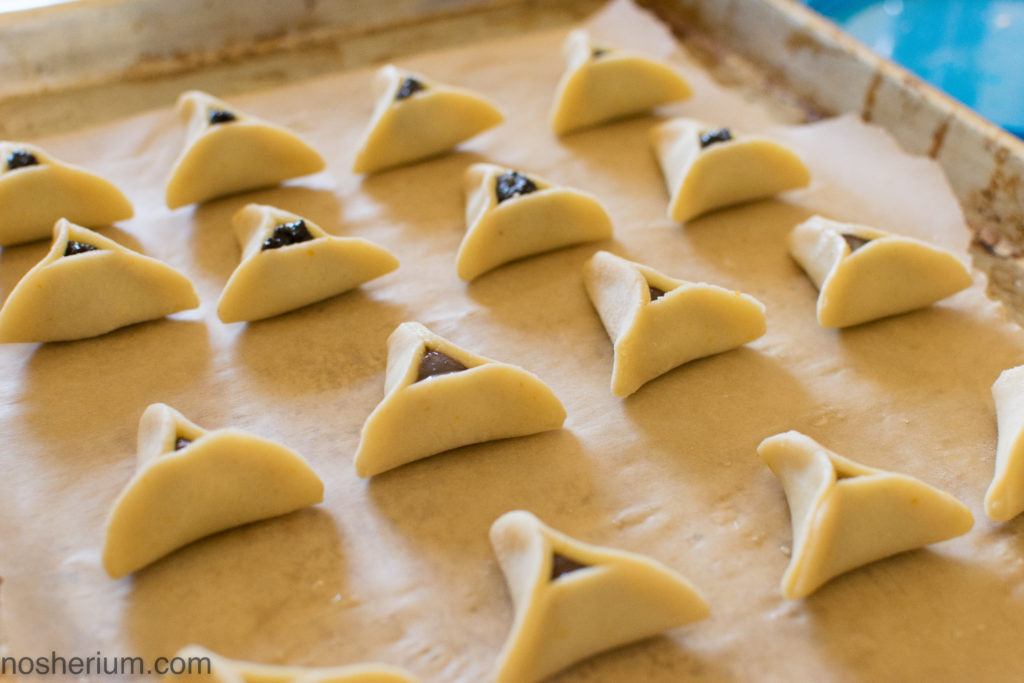 The finished cookies are beautiful, in fact, much prettier than the butter version. The butter version is flakier, but has a craggy appearance whereas the vegan ones are picture-perfect, crisp, but very tender. Prepare to have your mind blown!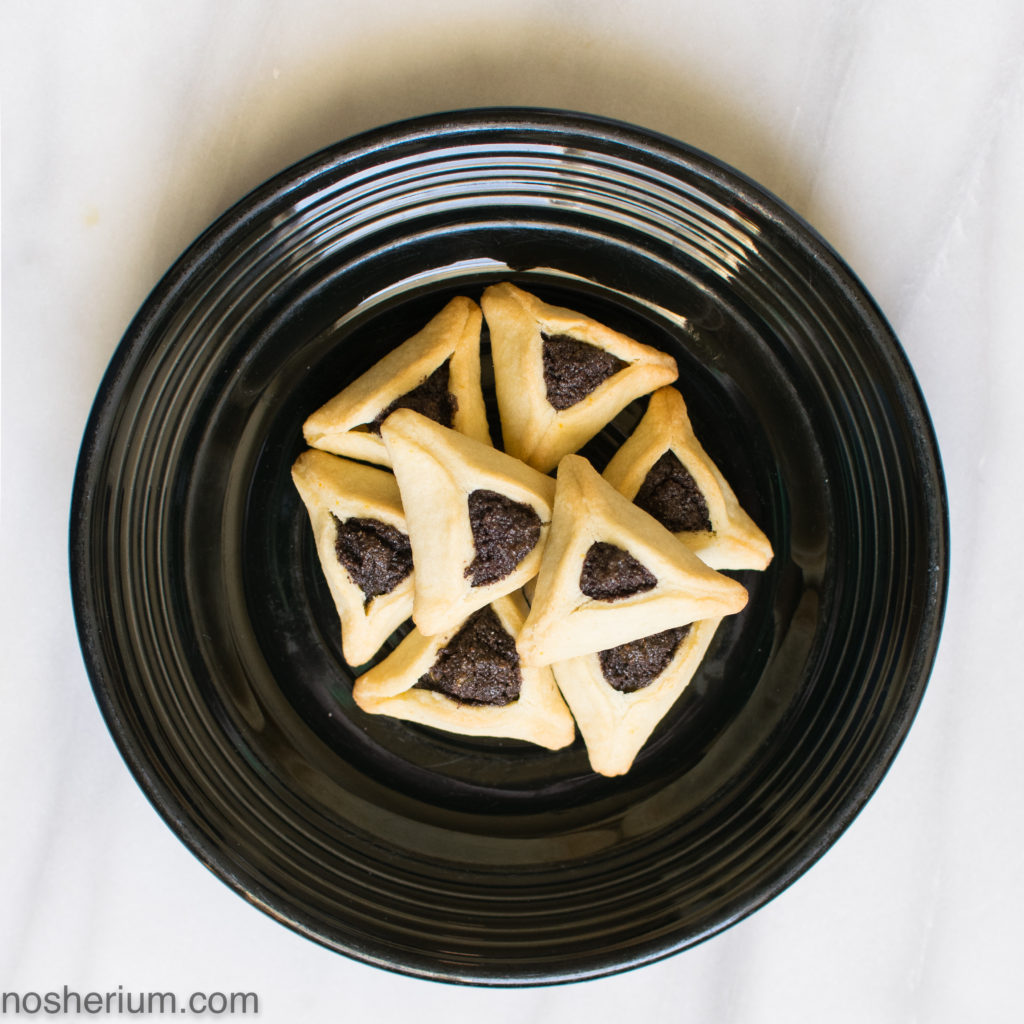 Interested in the contentious history of butter and margarine? Check out this fascinating, hilarious podcast.
Curious about how creative hamantaschen flavors started getting popular? Read this piece by Paula Shoyer.
Love butter? Click over to my flakey, gloriously buttery version of this recipe!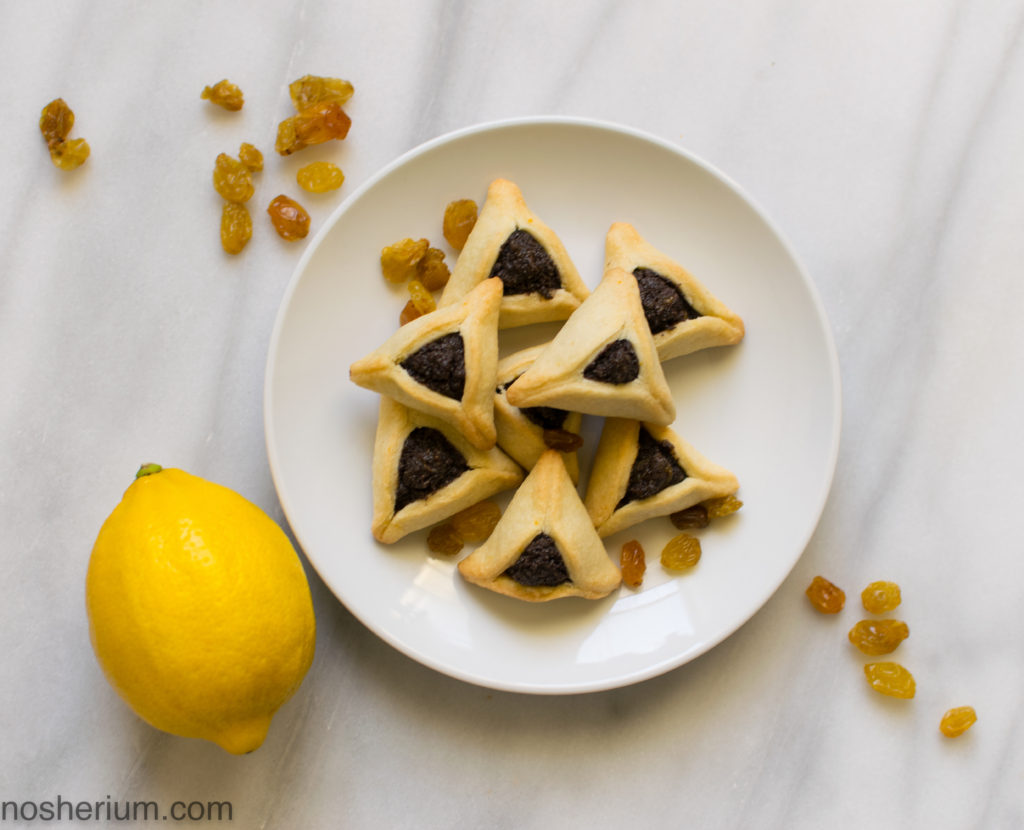 Ingredients
Dough
2 1/2 cups/313 grams flour
1/2 cup/100 grams sugar
1 egg's worth egg replacement, mixed up and ready to go
1/4 cup/60 milliliters brandy or orange juice
1 tablespoon/15 milliliters vanilla extract
approx. 1 tablespoon/15 milliliters grated orange zest (from one orange)
pinch of salt
7 ounces/14 tablespoon/200 grams cold margarine, cut into chunks
Poppy Seed Filling - Pereg
1/2 cup/100 grams sugar
1/4 cup/60 milliliters water
1 tablespoon/15 milliliters silan/date syrup
1 cup/125 grams poppy seeds, ground (measure first, then grind in several batches in a clean coffee grinder until powdery)
2 tablespoons/30 milliliters lemon juice
approx. 1 teaspoon/5 milliliters lemon zest (from one lemon)
1/4 cup/40 grams raisins
Instructions
Dough
Combine all ingredients in a food processor outfitted with a blade. Pulse to combine, then process until completely combined and homogeneous, until the dough forms a ball.
Transfer to a plastic bag, or wrap in plastic wrap, and place in the fridge for at least half an hour, up to several days.
For longer storage, freeze, completely sealed and wrapped, for up to two months. Defrost in the fridge.
Poppy Seed Filling - Pereg
In a small saucepan (2 quart/liter) over medium-low heat, combine sugar, water, and date syrup. Cook until sugar is completely dissolved and the liquid is simmering
Add the ground poppy seed and cook a minute longer, stirring. Remove from heat.
Stir in lemon juice, zest, and raisins.
Transfer to a wide mouth container (you'll be scooping the filling directly from the container), and chill in the fridge, at least half an hour, up to a week.
For longer storage, freeze the filling, up to two months. Defrost in the fridge.
Assembly
Removed a quarter of the dough from the fridge at a time. Roll out on a floured surface until 1/8 inch thick.
Cut out circles using a circular cookie cutter or wine glass, 2 1/2 inches in diameter. Transfer the rounds to a parchment paper-lined baking sheet.
Reroll the dough scraps and cut more circles.
Brush the tops of the rounds with water using a pastry brush, about 12 at a time.
Using two spoons, drop a small amount of filling on the center of each round. DO NOT OVERFILL.
Shape the cookies by pinching the dough together, making one corner of the triangle at a time. Pinch and press the seams together well, or else they will open, making very tasty but very flat cookies. If the dough doesn't stick together well, brush more water around the edge of the round.
Fill the parchment paper-lined tray with cookies. They don't grow, so you don't have to leave much room at all, approx 20 cookies/half sheet tray. Transfer the tray to the fridge until the cookies are firm and cool. You can freeze the cookies at this point - freezing them flat on the tray, then transferring them to a container or sealed bag.
Baking
Preheat oven to 350°F/176°C.
Bake the cookies for 10-14 minutes, until just barely golden, rotating the trays after five minutes.
Transfer to a wire rack to cool completely.
DEVOUR THEM!
© 2023 © 2020 Nosherium