Jump to recipe
Gloriously easy, vegan, flexible, and festive – this stuffed squash recipe is perfect for Rosh HaShanah, Sukkot, and Thanksgiving.
I posted on Facebook asking what people would like to see for High Holy Day (HHD) coverage, and the idea of a choose-your-own-adventure stuffed squash recipe was well received, so here we are! Originally, I had grand plans for paleo, gluten-free, dairy, meat, pescatarian, vegan, and vegetarian options with videos and cool graphics. That's not happening. Sorry.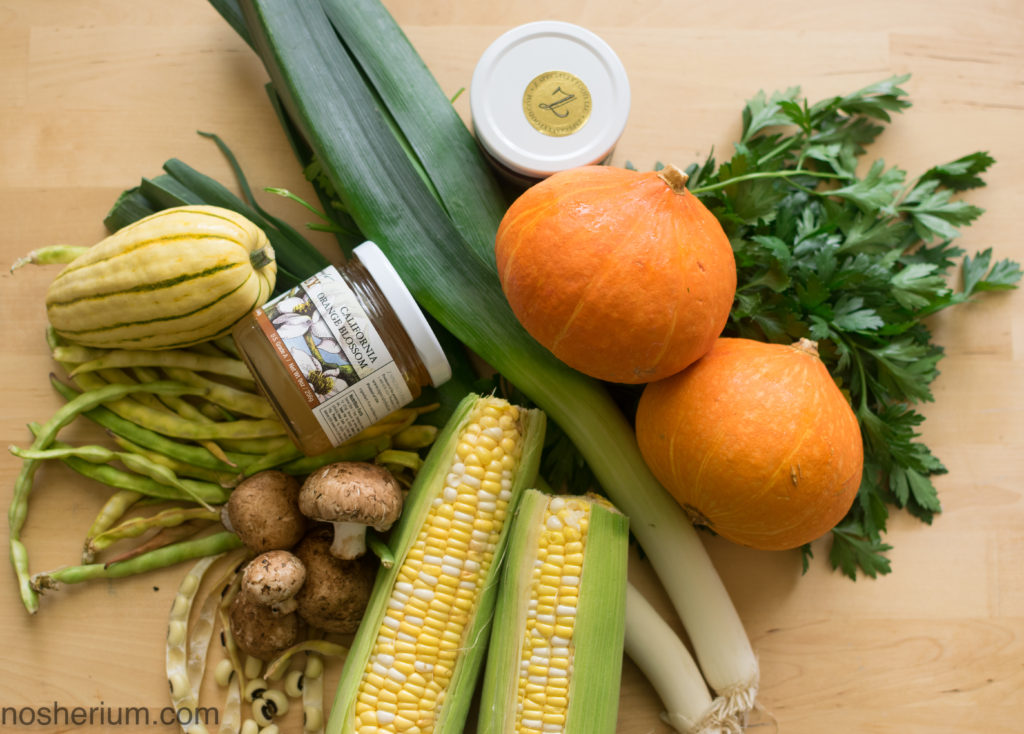 What IS happening is delicious, though. Recently, I've been learning about and engaging with a broader range of cuisines and food cultures – from the African-American culinary history that shaped American food ways, to French preserving, to the wide range of flavors of Nordic cuisine. Of these subjects, I am most hungry to learn about Native American food history, but the book I'm keenest to read hasn't been released yet! So at the moment I'm biding my time following the Sioux Chef on Instagram and listening to Sean Sherman whenever I can. One of the core nutritional and agricultural building blocks of Native American cuisines is the Three Sisters – squash, corn, and beans. They grow well together and pair beautifully in many dishes.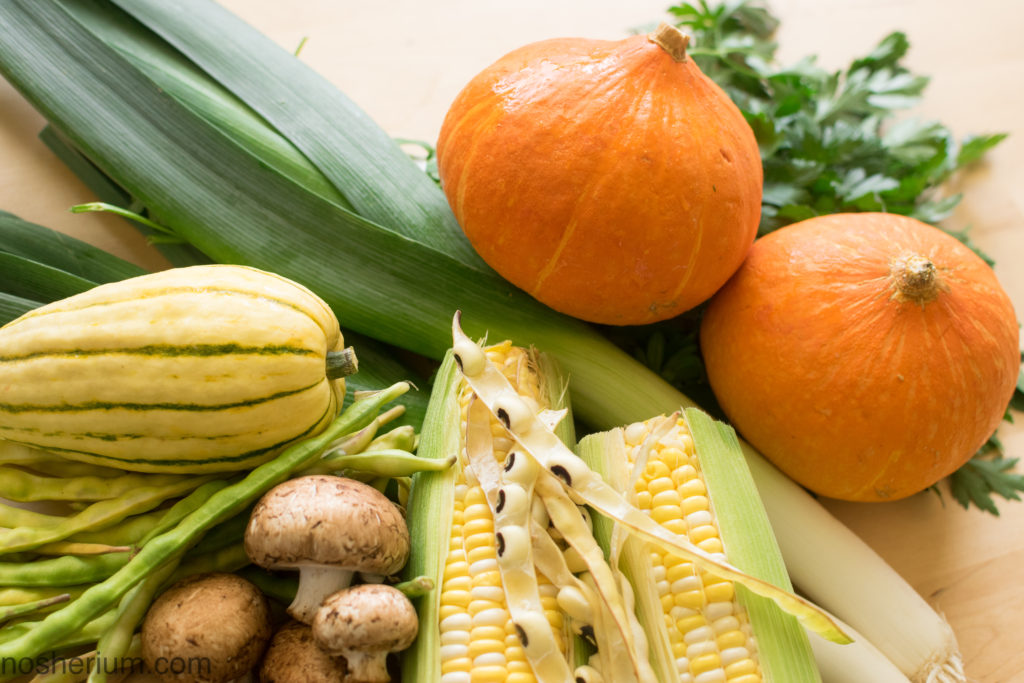 When I saw perfect, teardrop-shaped Red Kuri squash at the grocery store, I knew I had to stuff them – stuffed squash seems so festive to me. Their sweet flesh acts as an edible cornucopia for any filling – chickpeas, jeweled rice, savory meats, Thanksgiving stuffing, and in this case, their conveniently seasonal sisters. And what lovelier symbol for a hopefully new year, than a dish full of promise and brimming with goodness?
Squash is a symbolic food associated with the Jewish New Year – its golden color represents our hopes for a successful year. While at the store, I bought corn and dried black eyed peas (beans are a traditional Rosh HaShanah food symbolizing increased blessings), only to have both items in my weekly Community Supported Agriculture (CSA) veggie box! As I toted my CSA vegetables through the farmer's market, I spotted slim leeks, yet another Rosh HaShanah food. Such plenty! The leeks were sliced up and sautéed with velvety mushrooms, and I couldn't resist deglazing the pan with wine.
Fate and the season had reaffirmed my approach!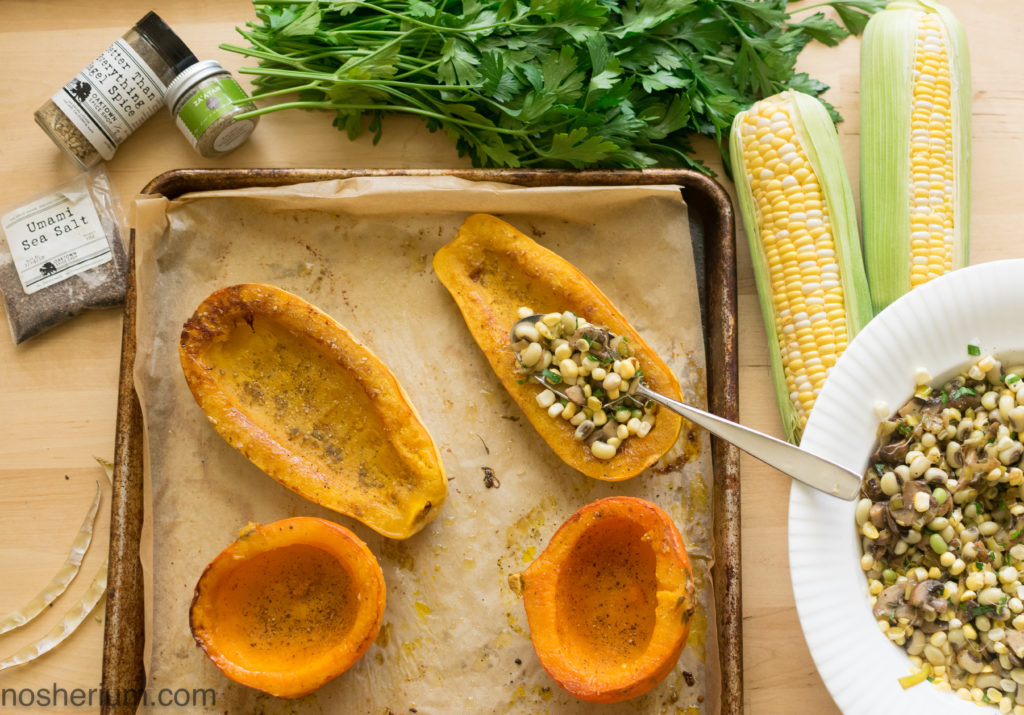 The filling here is pareve, vegan, simple, and endlessly versatile, you really can chose your own adventure! Cheese lovers can crumble up some feta or goat cheese! Meat-inclined folks looking for a main course can sauté up some ground meat (bison would be great!) with the mushrooms and leeks. Feel fishy? I would flake up some smoked trout or salted cod. But it was delicious just as it is – sweet fresh corn, tender beans, and umami-packed mushrooms.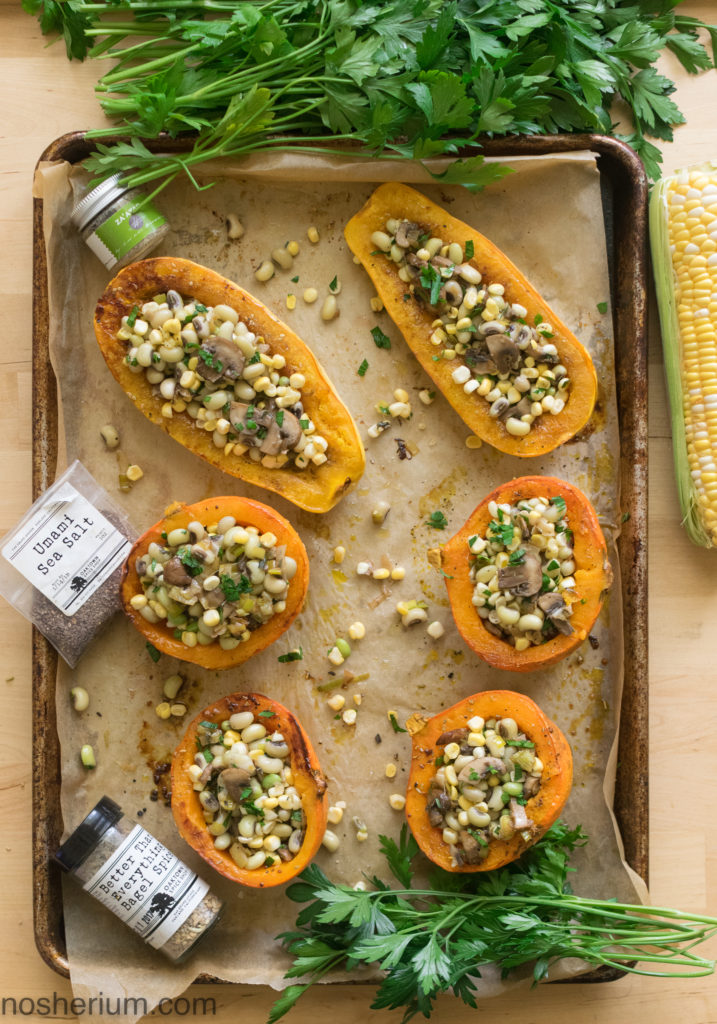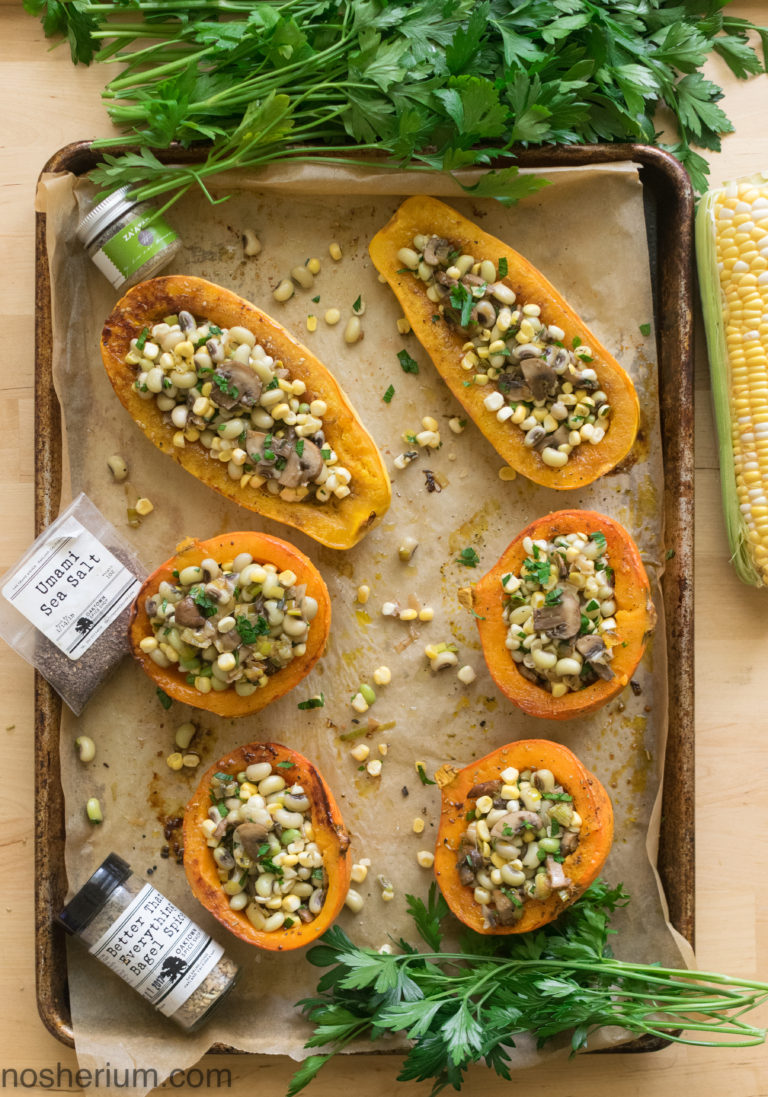 Seasoning the squash is an opportunity to introduce flavor. After brushing it with olive oil and sprinkled with salt and pepper, I chose three spice mixes to compare – Za'atar from La Boîte and Umami Salt and Better Than Everything Bagel from Oaktown Spice. Each blend went on two squash halves, and in the end, all were delicious! I like the Umami Salt because it added depth to the sweetness of the finished dish, and my husband was mad for the Better Than Everything. The next night I heated the Za'atar spiced halves and topped them with feta and more Za'atar – also perfect!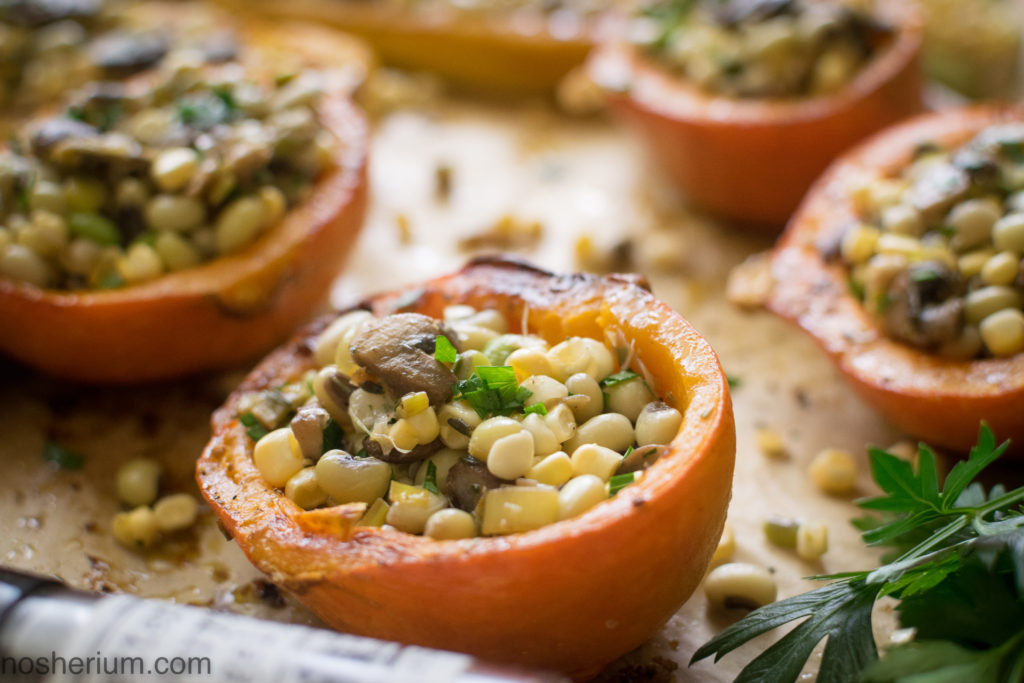 I'm planning on making this again and pairing with the #CheatersBraise chicken that I developed for last Rosh HaShanah – silky squash, perfect filling, and crispy skin chicken sounds perfect to me. As I prepared the recipe, it occurred to me that though I was making it completely from scratch, there are several shortcuts that would still yield an equally scrumptious result. I used fresh beans that needed to be popped from their shells and cooked – but I've included instructions for dried and canned beans. I used fresh corn and didn't cook it before mixing it into the filling, but you could use frozen or canned! The filling and cooked squash will happily wait in the fridge overnight or longer before being assembled and heated or even served cold – making this the perfect dish for a big holiday meal. Rosh HaShanah, Sukkot, Thanksgiving, regular ol' dinner – here we come!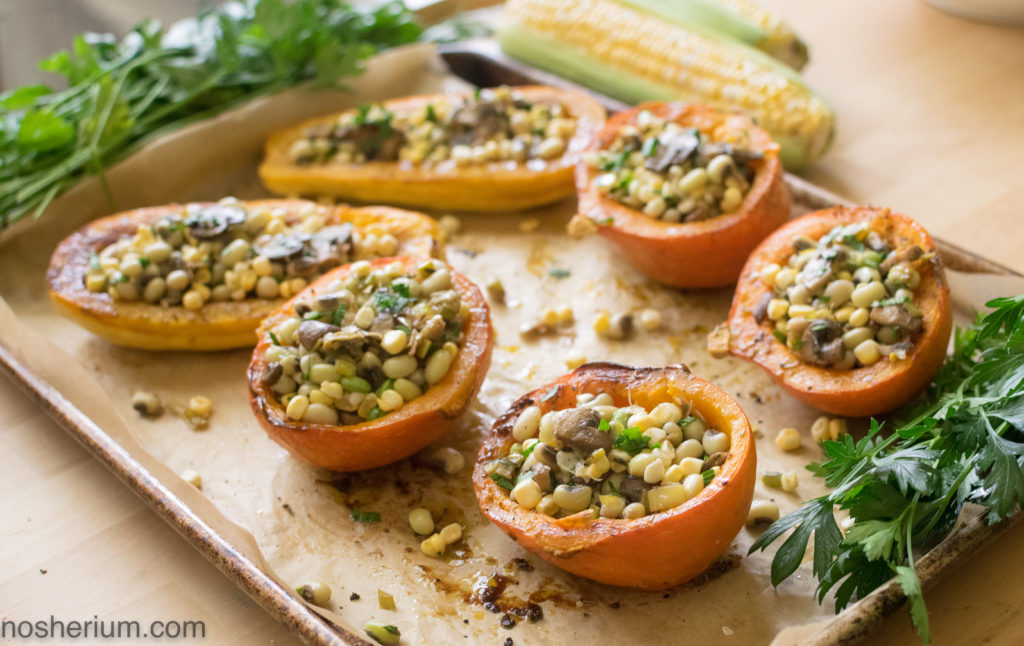 I wish you a sweet, healthy, full-to-bursting new year. Chag Sameach!
Previously in Rosh HaShanah:
Rosh HaShanah Three Sisters Stuffed Squash – Vegan!

Ingredients
For the squash:
For the filling:
olive oil
salt
pepper
2 small, 1 large leek, white and light green part, sliced 1/4 inch thick
2 cups chopped mushrooms (measure after chopping)
1/4 cup white wine
approx. 2 cups corn kernels

from 2-3 ears of corn, or frozen (defrosted), or canned (drained and rinsed)

approx. 2 cups cooked black eyed peas - for

fresh beans

- cook for 5-7 minutes in salted water (ideally with a garlic clove and thyme), for

dried beans

- soak them overnight in salted water, then simmer in fresh salted water for about an hour in salted water (ideally with a garlic clove and thyme), until tender, for

canned beans

- drain and rinse well

optional

a handful chopped fresh parsley
Instructions
For the squash:
Preheat oven to 425°F/218°C and line a baking sheet with parchment paper.
Carefully cut squash in half. Scoop out the seeds and loose, stringy flesh. Rub with olive oil, salt, pepper, and your choice of spice mixture.
Roast, cut side down, on baking sheet for 20-30 minutes, until fairly tender but not mushy. A larger squash will take longer.
Remove from the oven and carefully turn the squash over so that its cut side is up.
For the filling:
In a medium saute pan or skillet with a lid, heat olive oil over medium-high heat.
Add sliced leeks to the pan or skillet and sauté until fairly translucent.
Add chopped mushroom, season with a pinch of salt and some pepper, and stir around until covered in oil.
Cover the pan or skillet for around 5-7 minutes, until the mushrooms release their liquid. Remove lid and continue to sauté until mushrooms begin to brown.
Deglaze pan with white wine, adding a tablespoon or two at a time, scraping up the brown bits and letting the wine evaporate. Remove from heat.
Combine mushroom mixture, corn,

optional

parsley, and beans in a mixing bowl, and season to taste.
Assembly:
Preheat oven to 350°F/177°C

optional

Brush or drizzle the inside of the squash with honey or maple syrup.
Gently pack the filling into the squash, mounding slightly in the middle.
Roast for 15-30 minutes, until the filling is hot.

If you are cooking a large squash, cover it with foil while roasting to keep it from drying out, uncovering for the last five minutes

Remove from oven, serve at your leisure,

optionally

with more honey or maple syrup drizzled on top.
© 2023 © 2020 Nosherium